A message to those who smoke in cars with children - there is no excuse for your selfish habit
If a person chooses to gulp down poisons, that's their decision. But children, who have no choice, shouldn't be subjected to smoke in the stuffy, airless environment of a car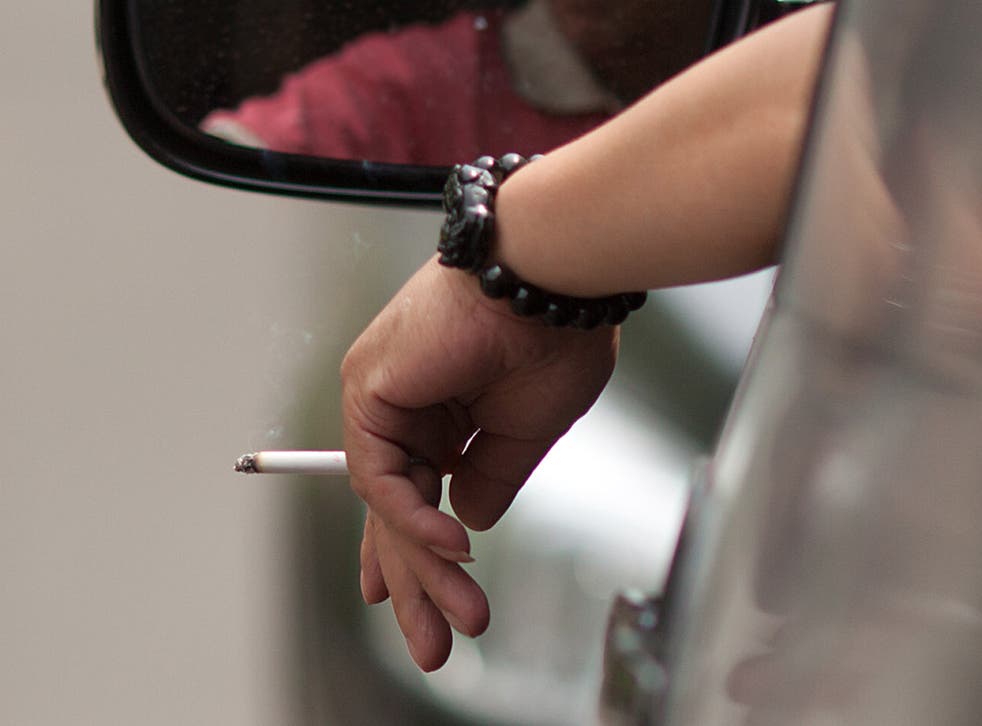 I'm of a generation, post 2007 smoking ban, where the only cigarette smoke I encounter is that which is blown sideways into my face on the street, or inhaled involuntarily at a house party heaving with fag-toting friends. The ban came into play before I was old enough to drink (legally) in pubs or night clubs, but my older friends have told of the 'morning after' shower, where part of getting over a hangover was washing the heavy stink of cigarette smoke out of their hair.
Perhaps due to my relatively smoke-free upbringing, perhaps due to my moderately bad asthma, I stand firmly in the anti-smoking camp; something which surprises my otherwise liberal-minded self. While in most areas of my life I support the notion of free choice, I find myself struggling to reconcile my laissez-faire beliefs with the appalling damage cigarettes can do.  
Today it was revealed that more than 430,000 children aged 11-15 in England are exposed to second-hand smoke in their family cars at least once a week.
The estimate, based on research carried out by the British Lung Foundation, comes as the House of Lords prepares to debate a ban on smoking in cars where children are present, on the basis that if adults are protected from second-hand smoke in public places, children should be afforded a similar privilege.
In February, public health minister Anna Soubry said smoking in cars with children was a child welfare issue and should be banned in order to protect youngsters. At the time the Prime Minister was said to be "nervous" about legislating what happens in cars and instead sought to run marketing campaigns aimed at encouraging people not to smoke in front of their children, at home or in cars.
Really, it's a simple matter of choice. The smoking ban was enforced because it was deemed unfair for non-smokers to breathe in the unhealthy fumes generated by people who chose to inhale.
If a person chooses to gulp down tar, ammonia, toluene, acetone, nicotine and carbon monoxide while they wait for the bus, that's their decision. If they want to suck up a nice bit of hydrogen cyanide, lead, nickel, and arsenic on their lunch break, fine by me.  But children, who have no choice, shouldn't be subjected to such poisons in the stuffy, airless environment of a car.
Due to their higher breathing rate and less well-developed airways, lungs and immune system, children are actually more vulnerable to second-hand smoke than their parents and are at risk of respiratory illnesses, asthma, meningitis and even cot death. Research shows 300,000 children in the UK visit their GP each year with problems caused by breathing in the deadly toxins. Nearly 9,500 of them end up in hospital.
It's terrifying to think that children, who we're supposed to nurture into adulthood, are put at risk because their parents can't curb their addiction enough to wait until the end of the school run before they light up, or are exposed to harmful fumes because their carers think they have a right to smoke. (Food, water and shelter are human rights; cigarettes are not.)
Somewhat unsurprisingly, there are objections to the suggested ban. Smokers lobby group Forest say the data is misleading and a ban would be "disproportionate to the problem", although they do concede that smoking in a car with children present is inconsiderate. Nevertheless, they say banning smoking in cars would be too difficult to enforce (just like seat belts and speed limits?) and ultimately would be a waste of police recourses. What a load of puff.
Adverts highlighting the dangers of smoking in front of children should be praised, but they aren't going far enough. All too often the free choice argument emerges to bolster the pro-smoking campaign, as smokers try to justify their choice by playing their "my rights" card. But what about the rights of the child sitting in the passenger seat? A child's right to breathe clean air surely trumps a smoker's right to puff on a stick that's likely to kill them.
Register for free to continue reading
Registration is a free and easy way to support our truly independent journalism
By registering, you will also enjoy limited access to Premium articles, exclusive newsletters, commenting, and virtual events with our leading journalists
Already have an account? sign in
Join our new commenting forum
Join thought-provoking conversations, follow other Independent readers and see their replies