After a grim week, some stories to add light to the shade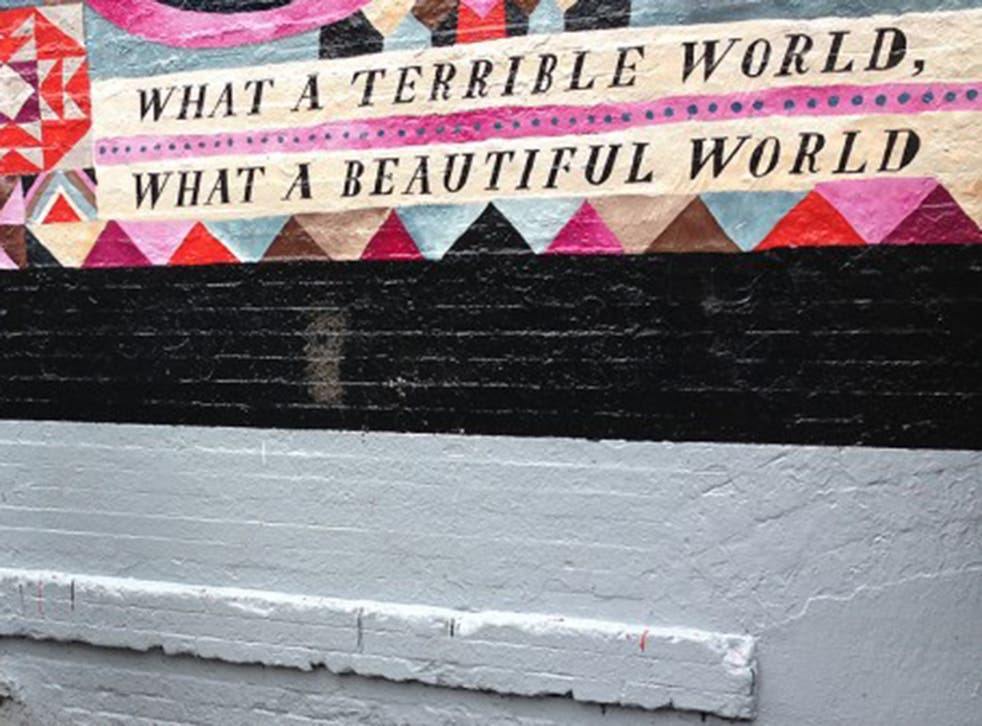 It has become inevitable that in any week when the news is bleak, newspaper writers who add light to the shade will be castigated by below-the-line commenters. "How can you talk about X in a week when W happened?" they invariably ask. Fair enough. We're a thick-skinned bunch, and in these social-media days everyone's entitled to (and can vent) their opinion.
Next week, the excellent American folk-rock group The Decemberists release a new album and its title proved strangely helpful when it came to writing this week's column: What a Terrible World, What a Beautiful World. Here, hopefully, are a few examples of the latter….
A Timpson comes clean
One does not usually look to a high-street shop that offers shoe repairs, key cutting and other seemingly mundane services for inspiration. But if Calvin and Hobbes taught us anything it is that "there's treasure everywhere", and so it was that a sign outside a Timpson store was widely shared on Twitter last week.
"If you are unemployed and need an outfit cleaned for an interview, we will clean it for free," it reads. John Timpson, 71, the company's chairman, tells me about the thinking behind this latest social initiative (available at any of the chain's 1,350 stores that offers dry-cleaning).
"I work on the basis that 95 per cent of people are to be trusted," he says. "So, we trust members of the public not to take us for a ride and we trust our colleagues [Timpson talk for staff] to do their jobs."
The company, which has long been known for employing ex-offenders, has only two rules: "One is 'Look the part'," Timpson says, "and the other is 'Put the money in the till'." If it really is as simple as that, I ask, why do more companies not behave in this way? "You'd have to ask them," Timpson laughs, before reminding me that his family business has always had a unique approach and that he and his wife, Alex, have been foster parents to more than 90 children over the years.
Where did the free-cleaning idea come from? "It was spotted by someone who knows James [John's son, the chief exec] in the States and he saw immediately it was our sort of thing. If James likes something, he doesn't mess about, he goes at it immediately, even if it might be hopeless."
And surely, I add, the publicity can't be bad for business. "Well, we don't have a press department or a marketing team. The better you look after customers the better you are going to do. You don't need market research to tell you that." Time to get that spare set of keys cut, methinks.
Everyday is punday
Darren Walsh is a 38-year-old comedian who has been on the circuit for about four years. He is also the reigning UK Pun Champion, a title he is looking to defend next month at the second UK Pun Championships (12 February, Hansom Hall, Leicester, comedy-festival.co.uk, part of Dave's Leicester Comedy Festival).
"The championships are set up like the film 8 Mile," Walsh says. "The eight contestants get sent a list of topics in advance, and then, on the night, subjects get thrown at us randomly and we slug it out, like in a rap battle." Win or lose, Walsh will set out his stall at his Edinburgh Fringe debut this year. But surely, I put it to him, for a competition based on punmanship, the name is a little lacking in wit. Might he not be able to suggest something more amusing?
"How about 8 Mule," he fires back, "the contestants dress up as donkeys; though a few might fall on their ass. Logan's Pun? Wimblepun?" And what should his title be as the champ? "I can't better Punnoisseur, which also happens to be the name of my show," he says.
Or perhaps, I think just too late, we should all call you the Groan Ranger.
Hidden depths
What would you bid for Lewis Hamilton's entry to this Friday's Zoom Formula 1 Charity Auction in aid of Great Ormond Street Hospital? Over the season just gone, various stars of Hamilton's sport were asked to take a photograph which would present a "snapshot of their world", and then sign and caption the picture for charity.
While others took pictures of their helmet (Fernando Alonso) or cockpit (Jenson Button), Hamilton's entry is of a body of water with the caption: "Let life flow like a river, follow the path it takes you down. Take it as it comes & may you help guide the flow in the direction of your dreams."
Well, he isn't Sports Personality of the Year for nothing.
Flushed out
New year, new you? If your relationship has recently gone down the pan, you might be keen to hear about the Boyfriend/Girlfriend Exchange, taking place in a public toilet in London on 15 January (details at doingsomething.co.uk).
To gain free entry you simply have to tweet your ex-partner's most dumpworthy offence at #boyfriendexchange or #girlfriendexchange. The best/worst reasons will be rounded up here next week.
Register for free to continue reading
Registration is a free and easy way to support our truly independent journalism
By registering, you will also enjoy limited access to Premium articles, exclusive newsletters, commenting, and virtual events with our leading journalists
Already have an account? sign in
Register for free to continue reading
Registration is a free and easy way to support our truly independent journalism
By registering, you will also enjoy limited access to Premium articles, exclusive newsletters, commenting, and virtual events with our leading journalists
Already have an account? sign in
Join our new commenting forum
Join thought-provoking conversations, follow other Independent readers and see their replies