Ahmed Al-Jumaili fled Iraq to escape Isis, only to be gunned down in Dallas, Texas. As a Muslim, his murder terrifies me
Before he emigrated he told his friend 'I don't want to die alone in Iraq, I want to live with my wife in America, I don't want to die here'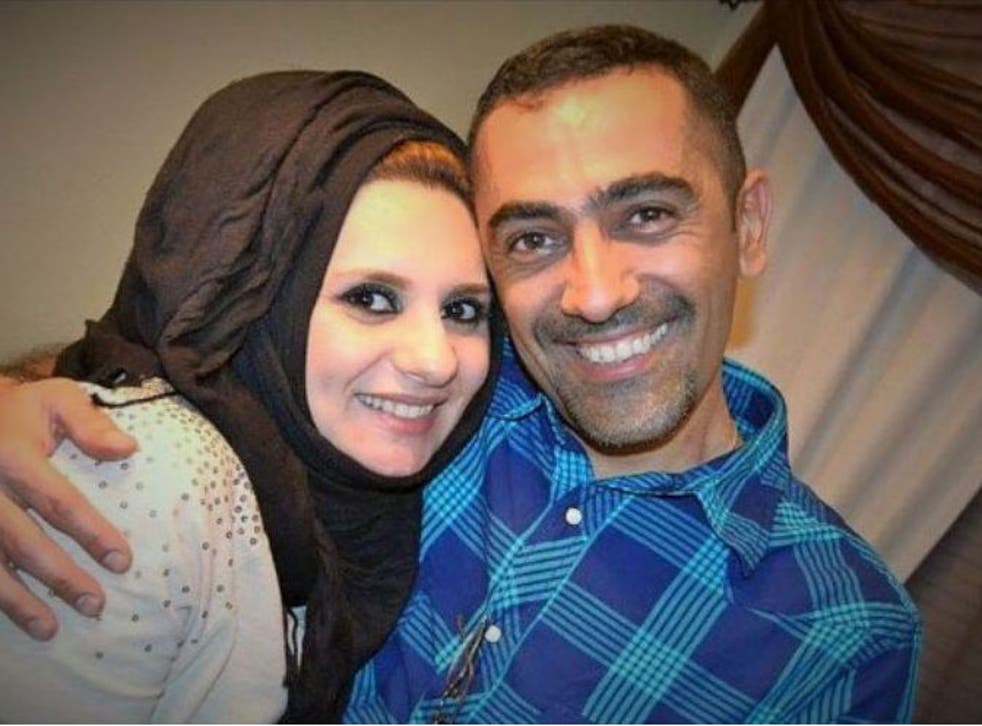 Ahmed Al-Jumaili was an Iraqi man who wanted to change his life to the better. For most of his life he lived in Baghdad, but moved to Texas last month.
On Thursday night, he was shot and killed on the front lawn of his new home. He was 36. Him and his brother had run outside their apartment late at night to look at the snow, while his wife Zahraa took photos.
Ahmed was so excited as he'd never seen snow before. But instead of playing in it with his wife and throwing snowballs, he fell, and saw his blood on the cold ice. "I am hit", he shouted. His mind couldn't comprehend why he was attacked. Why he was killed in this place which he thought was safe? Ahmed survived three wars and numerous bombs in Iraq, only to be killed by the road on Walnut Bend, Dallas.
I never met Ahmed personally, but we have a mutual friend from Baghdad – Iyad Abbas – who was very close to him. Iyad has been telling me all about Ahmed, and just how shocked everyone is at his death. They can't believe what's happened. Although it's not just his close friends who feel like this. Ahmed's murder has shocked many Muslims living in the West. Everyone is asking: Why? Why he was killed in such cold blooded way, similar to an assassination or an execution?
According to Iyad, Ahmed never complained about anything; he loved life. He wanted to live happily and contribute to the society he lived in. His dreams were simple, he wanted to marry, raise a family, and work. He never asked for more. His friends knew him as the "ever smiling Ahmed", or "Ahmed with the smiley face". He never argued with others, he never hated anyone in this world. He never had an enemy.
He met the woman of his dreams in 2013. They got married. He wrote on his Facebook page that it was the happiest day of his life. He thought it was too good to be true. And he was right. Two months after their wedding, she had to leave him to travel to America with her family. Her father was granted humanitarian refugee status and they were welcomed as refugees. Ahmed and Zahraa made a very difficult decision to separate from each other temporarily, before reuniting in Dallas.
Once Zahraa had immigrated, Ahmed started the long and tedious process of applying to the Immigration authorities in the USA to re-unite with his wife. The married couple waited 460 days to reunite.
Chapel Hill shooting vigil - In pictures

Show all 12
Ahmed's happiness when his application was finally granted was indescribable. According to Iyad, he always talked about America. For him, living there was his dream. He repeatedly said "I don't want to die alone in Iraq, I want to live with my wife in America, I don't want to die here".
Ahmed left Baghdad on February 4, landed in transit in Amman, Jordan on February 5, and ended his journey in George Bush International Airport in Houston on February 6.
On February 19, he posted an update online while at home. "Finally I am with my beautiful wife, GOD bless her," it read. Two weeks later, he was killed just metres from where he posted this.
Was it a hate crime? At this point, it's impossible to say without speculating. But does that really matter? As a Muslim living in the West, I cannot describe just how much these incidents frighten me. Am I going to end up like Ahmed? Escaping the terrors of Isis in Iraq to be killed in the West?
I used to leave my doors unlocked, now I have to double check that they're secure, and the windows are shut before I go to sleep. I never go out late at night. My children say, "Dad, it's ok, we're not in Iraq". How can I explain to them that it doesn't matter? That death can follow you wherever you go. There is no safe haven.
Ahmed's family and friends published a video on Facebook today: a video from his funeral. His body was buried in an Islamic cemetery in Texas. Watching it, you start to think that he may have been right. America is Ahmed's home, and now its soil will always wrap his body.
May his soul rest in peace.
Register for free to continue reading
Registration is a free and easy way to support our truly independent journalism
By registering, you will also enjoy limited access to Premium articles, exclusive newsletters, commenting, and virtual events with our leading journalists
Already have an account? sign in
Join our new commenting forum
Join thought-provoking conversations, follow other Independent readers and see their replies