Angelina Jolie has the power to change the world
Some might say she's just another Hollywood superstar, but Jolie knows how to use her celebrity to fight injustice around the world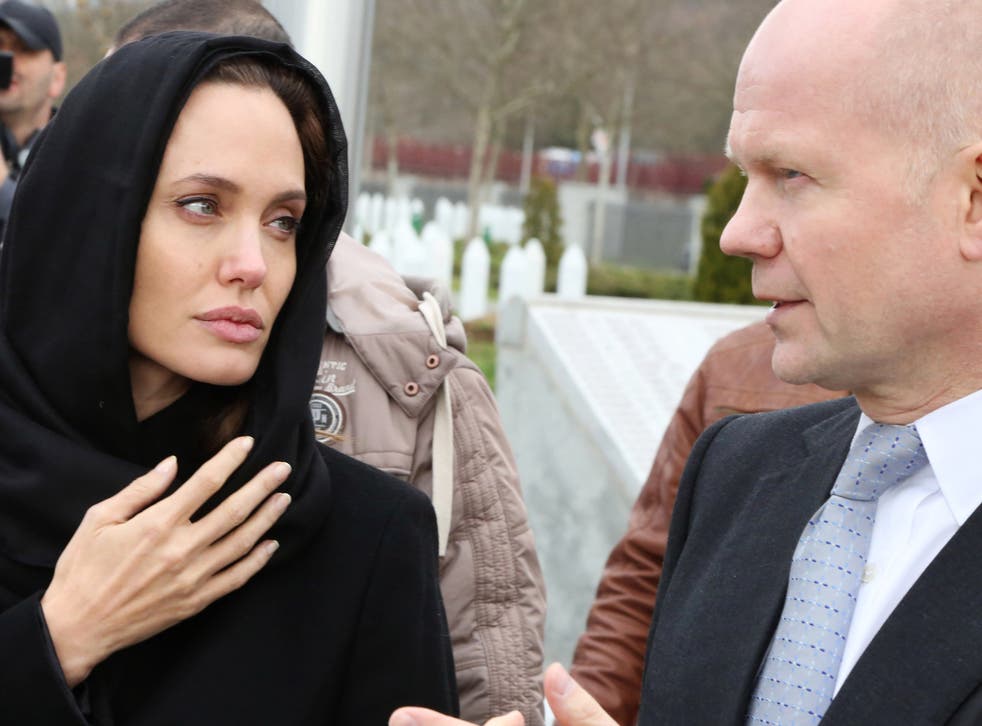 More than 300 senior government ministers from around the globe have arrived in London for the Global Summit to End Sexual Violence, which starts today and goes on for three days at the ExCel centre.
This important and serious event is being headed, quite understandably, by the Foreign Secretary William Hague. Alongside the film star Angelina Jolie. Which is also understandable.
Why, people will carp. She's not a politician. Is Jolie being given centre stage because she is famous, and beautiful, and has an equally famous and beautiful husband, people will carp.
Well, yes, partially. And is it also because has had a double mastectomy, and has adopted a whole bunch of children, and has given them crazy names?
And is it because she goes on red carpets with, ooh, split skirts, and wears high heels and breathes the privileged hyper-oxygenated air of a full-on, 100 per cent celebrity? Yes, it is. Get over it.
Like it or not, we have a compulsive urge to look at the famous and beautiful. We simply cannot help it. It is as ingrained in our nature as it is to coo over a baby. And the presence of Jolie at this crucial event, which aims to unpick the ruinous appendage of sexual violence in conflict zones, will make the unpleasant topic front-page news.
We know there's every likelihood that the beautiful face of Angelina Jolie will be on the front of most newspapers, tabloid and broadsheet, in the next few days. With those eyes and those cheekbones and that aristocratic Hollywood bearing? Are you kidding?
Is this a good thing? Undoubtedly. For Jolie is not only beautiful, she is smart. She knows that she will be followed by the paparazzi anyway. Why not use that power in order to advertise something more worthwhile than, say, a Prada bag? Or the opening of a movie?
This is not to say that Prada and cinema – or even the Duchess of Cambridge's beloved nude LK Bennett shoes - are mindless commodities per se. They are not.
But shoes and bags and even Alexander McQueen coats are not issues which deserve front-page attention, for their existence does not destroy lives and communities.
Jolie and Hague wish to create "irreversible momentum" against rape in conflict, and practical action to help those who are suffering it. Good for them. Good for Hague to see that pulling together with somebody of Jolie's wattage is a smart move, and good for Jolie to have chosen to publicise this important cause.
Register for free to continue reading
Registration is a free and easy way to support our truly independent journalism
By registering, you will also enjoy limited access to Premium articles, exclusive newsletters, commenting, and virtual events with our leading journalists
Already have an account? sign in
Join our new commenting forum
Join thought-provoking conversations, follow other Independent readers and see their replies