Anna Netrebko withdraws from the Royal Opera's Faust: If the star doesn't turn up, why should the audience have to?
The audience should be given the chance of a refund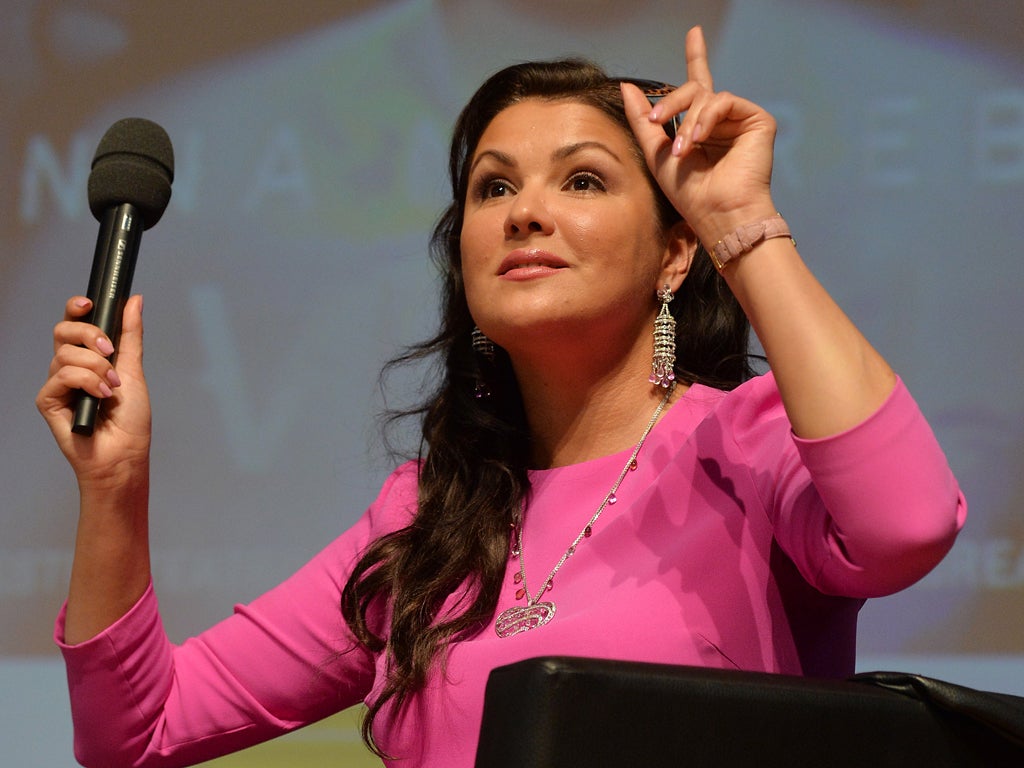 The show must go on, but not always the star. The forthcoming production of Faust at the Royal Opera House will be without the global opera superstar Anna Netrebko, who has withdrawn from the role. These things happen, but rarely for such an odd reason as that given by Netrebko in a statement.
The Russian soprano confirmed she would no longer be playing the lead role of Marguerite, saying: "After much consideration and intensive preparation, I have come to the conclusion that the role is not right for me...
"I am very sad to be disappointing my fans and hope they will understand the difficult decision that I have had to make."
Well, not really. We fans sort of thought that well-known roles in well-known operas were well-known by world-famous singers and did not cause surprises deep into the "intensive preparation" period. But let's not attempt to understand the complexities of either the artistic temperament or the intensive preparation period. I'm more concerned with the simplicities for the ticket buyer. And surely the solution should be simple: if the star for whom you bought the ticket suddenly isn't appearing, you should be given the chance of a refund.
It's not just opera, of course (though late withdrawals seem unhealthily common in that art form). In theatre, the offer of refunds when understudies are on are rare. An honourable exception was producer Bill Kenwright a few years ago, who did offer refunds when his star Billie Piper couldn't appear. But if he could do it, then why can't it be common practice across the performing arts?
One reader, Christine Godwin, emailed me after she was disappointed by the star being ill in a current West End production, with a lateral point, saying: "At what point should audiences be informed? The theatre usually has email addresses…" That's true. At the very least, audiences could be emailed in advance if it is known that a star won't be performing, especially if it is going to be a prolonged absence. Even better would be to use those email addresses to offer refunds.
Venues might kid themselves, all too conveniently, that we book to see a company, but it's just as likely that we book to see a star, and if that star fails to materialise then the offer of a refund is, to use the phrase that performing arts venues seem to love, good customer care.
Poor service creates the most expensive seats at Aldeburgh
It's a phrase they may not have heard of at Aldeburgh though. In one of the most astonishing emails I have received recently, Aldeburgh regular John Knight tells me how he went to see Benjamin Britten's Death in Venice at Snape Maltings concert hall there.
Mr Knight is a wheelchair user and booked specific seats. When he arrived, there were people in his seats who aggressively refused to move. An usher and then the general manager were called, but they refused to move the interlopers. Little did they know that Mr Knight was a donor to Aldeburgh Music to the tune of £20,000. He tells me he will now move that support to another music charity.
When I put all this to the Aldeburgh management, a spokeswoman said:
"We regret the unfortunate incident which was escalating in the calm moments before a production was about to start. We have apologised to Mr Knight who we have kept in touch with, and we deeply regret that he is aggrieved at our handling of the affair. Some lessons were learned, but at all times Aldeburgh Music's staff and volunteers used their best endeavours to manage this situation."
"Some lessons were learned." I bet they were. Expensive lessons, too.
Can't sing? cowell's people can't even make it to the interview!
In the week that Simon Cowell reinstated Cheryl Cole as an X Factor judge, I'd ask both Cheryl and Simon to remind all contestants sternly that showbusiness is a tough game and you have to take the rough with the smooth and not go off in a sulk when things go against you.
This paper encountered such a sulk the other day when an agreed interview with the stars of a new show was cancelled following a news report that the show had some problems in its first preview. The show was I Can't Sing, the X Factor Musical, and the impresario behind it was Simon Cowell.
d.lister@independent.co.uk
twitter.com/davidlister1
Join our commenting forum
Join thought-provoking conversations, follow other Independent readers and see their replies