Anonymous comments are as pathetic as the anonymous "sources" that contaminate gutless journalism from the New York Times, BBC, and CNN
Rather than call it cyber-journalism we should stop drinking this digital poison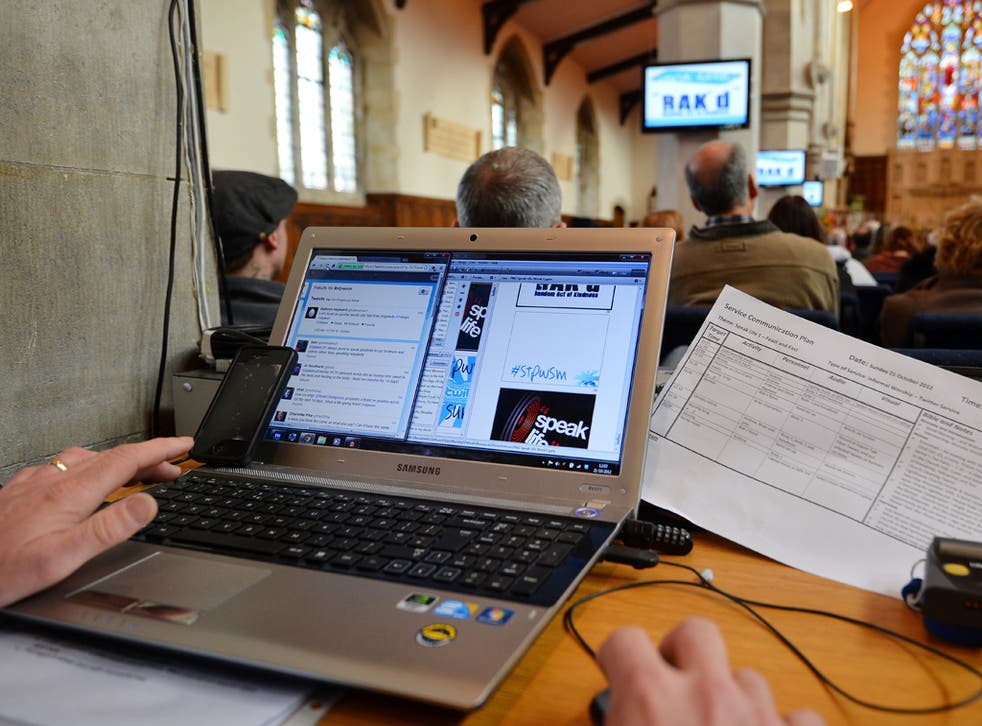 Recognise this chap? He is a "liar", an "idiot", a "terrorist sympathiser", "deceitful", a "disgrace", an "insane liberal fool", he is "on the payroll of the Muslim Brotherhood" and "on the payroll of euro neo-nazis". He is "mad" (in Arabic as well as in English). But wait. This poor bloke is also "an ignorant Jew-hating worthless piece of shit" whose "hate can be seen in his eyes". "Pigpiss be upon him in Hell", is one of the curses directed at him.
He tells "lie upon lie, all of them directly or indirectly aimed at the destruction of Israel". And he has received the following message: "The Islamist cut-throats you sympathise with would gladly slash your pencil neck from ear to ear just because you won't bow to their bloodthirsty pedophile [sic] prophet." And now a clue. In this same list of website filth – sent over just two days – an anonymous writer adds: "Could Robert Fisk be next?"
Sick people
My sin – and the above, believe me, is the clean end of the abuse – was to write an article last week about the Middle East in 2013. Now in the old days, when someone stuffed something abusive in your letter box, you'd be round the cop-shop in no time, brandishing green-ink letters in the face of the station sergeant. Threatening behaviour, at the least. But now, merely to complain about this sort of incendiary material marks you as the oddball. "It's because of your profile," a friend told me. So that's what I deserve? I've always said that if you report the Middle East, you've got to take the sticks and the stones. Sometimes literally.
But something is going wrong here. Surely this is not what the internet is for? Across the world now, anonymity – the bane of every newspaper Letters Editor – is accepted by cyber-journalism, the more hateful, the more understandable. I've pulled out of several radio "chat" shows in mid-broadcast because of the absolute refusal of the anchors to explain why they will not challenge the sometimes viciously named Tweeters or email writers. Websites and blogs and chatrooms were never intended to cover the Breivik-like cruelties of these sick people.
Former US diplomat Christopher Hill, a man whose views normally make me cringe – he was ambassador to Iraq, special envoy to Kosovo and a Dayton negotiator – has observed these dangers. "Instant access to information does not mean instant access to knowledge, much less wisdom," he wrote recently. "In the past, information was integrated with experience. Today, it is integrated with emotion... Digital technology has played an important role "in fostering this atmosphere of bad manners, vicious personal attacks, intolerance, disprespect... Bullying has gone virtual".
Just before Christmas, an Irish minister of state, Shane McEntee, committed suicide after receiving a swath of online hate-mail. At his funeral, his brother Gerry was applauded when he attacked social media: "Shame on you people, you faceless cowards who sent him horrible messages on the website and on text, shame on you." Shane McEntee had been particularly condemned for defending government cuts to Ireland's respite care programme and, anyway, I'm not sure that anonymous emails kill. Newspapers persecute people, too, but at least editors have an address.
Ireland's deputy prime minister has now talked of new legislation against internet abuse – a dodgy one, this, when ex-IRA officials sit in Dáil Eireann and the abuse can work both ways. The French government, too, is considering new rules to prevent racist, anti-semitic and homophobic remarks on Twitter. Racist and anti-Jewish hashtags were removed in France in October but Twitter now claims that it cannot reveal their real identities – in other words, the culprits – since they were filed in California; thus French laws do not apply.
So let me go now to Irish journalist John Waters, who last year complained about the "disproportionate venom of online commentary" and the way bloggers resort to "pre-civilisational forms of communication". In a cyber-style parody, he wrote that he would prefer that the creator of Twitter be arrested and his company closed down. Then he added – quite deliberately, in the language and grammar of the repulsive messages we all receive: "i wish they wud burn the Twitter founder in oil and leave his carcass out for the buzzards."
Poison
And what happened? A Twitter representative called Waters' newspaper employer – on a landline – to complain that his last sentence had "crossed a line". What particular line, I wonder? And when Waters – a man I'm not often in agreement with – later wanted to contact Twitter to remove a defamatory posting, he discovered he could only do so... by signing up to Twitter! No, we are not Luddites, Waters said. But something was needed "to curb the toxic and lawless climate developing on the web". Why should puerile pseudonyms be allowed to present themselves as participants in a democratic debate?
I agree. Chat rooms and comment sections of online newspapers often claim to have a "moderator" – a craven expression since it suggests that the abused and the abuser are equally guilty or innocent – who can remove "inappropriate" material. This is a bit like saying that Hitler could sometimes make "inappropriate" remarks. Indeed, reading a book over Christmas about the Nazi rise to power in Germany, I found that many NSDAP (Nazi party) threats in the thirties did read like web insults.
So what to do? Online comments are often factually wrong, but anonymity allows writers to use vulgar and abusive language to support their lies. They often fail what has been called "the quality test" – rigorously applied, for example, when newspaper editors refuse to publish letters without a name and some form of address. We are talking about verifiable comment.
Anonymity on the Net is as pathetic as the anonymous "sources" that have contaminated the gutless journalism of the New York Times or CNN or the BBC for decades. And the innocent must be able to seek redress in cyberspace as well as in print. Poison-pen letters are illegal. So are offensive electronic messages, if the Malicious Communications Act of 1988 is to be believed. So why should we be forced to drink poison on the Net?
Register for free to continue reading
Registration is a free and easy way to support our truly independent journalism
By registering, you will also enjoy limited access to Premium articles, exclusive newsletters, commenting, and virtual events with our leading journalists
Already have an account? sign in
Join our new commenting forum
Join thought-provoking conversations, follow other Independent readers and see their replies