If they can build a giant 'sex toy' in the middle of Paris, then surely anything is possible
Is 'Tree' really that much more blatantly obscene than the many other giant phallic symbols that hide in plain sight in civic centres the world over?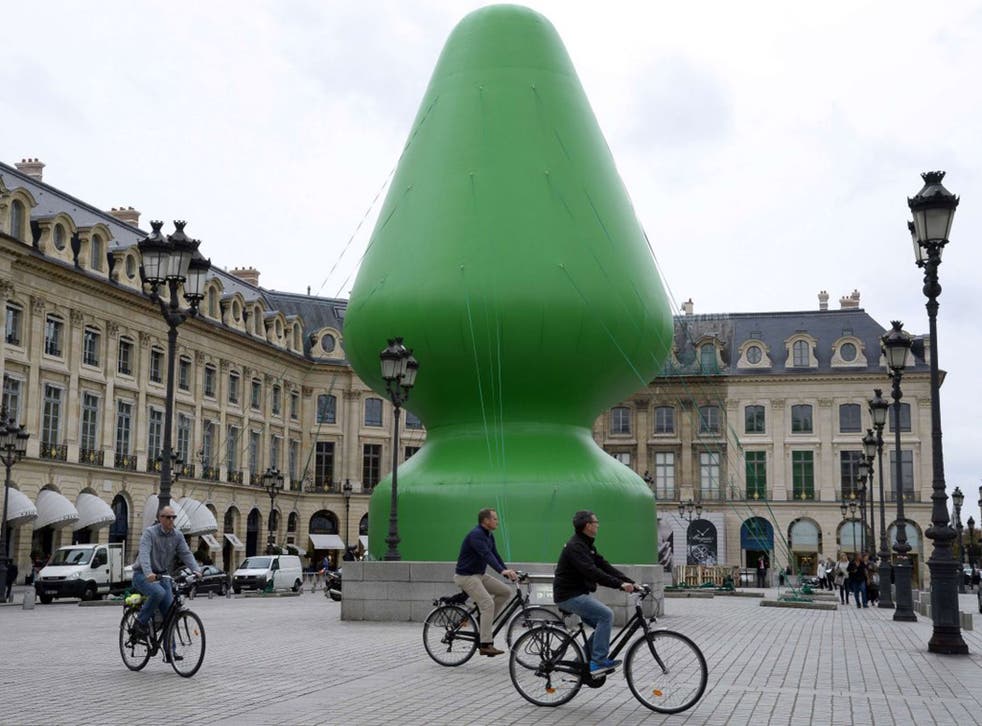 Is it a bird? Is it a plane? No, it's a tree, apparently. The 80ft green structure called Tree has attracted at lot of attention since it appeared in Paris's Place Vendôme. Created by Paul McCarthy, an American artist, as part of his exhibition Chocolate Factory, the installation is officially described as a Christmas tree. Social media wags, however, have suggested that it looks more like something rude (ask your mother). Vandals took it a step further yesterday when they cut the cables holding the structure upright, forcing security guards to deflate and remove it.
Surely Tree is exactly what a great work of public art should be – controversial. Just like the adjacent Vendôme Column was, back in its wild youth. That now venerable monument, constructed between 1806 and 1810 to commemorate Napoleon's victory at Austerlitz, was first attacked by a mob on horseback in 1816. That attempt to dislodge Napoleon's statue from its perch failed, but the Vendôme Column has been dismantled and rebuilt on several occasions since. As for obscenity, is Tree really that much more blatant than the Vendôme Column and the many other giant phallic symbols that hide in plain sight in civic centres the world over?
In the semi-private space of a gallery, our behaviour in relation to art is dictated by a set of implicit rules – that's one reason why many people believe that galleries aren't for them. When a monument is in a public space, on the other hand, ultimately it's only the public that gets to decide what it means and what it's for. To many eyes, the Wellington statue in Glasgow's Royal Exchange Square would be as good as invisible if it weren't for the local tradition of scaling it and placing a traffic cone on the duke's head. When, in 2013, Glasgow City Council proposed to defend the old duke's dignity by doubling the height of the plinth, 10,000 signatures on a "Keep the Cone" petition proved it had missed the point. Just because a public monument is fun doesn't make it a money-wasting frivolity. In fact, it means it's doing its job properly by reminding us to whom public space really belongs and what it's really for – somewhere to congregate, somewhere to think, somewhere to debate. At a time when great swathes of public land are being stealthily sold off, that's an important reminder.
In my corner of the world, there was a campaign to get a statue erected of Wiley, a grime music producer and local hero, which seemed to lose momentum after the first rush of enthusiasm. Petition organisers should take heart from the mischievous glint in Paul McCarthy's eye. If they'll build a giant butt plug in the middle of Paris's grandest arrondissement, then surely anything's possible.
Assange's prêt-a-déporter
Here's some hot catwalk inspiration for autumn/winter 2015: Julian Assange is launching a new clothing range emblazoned with a picture of his face. Olafur Vignir Sigurvinsson, WikiLeaks' brand licensing representative, has reportedly signed merchandise deals all over Europe, but it's the latest one with Franchise India that means the most. "India is one of the countries where awareness about WikiLeaks is the highest and Julian is excited about the proposition," he said.
Unlike Mr Assange, I'm no fashion expert, but I do have a few style rules to live by: 1) never wear a T-shirt featuring a face that's better-looking than your own – it only invites unfavourable comparisons; and 2) Never wear a band's T-shirt if you don't own at least two of the band's albums – it only invites unwelcome quizzing. Of course, this hasn't stopped high-street retailers from selling Kate Moss and Ramones T-shirts to thousands of potato-faced teens who couldn't hum a bar of "Blitzkrieg Bop" to save their lives.
Assange's new venture may be yet another example of his astounding hubris, but we shouldn't underestimate its huge commercial potential. Not because Assange is an international icon of cool to rival Che Guevara, but because statement T-shirts are doomed to be worn only by those people who don't quite get the statement.
National treasure fights back
Never mind the national treasures. Last week, while promoting his new autobiography Anger Is an Energy, John Lydon gave us a expert demonstration in how to wriggle out of the establishment's embrace, as a small boy dodges his grandmother's grisly kiss.
This is no minor accomplishment. In the end, even the most rebellious rock'n'rollers usually succumb to tea at No 10 and a place on the honours list. Lydon appeared to be aligning himself for the dreaded national treasure status when he took a certain punk-influenced comedian to task for encouraging young people to boycott the ballot box. Lydon denounced Russell Brand as a "bumhole" – an underused insult – in references to the views expressed in a New Statesman article last year. He also denied that "Anarchy in the UK" was ever an accurate statement of his own politics. "I always thought anarchy was just a mind game for the middle class," he said. Ah, but one you play so well, Mr Lydon. Witness the anarchic mind games afoot only a few hours later during his appearance on This Week.
The producers had invited John Lydon to appear, so imagine their surprise when Johnny Rotten turned up instead. When he planted a smacker on host Andrew Neil's cheek, then proceeded to take over the autocue, Neil knew better than to attempt to regain control. All broadcasters have learnt as much from the Sex Pistols' notorious 1976 television interview with Bill Grundy. Neil and his regular guest Michael Portillo were instead forced to chuckle along, which had the strange effect of making them look even more stiff and uncomfortable.
Convenient marriage
Truth be told, even inanimate national treasures such as the Elgin Marbles are more trouble than they're worth. Last week, on her first day back at work, the newly married human rights barrister Amal Clooney flew to Athens to advise the Greek government on its efforts to get its ancient sculptures repatriated. Many were surprised back in 2013, when Hollywood actor George Clooney said the British Museum should return its ill-gotten gains, but now it all makes sense. She gets to use his name; he gets to use her well-researched opinions. It's a marriage of equals in action.
Register for free to continue reading
Registration is a free and easy way to support our truly independent journalism
By registering, you will also enjoy limited access to Premium articles, exclusive newsletters, commenting, and virtual events with our leading journalists
Already have an account? sign in
Join our new commenting forum
Join thought-provoking conversations, follow other Independent readers and see their replies