As Cameron prepares to travel to Sri Lanka for CHOGM, my husband - a journalist who criticised the regime - is still missing
Prageeth's disappearance changed my life. We must find him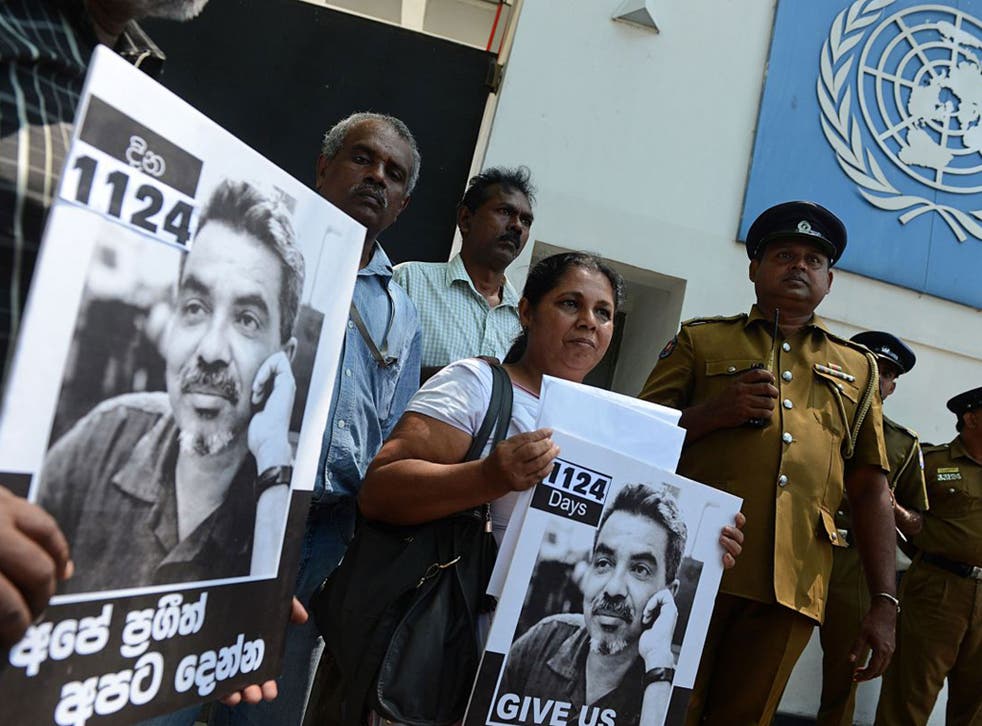 Disappearances have been a part of political life in Sri Lanka for years. Right back in the 80s and 90s they were already a common feature. But in the war during the 2000s, they were endemic. It is now the weapon of choice used by the government against journalists.
I knew Prageeth was doing risky work. But I never tried to stop him. Sri Lanka needs peace. Sri Lankans need justice. We agreed on that.
I never wanted to be an activist, but that is what I have become now. Prageeth's disappearance changed my life and after that I became a full time campaigner looking for him. Today I consider myself an activist not just for Prageeth, but for all the disappeared. Looking for Prageeth and for justice for him has become my religion. That is now my religion and like most religious people I cannot conceive of abandoning it.
I know now something of the way that the Sri Lankan government treats people who get in its way. I recently attended a meeting to discuss civil society action in relation to CHOGM, and when footage of me leaving the meeting was broadcast on Sri Lankan television, the voiceover said; "this is Sandya who is working as a traitor mainly because she is getting thousands of dollars from diaspora".
In Sri Lankan media, there must only be positive stories. The majority of journalists are silent. Those who do speak out do so in the face of immense threat. I know of a female newsreader who crossed the line. Four people entered her house, they destroyed almost everything. She has left the country with her husband and family.
In Sri Lanka there is almost no independent media. What are journalists there allowed to write about? Peaceful elections, new initiatives to keep the streets clean, how well the government is doing and CHOGM. When CHOGM comes to Sri Lanka there will only be positive stories for the visitors to read. Positive stories, smiling billboards and hidden secrets.
Sri Lanka needs a government that will treat all people as equals; there must be no violence against minorities. We don't want a dictatorship anymore. We want a place where journalists can work freely.
At the moment what we have is one man rule. All the values of our democracy have suffered. Making Rajapaksa the leader of the Commonwealth will make him stronger in the country. It is to crown him. I urge UK leaders to oppose that move.
As a whole family, we are the campaign to find Prageeth. My sons are the force behind my struggle. When you start to believe in a religion you are a believer for the rest of your life. I wake up and I go to bed with Prageeth.
What I do know is that whatever small space we get for human rights work in Sri Lanka, comes because of the international community. It is very important that that pressure continues.
People can call on UK leaders to put pressure on Sri Lanka with Amnesty
Register for free to continue reading
Registration is a free and easy way to support our truly independent journalism
By registering, you will also enjoy limited access to Premium articles, exclusive newsletters, commenting, and virtual events with our leading journalists
Already have an account? sign in
Join our new commenting forum
Join thought-provoking conversations, follow other Independent readers and see their replies