At last the world is rising up to fight the tyranny of Valentine's Day
Heard of the Revolutionary Alliance of Men that Women Find Unattractive?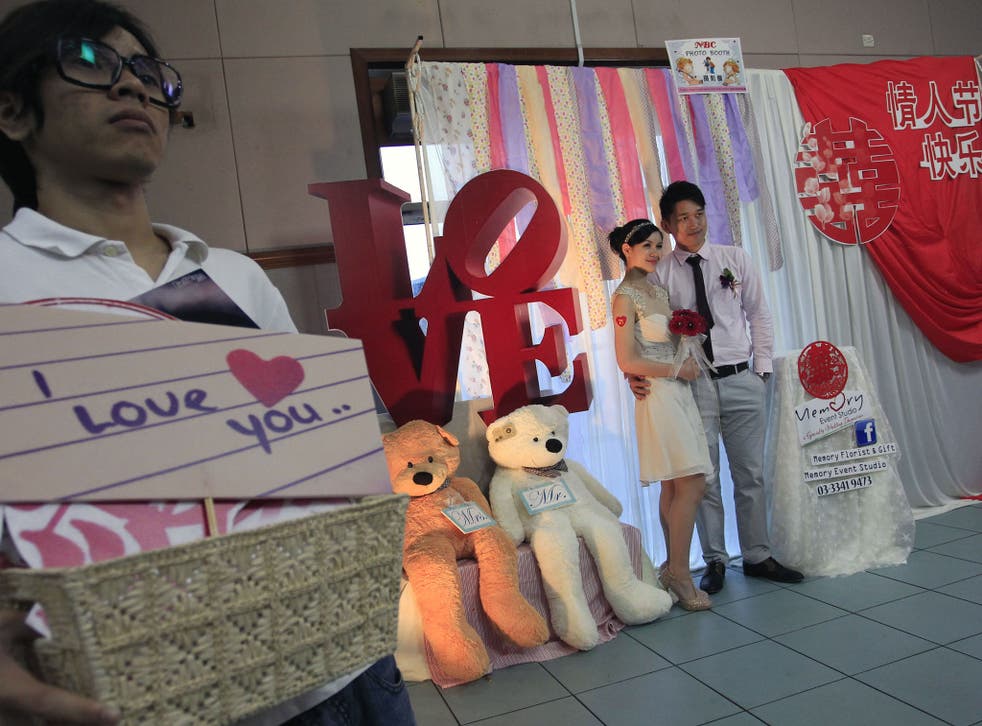 Several things crossed my mind when I saw that extraordinary photograph of Helena Bonham Carter apparently wrapped in sexual congress with an enormous fish. One was to congratulate the bigeye tuna clamped between the actress's lovely thighs on its good fortune, despite being dead. Another was to wonder if she was making some disobliging comment about the boudoir experiences she used to enjoy with her ex-partner, Tim Burton. But then I saw the tattoo on Ms Bonham Carter's shoulder and realised: it's another swipe at Valentine's Day.
I was wrong – as you probably guessed, it's Helena's way of supporting the Blue Marine Foundation in its fight against overfishing – but it could so easily have been. For the backlash against tomorrow's celebration of love, romance and, er, rare steak (have you seen the Marks & Spencer adverts?) has now reached epidemic proportions.
It's hardly surprising, when the zeitgeist is all about not giving offence to people outside a celebration zone; every smoochtastic commercial for candlelit dinners or heart-shaped comestibles could easily upset the single or the non-amorous, so naturally it's frowned on. I know of at least six anti-Valentine's parties scheduled for tomorrow, offering bowls of smashed-up Love Hearts, viewings of the miserable Ryan Gosling movie Blue Valentine and readings from Dorothy Parker's astringently anti-luurve poems ("Oh life is an unending cycle of song/ a medley of extemporanea/ And love is a thing that can never go wrong/ and I am Marie of Romania.")
The Huffington Post tells us 14 February is also International Quirkyalone Day, which has been going since 2003 in 40 cities worldwide and is all for (genuine) romance, freedom and individuality. "You can celebrate by yourself," enthuses its founder Sasha Cagen, "by rearranging your furniture, getting a massage, writing in your journal or taking a long walk by yourself".
Tomorrow is also Singles' Awareness Day in the US, and the happily uncoupled can celebrate their status on Facebook and give each other high fives. A website called the Prowl is offering suitable Valentine's Day gifts for the newly dumped: a T-shirt bearing the legend "Wine is my Valentine", a coffee mug with the words "Quietly Plotting Revenge" on the side, and a kitchen knife-holder in the shape of a man with room for five knives in it – the top one in his forehead…
These bah-humbug sentiments are child's play, however, compared to the virulent anti-Val movements growing elsewhere in the world. My favourite is the Japanese group, the Revolutionary Alliance of Men that Women Find Unattractive, founded in 2006 by Katsuhiro Furusawa, who read The Communist Manifesto after his girlfriend walked out and decided that being sexually unappealing was a class thing, requiring Marxist action. The group will march through Tokyo tomorrow, holding banners proclaiming "Crush St Valentine's Day" and "Flirting is Terrorism". I assume the RAMTWFU's protestations are tongue-in-cheek, if they'll forgive the phrase, but you can't be sure.
20 best Valentine's getaways in the UK

Show all 20
Across Asia, warnings are being issued about not embracing Western culture (or your hot neighbour). In Thailand, where teenagers like to lose their virginity on 14 February, the government is urging young people to visit temples rather than try horizontal jogging. The Malaysian Islamic Development Department has called the feast day "a colonisation of the mind" and sends out volunteers to approach young Muslim Malays, to caution them against celebrating St Val's because it gives rise to "alcohol, abortion and baby-dumping".
In India a Hindu nationalist group threatens to force marriage on anyone caught kissing in public or smooching on social media. "Display of love in the entire Valentine's week is equivalent to not following Indian traditions," thundered its leader. "Anyone found displaying love on Facebook, Twitter or WhatsApp will be caught hold of."
Blimey. Restaurants might not be so booked up tomorrow night after all.
Driverless cars only change the game if you enjoy feeling like a hapless baby
Try as I might, I cannot see the attraction of driverless cars. This week the Government launched four trial schemes in Greenwich, Coventry, Bristol and Milton Keynes at a cost of £19m. "Driverless vehicle technology has the potential to be a real game changer on the UK's roads," promised the transport minister Claire Perry, "altering the face of motoring in the most fundamental of ways and delivering major benefits for road safety".
Well, up to a point, Lord Copper. Driverless cars might prove a boon to over-the-limit drivers, or those with failing eyesight or extreme fatigue, but the most "fundamental" thing about motoring is the interaction between the sophisticated machine and the person at the controls. Having the machine do everything for you, prompted and guided by supposedly foolproof sensors, cameras and "lidars", will leave the once-proud driver feel like a hapless baby, ferried about by powers beyond his control.
There's one important consideration Ms Perry didn't mention. Professor Stephen Glaister, head of the RAC Foundation, put it like this: "Alongside the hi-tech innovation you need policy decisions on long-term, low-tech matters such as who takes responsibility if things go wrong." In other words, whose fault is it when a driverless car crashes into a driven one? Will the manufacturers claim the driverless one is infallible because its sensors and radar can't go wrong? And what happens when two of them crash into each other? The only "game changer" I can predict is in the battles between insurance companies.
I love innovation but sometimes I wonder how long it will take consumers to return to their old ways. The news that sales of Ordnance Survey maps are rising for the first time in five years delights me because it means motorists have realised how they've relied overmuch on satnavs that leave them stranded in the middle of Norfolk when they're heading for Northampton. I suspect early adoptors of driverless cars may find themselves travelling a similarly retrogressive road in much less than five years.
Register for free to continue reading
Registration is a free and easy way to support our truly independent journalism
By registering, you will also enjoy limited access to Premium articles, exclusive newsletters, commenting, and virtual events with our leading journalists
Already have an account? sign in
Join our new commenting forum
Join thought-provoking conversations, follow other Independent readers and see their replies