Banksy perfectly embodies our transitory age, but who cares? He is, most of all, an heroic anti-hero
There is no better commentator on the mores of the modern world than the incognito graffiti artist from Bristol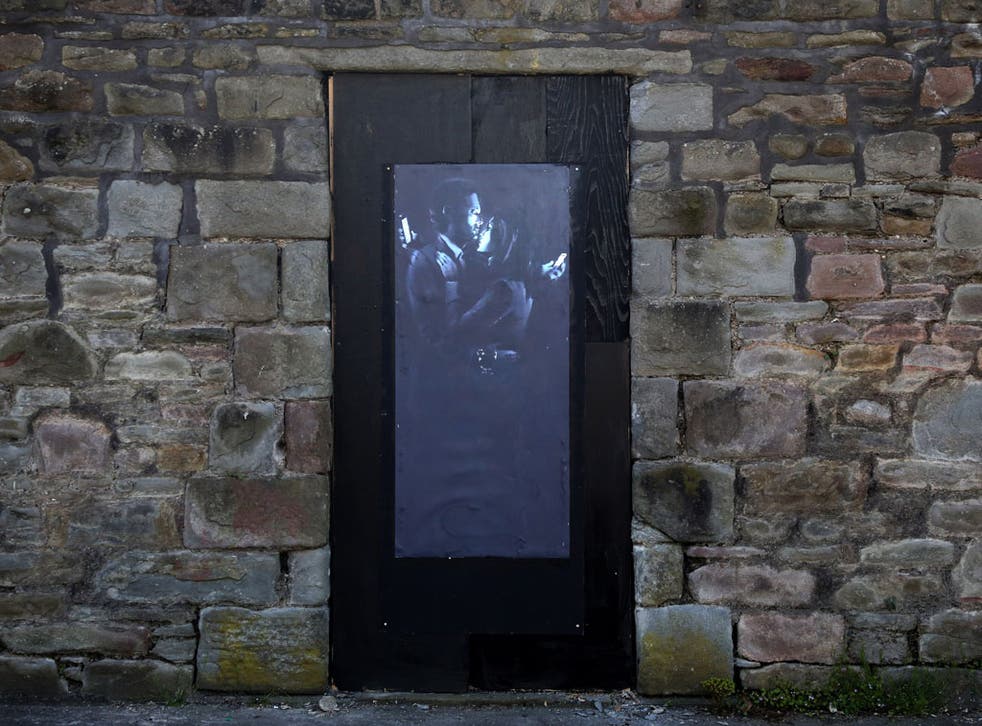 It's a blockbuster art opening that attracts no corporate interest, and is on no one's must-do list. There is no glamorous opening party, no low thrum of self-satisfied chatter among the elderflower cocktails and the perfectly-formed canapés. There's no merchandise, and for most people it's a cultural event that will completely pass them by. It's a local rather than national event, but everything about the unveiling of a new Banksy painting is significant, in terms of its execution, its content and its meaning.
I don't think there is a better commentator on the mores of the modern world than the incognito graffiti artist from Bristol. As an anti-celebrity celebrity, he's having a joke which shows no sign of running its course. He is a disruptive force in an era of convention, when most public discourse is sanitised for fear of causing offence. And as an artist, his every work makes a statement, designed to subvert the established way of doing things, and bringing art closer to the people. The latest Banksy to have been discovered is, in many ways, the ultimate expression of what we can only assume he is trying to achieve.
It emerged overnight close to the centre of Bristol, and is a beautifully crafted stencil of a couple embracing. They have their arms around each other but, mid-clinch, both of them are catching sneaky glances at their mobile phones. It's an amusing, trenchant and acute observation on 21st Century life, and complements his other recent work, a piece depicting three spies listening in to conversations in a phone box, which was painted on a wall close to GCHQ in Cheltenham.
Banksy's New York residency

Show all 14
Within hours of the Bristol piece being discovered - it was painted on a black wooden panel - it was crow-barred off the wall by a group representing a local youth project. They said they'd been urged by a "friend of Banksy" to take the picture and use it as a fund-raising tool. Dennis Stinchcombe, leader of the project, said: "We need £120,000 to keep going and our fundraising appeal has so far brought only a few thousand pounds. Now we've ended up with a Banksy on our doorstep." Art for people's sake. Beautiful.
Mr Stinchcombe knows the value of a bit of Banksy. Pieces on chiselled-off brickwork in London have sold for £500,000, and the lucky owner of the house in Cheltenham that Banksy used for his recent tableau has seen the value of the property double as a result. We don't really know how Banksy earns his money, but it's probably safe to say that he makes a comfortable living, and, as with any of us, financial stability is a liberating force.
Banksy seeks to enrich our lives culturally and, inadvertently or not, financially. Critics say he is a phenomenon rather than an artist, and it's certainly true that he perfectly embodies our transitory age, a time when public engagement is powered by social media, and big ideas have the lifespan of a mayfly. But, in the end, who cares? Banksy is an original, a product of his time, a subversive force, an inaccessible figure whose work is accessible, and, most of all, an heroic anti-hero.
Register for free to continue reading
Registration is a free and easy way to support our truly independent journalism
By registering, you will also enjoy limited access to Premium articles, exclusive newsletters, commenting, and virtual events with our leading journalists
Already have an account? sign in
Join our new commenting forum
Join thought-provoking conversations, follow other Independent readers and see their replies