Beyonce in GQ: All the ladies! Put your hands up for feminism
For the sake of feminism, give Beyoncé a break. Contradiction is progress.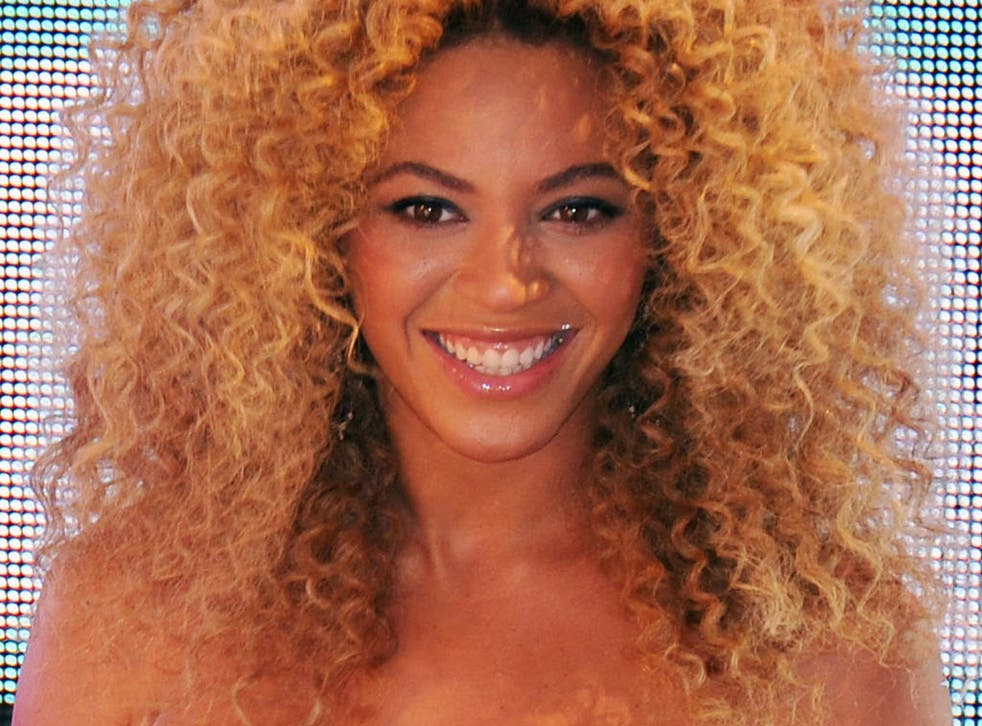 Beyoncé, in a high profile interview, has said that men and women are not equal and that simply, that fact is "ridiculous":
"You know, equality is a myth, and for some reason, everyone accepts the fact that women don't make as much money as men do. I don't understand that. Why do we have to take a backseat? I truly believe that women should be financially independent from their men. And let's face it, money gives men the power to run the show. It gives men the power to define value. They define what's sexy. And men define what's feminine. It's ridiculous."
It is both tragic and hilarious that the most radical thing Beyoncé has said in her 16-year career is accompanied by a photo-shoot in which she's posing in her knickers for money. Let's face it, on a website that simultaneously features "The Best Breasts of 2012", her musings probably won't even be read. This irony, one that is assumed lost on the pathetic puppet of the patriarchy that is Beyoncé, has been laboured so hard we have forgotten to be constructive. And that is the most dangerous thing of all.
Is this what western feminism has come to? Asks the amazing Hadley Freedman in her damning column. No. It isn't. This is that cheeky duo, capitalism and patriarchy, doing what they do - and they have been doing it a lot longer than Beyoncé has been providing the beats. Western feminism is amorphous, innovative, and becoming more receptive to individual experience, and more understanding of intersectionality (the radical notion that not all women are not the same). Despite austerity, George Galloway and drinks called Pussy, there is so much out there. We mustn't waste time or energy picking each other to pieces. We must support and congratulate each other at every opportunity.
Beyoncé has been working, relentlessly, since she was 15, in a universe that is alien to ours. Anyone who has spent that long under the world's hungry spotlight will contradict themselves, and that she has. On the much-loved track 'Nasty Girl' from the huge 2001 'Survivor' album she sings, "You's a nasty, nasty, trashy, nasty, sleazy, nasty, classless, nasty… Nasty put some clothes on, I told ya. Don't walk out your house without your clothes on, I told ya". Fairly horrific. Beyoncé has spoken openly about her Christian beliefs in interviews and songs, "I'm not gon' compromise my Christianity (I'm better than that)", while performing in scantily-clad outfits designed by her devout mother; an unforgivable contradiction in my Muslim mother's eyes. However, on the same album we find 'The Story of Beauty', written in response to a letter from a young victim of abuse, "please dry your eyes, young girl, don't cry, you're beautiful. It's not your fault, young girl, don't cry, you're beautiful. You're not the one to blame, soon it will be okay, one day you'll realize your beauty". We see what we want to see.
If a superpower of a woman, who has never been known for feminist discourse and has no need to engage with it as long as she lives, chooses to, and is met with scepticism and harshness, why bother? Who are we, to hold it against Beyoncé, that she was not an unwavering feminist in 1996 and make it an inhospitable environment to her in 2013? Who are white middle class feminists to condemn Beyonce's discussion of the pay gap (bigger for ethnic minority women I might add), to tell her she isn't feminist enough? She contradicts herself because she is a woman, on a journey, living in a system designed to make women feel that they mustn't question, that they have to be either, or; Madonna or whore, Angela Davis or Rihanna. There is a middle-ground full of uncertainty and I congratulate Beyoncé for stepping into it.
I contradict myself. You do too. But we get to do it in private. Thinking we have to be all or nothing is another tool of the patriarchy, used to discredit women's experience and scare them from feminism. I don't shave my legs but I pluck my eyebrows. That's a contradiction of sorts, and one I'm happy to live with for now. But it is used to dismiss me. "Unless you're doing The Kahlo, you're not doing anything". I don't know what's in my future, how far I will be comfortable challenging the confines of what is acceptable in our society. And neither does Beyoncé. But what I do know is that we need to be kind, open and non-judgemental if we want the message to spread.
Sometimes we contradict ourselves publicly too. Recently, Anne Hathaway has been lauded for her feminism, and rightly so! Her recent takedown of a talk-show host who tried to open an interview about her latest film with a question about her vagina is impeccable: "it kinda made me sad, on two accounts… I was very sad that we live in an age where someone takes a picture of another person in a vulnerable moment and rather than delete it, and do the decent thing, sells it. And I'm sorry that we live in a culture that commodifies sexuality of unwilling participants, which brings us back to Les Mis".
Hathaway is a heroine. Case closed. No mention of the fact that she has posed nude to advertise her films. No umming and erring. Is this snobbery? She works in film, serious, lasting, dignified film - not the judge-central world of pop music of which everyone feels entitled to a piece. And let's face it. She knows her shit. She's also a beautiful white woman. An acceptable, non-threatening, white woman.
The race dimension of the disparity in the way these events have been interpreted is another article, but the fact Beyoncé is a black woman must not be side-stepped. In their criticism of Beyoncé, people have assumed she has brought nothing to feminism. But it is clearer than day that she brings something important to the lives of millions of women, millions of black women. She might not quote Bell Hooks in interviews, but as one of the biggest icons of the 21st century, she sure has some stuff to say. She has long been a champion of The Independent Woman, especially where finances are concerned, and if that's how she understands and practices feminism it is not our place to outright condemn her. Remember, this interview comes shortly after she ended her business relationship with her father and gave birth to a daughter.
If we are so intent on building an accessible, inclusive feminism, why don't we focus on what Beyoncé has to offer, rather than her all-too-obvious failings? For the sake of feminism? And all the women who have been inspired by her? I am one of those women.
When I look at the GQ spread, I do not see tits and arse. I see a formidable singer, performer and athlete who nursed me through my teens, inspired me to sing and dance, strut and survive. I see a woman who belonged to me and the black and Asian girls I went to school with, a woman with skin our colour and thighs we could relate to. I see a club where white people were the guests – a precious space in our homogenous media. I see the first woman in 20 years to headline Glastonbury. In Beyonce's contradiction I see hope and progress. In the backlash I see negativity and narrow-mindedness. Next time, let's look a little deeper.
Register for free to continue reading
Registration is a free and easy way to support our truly independent journalism
By registering, you will also enjoy limited access to Premium articles, exclusive newsletters, commenting, and virtual events with our leading journalists
Already have an account? sign in
Join our new commenting forum
Join thought-provoking conversations, follow other Independent readers and see their replies