Biggles flies uncensored: more whisky, less jingoism
World View: W E Johns's tales about the often derided but intrepid fighter pilot have been unfairly maligned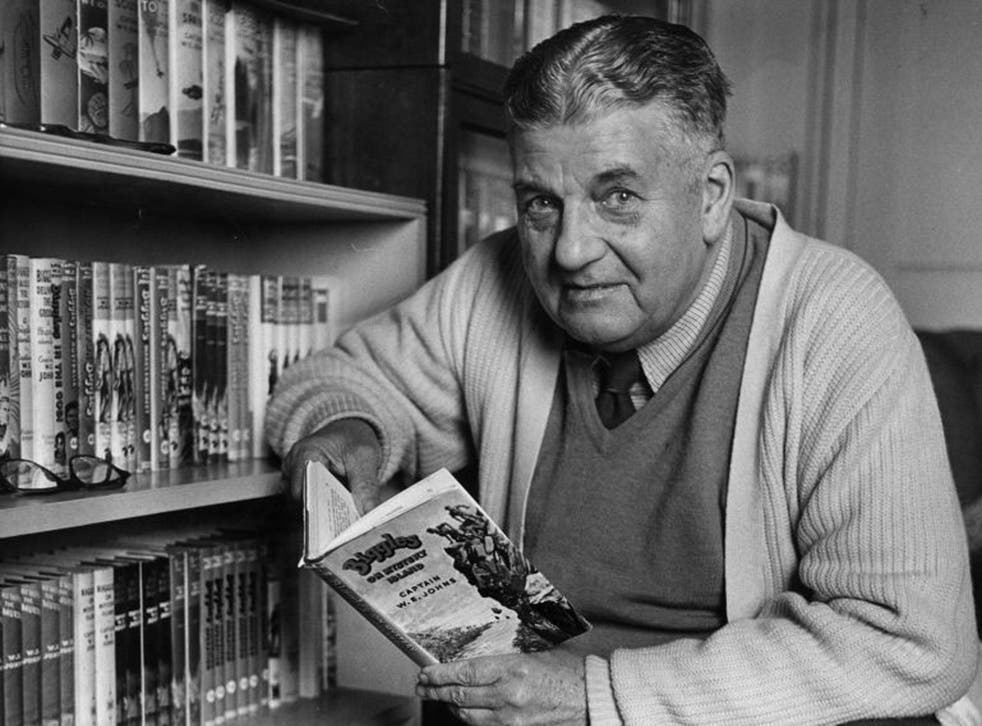 A tidal wave of commentary on the First World War is about to break as we approach the 100th anniversary of its outbreak. Growing up in the 1950s, it was accounts of the Second World War that dominated my reading. I began to pay real attention to what had happened between 1914 and 1918 only when I started reading about aerial warfare in the numerous books about Biggles by Captain W E Johns, which at that time were voraciously consumed by most teenagers and now are almost unobtainable in bookshops.
It was not a bad way to learn about the war. Johns, a pilot in the RFC (which in April 1918 became the RAF), gives vivid accounts of what it was like to fly the fragile planes of the time, which were all too likely to fall apart or crash long before they fired a shot. In describing aerial combat, his stories are still intensely readable and, at his best, he writes about pilots and their planes with a clarity and realism that have seldom been equalled. The survival rate for aircrew was low, and Johns's own six weeks of combat flying in 1918 before he was shot down behind German lines was about average.
In the 1960s, librarians started withdrawing books on Biggles from the shelves, claiming that he, and the author who created him, glorified war as a sort of public-school game and were jingoistic, racist and sexist. The very name "Biggles" is mostly used today with slightly derisive undertones to suggest a dim-witted and juvenile enthusiast, probably with an aeronautical bent. But it is a reputation wholly undeserved, and Johns, who had fought at Gallipoli and in Macedonia as a machine gunner before joining the RFC, had no delusions about war. Writing about First World War generals and politicians, Johns later denounced them for squandering the lives of hundreds of thousands of "trusting lads, who now lie between Calais and Kut.... I helped to shovel 1,800 of them into pits (without the blankets for which their next of kin were probably charged) including 67 of my own machine gun squadron of 75 in front of Horseshoe Hill in Macedonia".
He goes on to describe how his unit had to attack without artillery support because somebody had forgotten to supply the cranes to lift the guns out of the ships that brought them. Almost all the information about Biggles and Johns in this article comes from the excellent biography, "By Jove, Biggles! The Life of Captain W E Johns by Peter Berresford Ellis and Piers Williams. Johns was, in fact, a flying officer, not a captain, a rank that did not exist in the RFC or RAF.
The Biggles stories have frequent laconic but grim hints about what fighting was really like on the Western Front. At one moment Biggles and his observer are shot down and wander about amid the muddy craters of No-man's-land. "I can't stand much more of this!" growled Biggles. "It's giving me the creeps. I've just crawled over somebody – or something that was somebody." The switch from the jaunty English idiom of the day – "gives me the creeps" – to the image of Biggles feeling his way over a corpse torn apart by gunfire is highly effective.
Johns was a victim of his publisher who bowdlerised the narrative when stories were republished, and banned all mention of swearing and drinking. Thus when Biggles's windscreen is shot to pieces, he exclaims: "My Gosh! What a mess!" Lemonade is substituted for whisky, and in one amended story Biggles and a friend compete to extract pre-war lemonade from a French hotelier. In an early story in its pre-censored version, Biggles, demoralised by a love affair with a girl who turns out to be a German spy, is described as drinking half a bottle of whisky in a day. "Biggles is finished unless he takes a rest," says his worried commander. "He is drinking whisky for breakfast, and you know what that means – he is going fast."
Johns's own military and political instincts were generally good and humane. He was a fervent opponent of the appeasement of Hitler and the Japanese invasion of China. His views were of some importance to the government because he edited the two main flying magazines of the day, Flying and Popular Flying, in which he vehemently attacked government policy.
From the early 1930s, he called for the training of more pilots, on the grounds that if there were too few when war came, training would have to be rushed, and under-trained airmen would die in accidents or in combat against better trained German pilots. In fiction, he gives Biggles only 10 hours' training in the air, saying this was all he had got before meeting German pilots who might have been flying for years.
The government was evidently concerned about being so expertly attacked by the editor of the most widely read aviation magazines in the world and which were read, moreover, by so many in the RAF or connected with flying. In March 1939, he attacked the government's "foul and craven hypocrisy" for its non-intervention policy in Spain. Soon after, the government put pressure on his publishers to have Johns sacked as editor of both publications.
Few authors have had a posthumous reputation so at variance with their work, which is still highly readable. As for his general attitude towards war, it is worth quoting his reaction to the Japanese bombing of Shanghai in 1937, which he described as "wholesale carnage, the turning of a town into a vast slaughterhouse".
Johns wrote: "What have these poor devils of Chinese done, whose mangled remains I saw being forked into carts like so much manure? It is a pity the Japanese bomber pilots cannot be shown what they did, but that, I fancy, is the last thing the Japanese government would permit. Nor, for that matter, would our own government allow our bomber pilots to see it."
Register for free to continue reading
Registration is a free and easy way to support our truly independent journalism
By registering, you will also enjoy limited access to Premium articles, exclusive newsletters, commenting, and virtual events with our leading journalists
Already have an account? sign in
Register for free to continue reading
Registration is a free and easy way to support our truly independent journalism
By registering, you will also enjoy limited access to Premium articles, exclusive newsletters, commenting, and virtual events with our leading journalists
Already have an account? sign in
Join our new commenting forum
Join thought-provoking conversations, follow other Independent readers and see their replies