Bill Cosby: from America's dad to sexual predator
Out of America: Stories of his alleged sexual assaults may have circulated widely in Hollywood, but they came as a shock to fans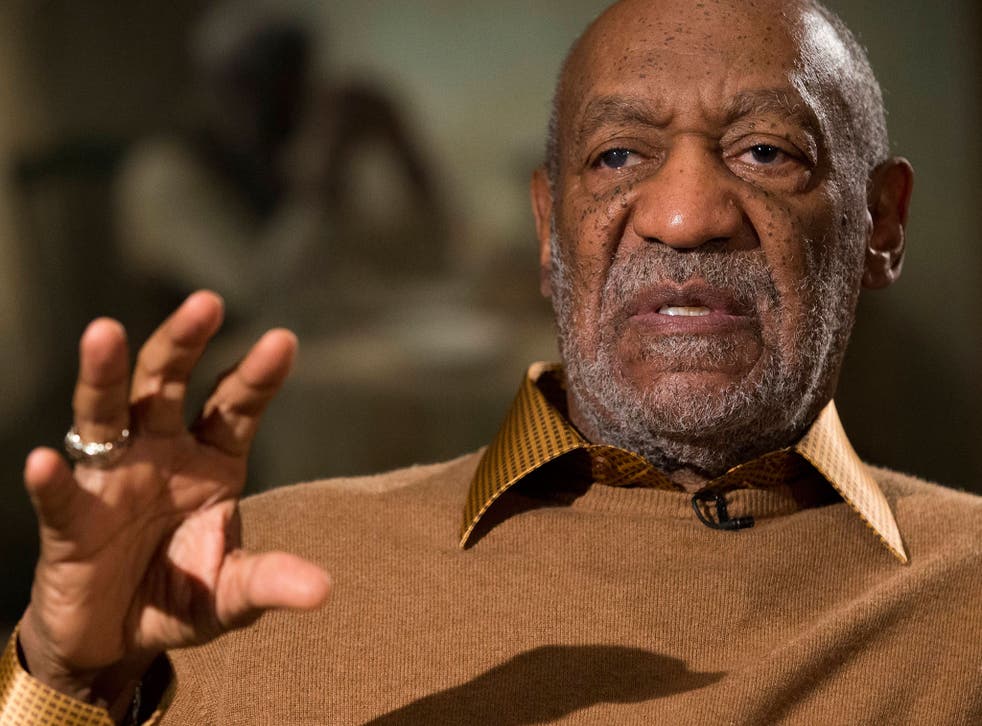 How sad it is when cherished idols have feet of clay. So it is right now with Bill Cosby. Once he bestrode American television. Now, a dozen or more women – their number climbs by the day – have come forward to claim that they were once sexually assaulted by the comedian, sometimes after he had slipped them a drug to sedate them.
It's easy to forget now, but between 1984 and 1992 The Cosby Show, a sitcom about a black family, entranced America. For five of those eight years, it was the top-rated TV show, at a time when broadcast television still reigned supreme, and was largely responsible for turning NBC into the country's most watched network.
More even than now, the US was then bedevilled by race. But The Cosby Show somehow sidestepped the issue; its underlying message was that black people should empower themselves, and not blame white people for every problem. Wise and benign, sometimes sappy, sometimes stern but always with a twinkle in his eye, Cliff Huxtable – the patriarch played by Cosby – was America's dad. And now this. Has a sublimely crafted image ever been so brutally brought to earth?
But wait, say seasoned observers; Cosby's misbehaviour was an open secret, just as the philandering of Tiger Woods was reputedly an open secret in the world of pro golf. But "open secrets" to insiders were real secrets for 99.99 per cent of the rest of the population, myself included.
Bill Cosby: Career in pictures

Show all 20
Like Cosby, indeed like Barack Obama when elected, Woods was another black man whose success assuaged America's feeling of guilt over race. But five years ago this week, he crashed his SUV into a fire hydrant outside his South Florida home, after a row with his betrayed wife. The incident was catalyst for a host of women to come forward, recounting their bedroom liaisons with the golfer. His marriage was destroyed, his reputation as a model father dissolved almost overnight. The national sense of shock was palpable, and by coincidence or otherwise, his on-course career also nosedived thereafter.
If the stories are true, and his lawyers deny them all (and he has never been criminally charged), Cosby's fall from grace is even more jarring. Like Woods, he's been a brand that could sell virtually any product. But Tiger, robotic and controlled to the point of chilliness in his public appearances, was respected for his prowess but rarely loved. With his winning smile and projection of normality, Cosby was loved. And not least important, Woods's trysts were consensual. Cosby's apparently were not.
How many of the allegations are true? The star's lawyer has denounced the press coverage as a media feeding frenzy, claiming that the latest accusers are peddling "inane yarns". And who can say that every one of the alleged victims is not a fantasist, driven by a desire for score-settling, for money, or simple celebrity? The fact however remains that allegations of sexual assault by Cosby have been around for a decade or more, and at least one claim was settled by the actor out of court. That they have resurfaced now with a vengeance is in part because a new 544-page biography of the comedian utterly failed to mention the accusations.
The omission was seized upon by Hannibal Buress, another black comedian and a Cosby foe, who on stage described him as a "rapist" and the "f***ing smuggest old black man public persona … Pull your pants up, black people. 'I was on TV in the 80s. I can talk down to you because I had a successful sitcom.' Yeah, but you raped women, Bill Cosby." The clip hit the internet, and that was that.
But there's another reason too: a decade or two ago, a celebrity could still get away with such behaviour; women feared they wouldn't be believed, and that to come forward would bring only humiliation. All that has changed. Be it in the National Football League or in college dorm rooms, violence and sexual abuse towards women generate headlines every day. The mood is no longer of tolerance, that 'boys will be boys', but of outrage. Of public sympathy towards Cosby, there is none.
Nor is this a feeding frenzy, a case of media piling on without justification. If you want to study the case that arguably started that modern phenomenon, read journalist Matt Bai's new book, All the Truth is Out, about how the press in 1987 staked out the home of Democratic presidential candidate Gary Hart and discovered – gasp – that he was seeing a woman other than his wife.
Thereafter, no politician's private life was off limits – even when it had no bearing on his or her ability to do the day job. But Cosby wasn't like that. If only half the allegations against him are true, his day job of portraying a devoted father and family man, was a lie – and had to be exposed as such.
Since Buress's tirade, things have gone from bad to worse. Cosby has chosen not to answer the accusations, and on Friday night dismissed them as "innuendos". Yes, the media will soon lose interest, and the statute of limitations, and the inherent unprovability of such allegations 20, 30, even 40 years after the event, means there will be no prosecutions or trials.
But he's already paid a heavy price. Cosby is 77 now. The wit is still there, but he's an old man, slow of movement and losing his sight. He had been planning a comeback, on the back of a new NBC sitcom. But that project has now been scrapped, as has a comedy special featuring Cosby that was to have been live-streamed by Netflix.
The cable channel TV Land meanwhile has dropped reruns of The Cosby Show from its schedule, while planned live appearances this month and next are being cancelled, "by mutual consent", as the saying goes.
The name Bill Cosby will recede from the headlines. But from now on, when it does resurface, the persona it conjures up will not be a genial, universally beloved dad, but a sexual predator dispensing not wisdom but date-rape drugs. How sad.
Register for free to continue reading
Registration is a free and easy way to support our truly independent journalism
By registering, you will also enjoy limited access to Premium articles, exclusive newsletters, commenting, and virtual events with our leading journalists
Already have an account? sign in
Join our new commenting forum
Join thought-provoking conversations, follow other Independent readers and see their replies