Bill de Blasio ushers New York into a brave new world of liberal governance
The new Mayor's administration will be a laboratory of sorts for modern progressivism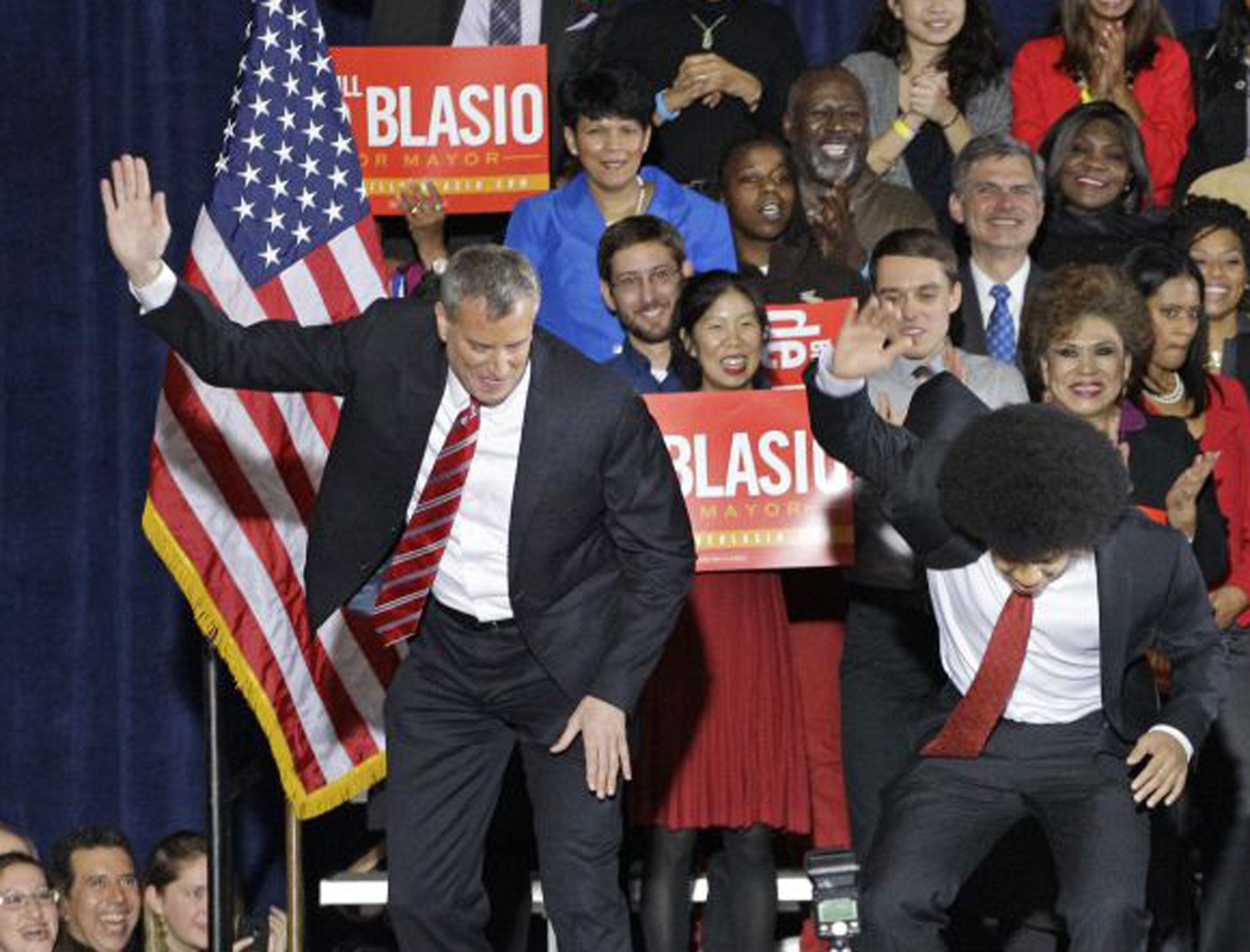 NEW YORK — Bill de Blasio has been overwhelmingly elected mayor, becoming the first Democrat to lead New York in 20 years and ushering in a new era of activist liberal governance in the nation's largest city.
In early returns Tuesday night, de Blasio was soundly defeating Republican Joe Lhota, a protege of former mayor Rudy Giuliani.
De Blasio campaigned on a platform of progressive change following Mayor Michael Bloomberg's 12 years in office, highlighting what he saw as "a tale of two cities." The moneyed Manhattan elite have had their mayor, he argued, and now the 46 per cent of New Yorkers living at or near the poverty level need one of their own.
De Blasio's administration will be a laboratory of sorts for modern progressivism — testing whether an anti-establishment activist can effectively manage a sprawling municipal government and lessen growing inequality between rich and poor.
"Tackling inequality isn't easy. It never has been and it never will be," de Blasio said in a victory speech at the YMCA gymnasium in his Brooklyn neighborhood of Park Slope. "The challenges we face have been decades in the making, and the problems we set out to address will not be solved overnight. But make no mistake: The people of this city have chosen a progressive path. And tonight we set forth on it — together, as one city."
But de Blasio also faces a series of immediate challenges as he takes charge of a city government with some 300,000 employees, a $70 billion budget and a dizzying web of intersecting interests. He will have to negotiate several city labor contracts that are due for renewal and overhaul the leadership of agencies, including the New York Police Department, which he has sharply criticized for the anti-crime policy known as "stop and frisk."
De Blasio also confronts serious obstacles to his tax policy agenda beyond the borders of this overwhelmingly Democratic city, including potential opposition from Democratic Gov. Andrew Cuomo and lawmakers in Albany.
"He walks into a new experiment," said Hank Sheinkopf, a New York Democratic strategist. "How does a mayor bridge the income gap? It's a very difficult set of circumstances. The president hasn't been able to do it. The governors haven't been able to do it."
Despite New York's overwhelmingly liberal tilt, de Blasio will become New York's first Democratic mayor in 20 years. He will follow the reigns of Bloomberg, a billionaire Republican-turned-independent, and Giuliani, a law-and-order Republican who led the city as it recovered from the Sept. 11, 2001, terrorist attacks.
Lhota ran as a continuation of the Bloomberg years while attacking de Blasio as a leftist, anti-police extremist. The New York Post featured de Blasio on its front page Monday above the headline, "Back to the USSR!" — a reference to a student trip by de Blasio to the Soviet Union 30 years ago.
But the attacks gained little traction. De Blasio's friends say he is at once principled and practical, and that the business community will warm to him as he shifts from campaigning to governing.
"He's very reasonable," said public relations strategist Matthew Hiltzik, a longtime de Blasio friend. "He has a core set of beliefs, but he doesn't go into things assuming he has all the answers."
A key pillar of de Blasio's campaign was to expand pre-kindergarten classes — something President Barack Obama has championed at the national level. De Blasio has said he would pay for it by raising taxes on residents making more than $500,000, subject to approval from the state legislature.
Many de Blasio supporters believe his victory shows that talking plainly about higher taxes carries less political risk than assumed.
"Most people regard raising taxes as a political killer, but Bill's not afraid because he knows we need it," Rep. Eliot Engel, D-N.Y., said in an interview before a Monday campaign appearance with de Blasio in the Bronx.
But legislative leaders in Albany are skittish about the issue, especially with lawmakers standing for re-election in 2014. Democrats control the Assembly in the state capital, but Republicans have a slim majority in the Senate. Cuomo, who would have to sign any tax law, has said he supports expanding pre-K programs but opposes raising taxes.
The tax debate will be an early test of the new mayor's relationship with the governor, who was Bill Clinton's House and Urban Development secretary when de Blasio worked as a HUD appointee in New York and New Jersey.
Such ties are typical for de Blasio, 52, who has built a network of friends and allies over decades in New York politics. He was Hillary Rodham Clinton's campaign manager during her 2000 Senate race, then served eight years on the New York City Council before being elected as the city's public advocate in 2009.
De Blasio's blunt discussion of wealth has resonated with many voters here, especially African-Americans and disenchanted liberal whites. The issue helped fuel his surge from fourth place in a crowded Democratic field in early summer to head of the pack by the September primary, when he defeated City Council Speaker Christine Quinn.
The Brooklyn resident has said he would become the first mayor in the city's history with children enrolled in public schools. "He knows our issues because he has children in the trenches with us," said Freddie Sneed, 55, a truck driver.
Jef Pollock, a New York-based pollster who worked on de Blasio's 2009 campaign for public advocate, said de Blasio has built a diverse coalition of supporters by tapping into emotions surrounding income disparity and resentment over Bloomberg's Manhattan-focused mayoralty.
"That reliance on old-school, coalition politics, where we just assume that people are going to vote for the candidate who looks and sounds like them — that mold has been broken," Pollock said.
On the campaign trail, de Blasio played up his solidarity with the often-neglected outer boroughs. At Monday's rally, which was held in the Rochdale Village housing complex in the Bronx, city parks employee William Hightower said "it's about time we had change.
"Classism here is a huge problem," Hightower, 48, said. "It's haves and have-nots. But he understands about the have-nots."
On Tuesday night, de Blasio's victory speech was perfectly pitched to the have-nots.
"The growing inequality we see, the crisis in affordability we face, it has been decades in the making," de Blasio said. "But it's slow creep upon this city cannot weaken our resolve, and it won't."
Join our commenting forum
Join thought-provoking conversations, follow other Independent readers and see their replies