Bill Gates: We cannot stand still on polio, but we can push ahead and end it
Through its judicious use of foreign aid, the UK has helped drive this recent progress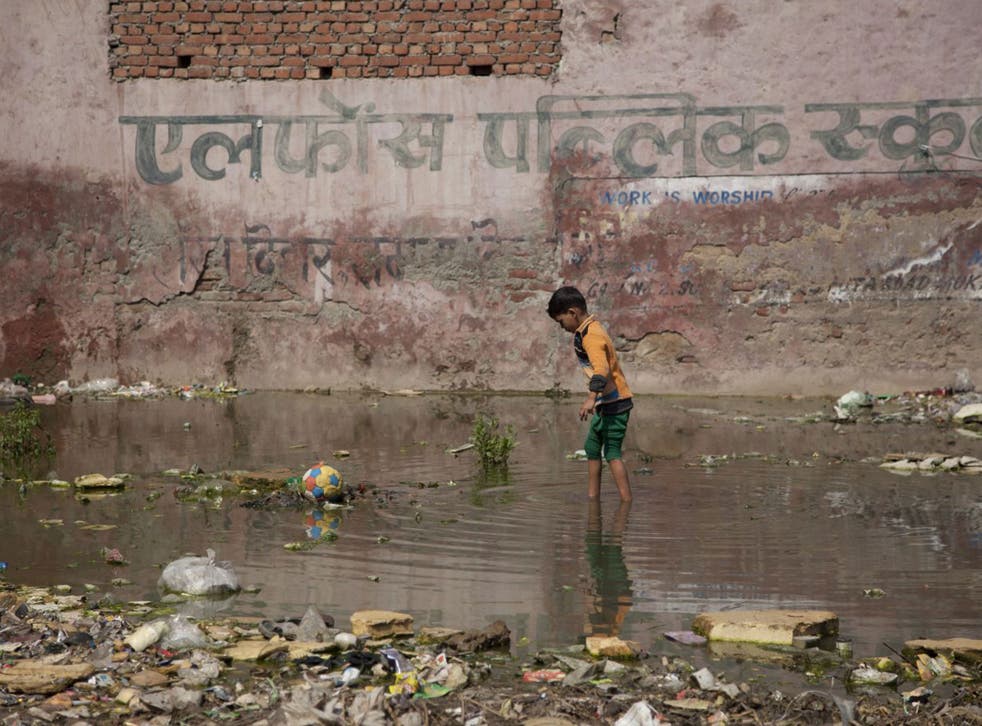 At Microsoft I learned that innovation is the most powerful force for change in the world. Today, I see that same excitement and promise in my work in philanthropy.
Thanks to the accelerating pace of innovation, we are making new discoveries to drive progress against poverty, hunger, and disease.
Consider the decline in childhood deaths. In 1955, the year I was born, more than 20 million children under the age of five died. In 2011, that number was 6.9 million.
One of the key reasons behind that amazing progress is the power of immunisation. Vaccines work to save lives and protect children for a lifetime.
Vaccines have also brought us to the threshold of eradicating polio. In 1988 when the world set the goal of eradication, 350,000 children in 125 countries were paralysed by this horrible disease every year. Last year, there were fewer than 250 cases of polio worldwide.
India's accomplishment in wiping out polio in the country in 2011 is the most impressive global health success I've ever seen. India has more than a billion people. Geographically, it is 15 times larger than the United Kingdom. It also features some of the most severe terrain and weather in the world.
The challenges in the remaining polio-endemic countries of Afghanistan, Pakistan and Nigeria are just as daunting. In Afghanistan and Pakistan, militants in some areas won't allow vaccinators access to children. In Nigeria, some parents refuse to let their children be vaccinated due to decades-old rumours. Even in the places where vaccinators can go, there is now the threat of violence. But these issues should only strengthen our resolve.
Through its judicious use of foreign aid, the United Kingdom has helped drive this recent history of progress. Getting rid of the final cases of polio is the hardest part. It is exactly the kind of courage the UK is showing in its ongoing commitment to tackling global poverty that allows us to plan for eradication.
The global health community has a detailed plan to finish the job. This plan says that if the world supplies the necessary funds and political commitment, we will certify the eradication of polio by 2018.
Why is it worth it? Polio doesn't kill as many people as AIDS, tuberculosis, malaria or rotavirus. It's not even close. So why should the world focus on eradicating it?
There is no such thing, first of all, as keeping polio at its current, low levels. We have gotten to this point because vaccinators are wading through flooded rivers; developing country governments are investing scarce resources; and the global health community is on high alert. These are not sustainable approaches. If we don't keep investing, cases will shoot back up to the tens of thousands annually in dozens of countries.
Second, success will generate lessons that benefit all of global health. We are on the verge of doing something we've never been able to do before – reach the vast majority of children in the most remote and dangerous places in the world. We are building systems, developing technology, and training workers. Ending polio is already helping us reach mothers and children with life-saving vaccines and other health services.
I am honoured to join the Crown Prince of Abu Dhabi and UN Secretary-General Ban Ki-moon in co-hosting a Global Vaccine Summit in Abu Dhabi because we will turn a spotlight on the critical role that immunisation systems play in saving lives and protecting children for a lifetime.
If the world delivers, then we will eradicate polio within six years. It will be another entry in a long list of improvements to the human condition.
Thanks to generous donors like the UK, we cut the child mortality rate by 75 per cent in the past five decades. We cut the poverty rate by 50 per cent in the past two decades. These are mind-boggling successes. Adding the end of polio to the list will be one of the great moral and practical achievements of our age.
Bill Gates is the chairman of Microsoft and the co-chair of the Bill & Melinda Gates Foundation
Register for free to continue reading
Registration is a free and easy way to support our truly independent journalism
By registering, you will also enjoy limited access to Premium articles, exclusive newsletters, commenting, and virtual events with our leading journalists
Already have an account? sign in
Register for free to continue reading
Registration is a free and easy way to support our truly independent journalism
By registering, you will also enjoy limited access to Premium articles, exclusive newsletters, commenting, and virtual events with our leading journalists
Already have an account? sign in
Join our new commenting forum
Join thought-provoking conversations, follow other Independent readers and see their replies