Bizarre ruling in the case of Amanda Knox and Raffaele Sollecito merely highlights failings of Italian justice system
The pair's conviction despite no evidence or motive was based on a weak alibi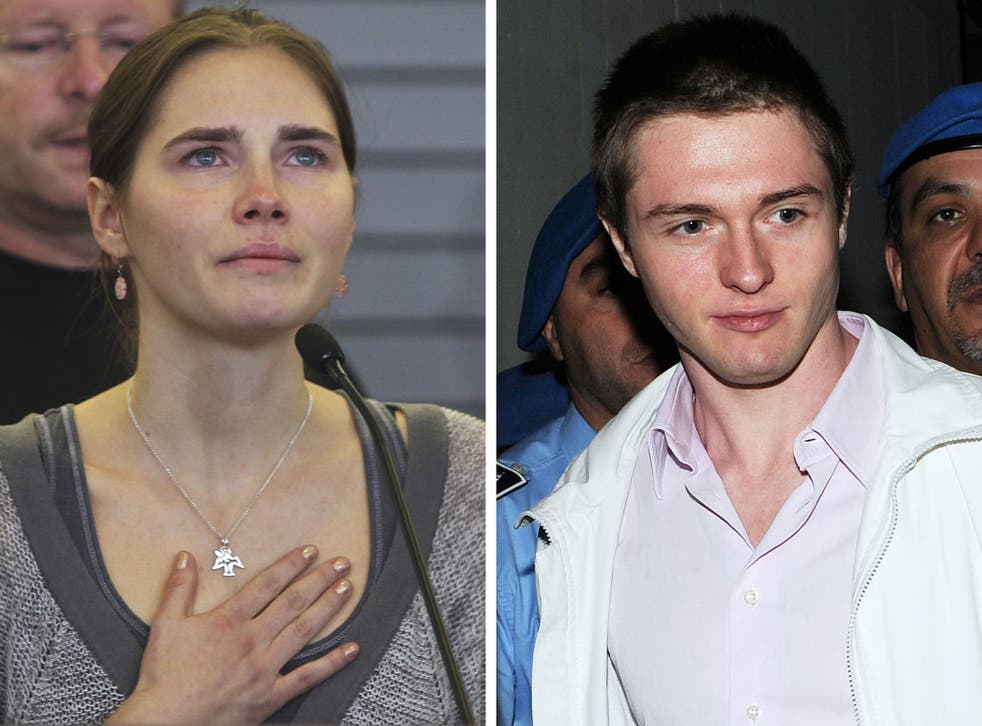 She grew up in Italian jails, and in the blinding lights of the world's TV crews: the emotional, impulsive Seattle co-ed who fell in love with the hilltop apartment in Perugia where she took the spare room offered by Meredith Kercher, an exchange student from Leeds University.
Only a couple of months later, on 1 November 2007, Meredith was dead, horribly slashed in her bedroom. And days later that Seattle flatmate, Amanda Knox, and her Italian boyfriend Raffaele Sollecito, were arrested along with a local bar owner and jailed on suspicion of the killing. The local police chief told the press that with these three arrests the case was solved.
When the trial of Ms Knox and Mr Sollecito eventually got under way, the case against the pair seemed weak. Neither had criminal convictions, or any history of violent behaviour.
Chief Prosecutor Giuliano Mignini claimed that the murder was the conclusion of a Satanic Halloween orgy by drug-addled hippies, but there was no forensic evidence of such an event. After an all-night interrogation Ms Knox said she had heard Meredith scream – but this non-confession was made under duress, and rapidly withdrawn. Throughout the trial and the appeal, no forensic evidence was ever found of Amanda Knox's presence in Meredith's room.
Yet the murder was not the mystery it appeared: a few weeks after the couple's arrest, a local Perugia drifter and drug dealer called Rudy Guede, originally from the Ivory Coast, who had broken into several properties in the preceding weeks and who was in the habit of carrying a knife, was arrested in Germany and sent back to Italy to stand trial.
Guede's traces were all over the crime scene and he was convicted in a fast-track trial that concluded before the trial of Ms Knox and Mr Sollecito began.
The conviction of the pair despite the lack of evidence or motive was principally based on the weakness of their alibi: they claimed to have spent the night together at Mr Sollecito's flat, but there was nobody to corroborate their story. But the positive claims of prosecution witnesses to have seen them close to the crime scene proved to be flimsy.
Amanda Knox's occasionally wacky behaviour in court, her decision to wear a T-shirt emblazoned ALL YOU NEED IS LOVE, the miniature sex toy hanging from her key ring (the gift of a former boyfriend) – all these were put in the "guilty" scales by the popular media, in Italy and elsewhere, titillated by the thought of a pretty young girl carrying out such a gruesome killing.
The Kercher family have always maintained that many questions about what happened on that night in 2007 remain unanswered.
Yet to many observers who saw the trial unfold, with its catalogue of mishandled forensic evidence and demonisation of Ms Knox and Mr Sollecito, there was more than reasonable doubt cast on their guilty verdicts. When they both got long, long sentences, it seemed proof of the grossly disproportionate power of prosecutors in Italian trials.
One year and five months ago an appeal court in Perugia threw out the convictions of both of them, and Ms Knox flew home to her family. For many observers it represented justice.
What the Italian Supreme Court has now decreed appears merely bizarre.
Join our new commenting forum
Join thought-provoking conversations, follow other Independent readers and see their replies