Bob Crow should be fighting for all workers, not just his union fat cats
If you were planning to travel by rail this Christmas, you'd better think again. The RMT is going on strike because nine months ago a ticket inspector was sacked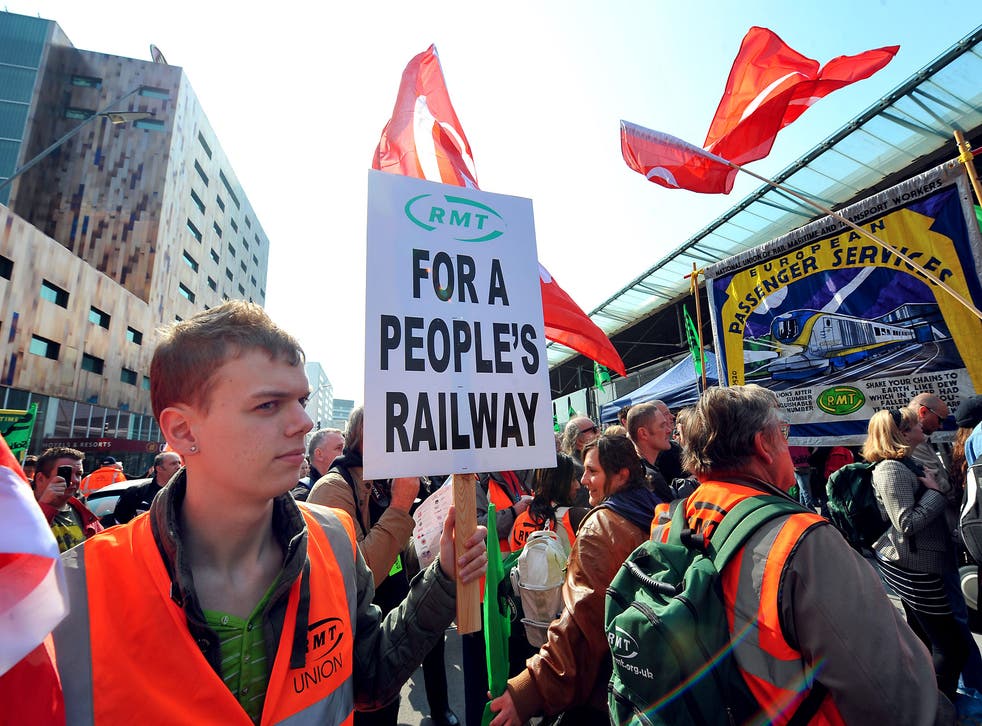 So here it is. Merry Christmas. Everybody's having fun.
Well, perhaps you couldn't exactly call it fun. Perhaps you couldn't exactly say that spending most of the weekend writing cards to people you never see, and then setting off to do your Christmas shopping, and then going home without a single present, because you thought you were going to be trampled to death, is fun. But Christmas, as Noddy Holder from Slade told us in 1973, and still seems to be telling us, everywhere, is meant to be fun. We're meant to enjoy the rituals. They're meant to give us the sense that, whatever happens in the world, some things don't change.
And they don't. Some things don't. Christmas cards are always boring. Christmas shopping is always a stressful waste of money you often haven't got. And getting anywhere is tough. It's tough because there are lots of people travelling at the same time, and lots of traffic jams, and very crowded trains. And it's tough because the unions, or some of the unions, nearly always call a strike.
On Friday, the day most people are planning to travel, CrossCountry train staff who are members of the RMT won't work. So if you live in the South, and were planning to go to the North, you'd better plan to go somewhere else. If you were planning to go to Scotland, or travel in Scotland, you should probably forget your plans, too. RMT members who work for ScotRail will strike on Friday, and on Saturday, and also on Christmas Eve. And if you live in London, and were planning to go to the sales on Boxing Day, or to a football match, or maybe just to work, you'd better stay at home. You'd better forget about any plans you might have made, because this year, like last year, and the year before, Aslef has told its Tube driver members to "walk out".
The RMT is going on strike because nine months ago a ticket inspector was sacked. There has, says its general secretary, Bob Crow, been a "collapse of industrial relations". You might have thought that if you were paid five times the average wage to handle those "industrial relations", you'd think that a "collapse" of them was your fault. But Bob Crow doesn't. Bob Crow thinks it's somebody else's fault, and that the people who should suffer because of it are the people who had nothing to do with the sacking. "The union," he said, "has had no option", which is a surprise to those of us who thought strikes were a choice.
Aslef is going on strike because it thinks that Tube drivers, who earn an average salary of £48,330, which isn't bad for something that only requires 12 weeks' training, should be "adequately compensated" for working on Boxing Day. They think, even though they decided to work for something that runs every day of the year except Christmas Day, that they should only have to work on Boxing Day if they want to, and then be paid three times what they would normally be paid, and also get a day off. The strike, said Aslef's general secretary, Mick Whelan, "shows the strength of feeling" among Tube driver members.
It's a shame the public can't be balloted about their feelings, too. If they could, they might want to say that they also had quite strong feelings about the fact that they had worked quite hard all year in a difficult financial climate, and had been looking forward to a relatively unstressful day off. They might want to point out that those of us who work in shops, or cafés, or restaurants, or hospitals, or on newspapers, often have to work on bank holidays, and that most of us do it without getting an extra penny in pay. They might want to remind Aslef members that the average wage in this country is about half a Tube driver's, but that most people earn much less. And they might want to ask them to look at the report from the Bank of England yesterday, which showed that the average household is now £22 a month worse off than it was a year ago, and that nearly half of all households are worried about their debts.
What the public might also want to say to the unions is that they're not against unions. They might want to say that unions have been very, very important in defending the rights and conditions of working people, and that people who are members of unions usually have better pay and conditions than people who aren't. They might want to point out that unions are needed more than ever at a time when so many people's pay and conditions are getting worse. But they might also want to say that the unions that are needed to help workers who are struggling are ones that understand that the world has changed.
These unions don't. They may think they do, but they don't. These unions, and other unions, like the PCS, which is run by a man called Mark Serwotka, seem to think that they can carry on in the way they've always carried on, turning every disagreement into a public fight. These unions seem to think that the debt, which goes up by about £18.5m every hour, is a myth that the Government has made up. They seem to think that if you say you don't want any cuts in public spending, you don't need any cuts in public spending. They seem to think it's like saying "abracadabra", and wiping the debt away.
It isn't. We all wish it was, but it isn't. We all wish that people could have the pay and perks they had before there was a global economic crisis, but they can't. What we need, and what we need our unions to do, is to acknowledge that the top priority isn't always to fight to keep nice perks for well-paid people, but to work with employers to save jobs. We need our unions to show that they care about all the workers, and not just the ones in the public sector, or in secure jobs. We need them to show they care as much about cleaners on a minimum wage as they do about Tube drivers who want £72 an hour and an extra day off.
We are, says the Governor of the Bank of England, living through "the biggest squeeze on living standards since the 1920s". This isn't a problem that can easily be solved. The Coalition doesn't seem to be doing a very good job of it, but at least they acknowledge it exists. Until the unions do, and come up with some answers that aren't just about fighting for the rights of their own already quite fat cats – until, in fact, they learn, in Noddy Holder's words, to "look to the future now" – they can be pretty damn sure that they'll be seen as a dying relict of the past.
c.patterson@independent.co.uk Twitter: @queenchristina_
Register for free to continue reading
Registration is a free and easy way to support our truly independent journalism
By registering, you will also enjoy limited access to Premium articles, exclusive newsletters, commenting, and virtual events with our leading journalists
Already have an account? sign in
Join our new commenting forum
Join thought-provoking conversations, follow other Independent readers and see their replies