Boris Johnson, Nick Clegg and phone-in politics
The London Mayor and the Lib-Dem leader are paving the way in unmediated, unfiltered public broadcasting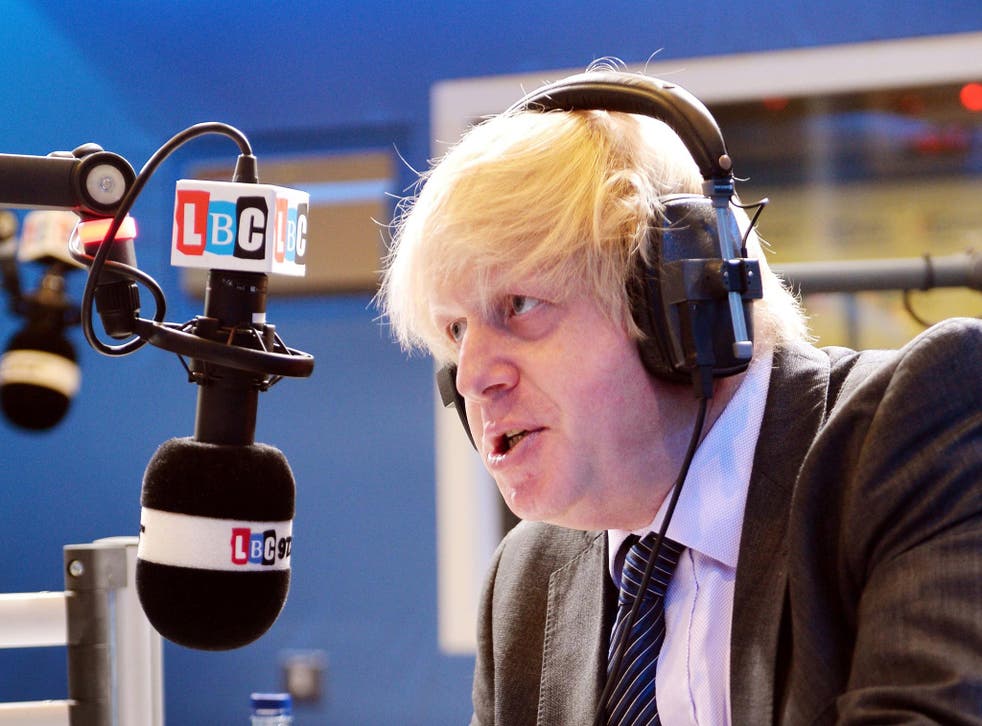 Boris Johnson was in characteristically coruscating form the other night, addressing a crowd of the great and good (plus politicians and journalists) at a party to celebrate the 40th birthday of LBC, London's news radio station.
Up on the 29th floor of Millbank Tower, Boris was able to survey the glories of the city over which he presides. The substance of his message was incontrovertible. How our capital has changed over these past 40 years. Back then, he said, the city was grey and uninspiring, the nation was in the grip of unions, inflation was rampant, at any time the lights could be switched off, and we were a people in search of direction.
Boris is a classicist rather than a historian, and he's always been a little shaky on detail. As somebody helpfully pointed out - I think it might have been Ken Livingstone - 40 years ago we had a Conservative government. It takes more than a tiny historical inaccuracy to stop the Mayor in his tracks, and Boris was merely warming to his theme.
He hosts his own phone-in show on the station, as does Nick Clegg. (The Deputy PM wasn't there, but sent a message by video. "It's a tough job," he said. "Every week, I have to listen to people banging on about immigration, Europe and law and order. And then I leave the Cabinet table and go to do my show.")
Anyway, amid the japery, the joshing and the Latin sobriquets, Boris posited a very interesting theory. In the future, he said, we will get rid of Parliament, and the business of government will take place on the airwaves. "Every politician will be a phone-in host," he said, "and every phone-in host will be a politician." He may not have been entirely serious, but there is little question that this approach works for Boris and Nick Clegg, who are able to get their message across unmediated, uncorrupted and unfiltered. It is the authentic sound of a politician talking to the public.
"Cut out the middle man!" exhorted Boris to an audience replete with journalistic middle men. And, for sure, the virtual constituency that Mr Clegg addresses every week on his radio show is in some ways every bit as important as his real one. It won't ever replace the business of the Palace of Westminster, but an exchange with Roy from Bermondsey does have a raw quality that is more likely to engage the wider public than the Punch-and-Judy to-and-fro across the green benches.
Thus far, both Mr Clegg and the Mayor have avoided the bear traps inherent in a live phone-in programme, and the screening process for callers is more stringent than it once was. In the glorious history of LBC remains one inglorious moment. Back in the 1970s, Sir Robert Mark, then the Chief Constable of the Metropolitan Police Force, went on the station to invite questions from callers. "And now we go to Barry from Eltham." "Hello, Barry," said Sir Robert. "Hello, Sir Robert," said Barry. "And what's your question for Britain's top policeman?" said the presenter. It was Barry's big moment."Could Sir Robert please tell me what the time is..."
Register for free to continue reading
Registration is a free and easy way to support our truly independent journalism
By registering, you will also enjoy limited access to Premium articles, exclusive newsletters, commenting, and virtual events with our leading journalists
Already have an account? sign in
Register for free to continue reading
Registration is a free and easy way to support our truly independent journalism
By registering, you will also enjoy limited access to Premium articles, exclusive newsletters, commenting, and virtual events with our leading journalists
Already have an account? sign in
Join our new commenting forum
Join thought-provoking conversations, follow other Independent readers and see their replies