Brazil's big landowners have far too much power
Every 12 days in Brazil, someone gets murdered in a land-related conflict - how do the landowners get away with it?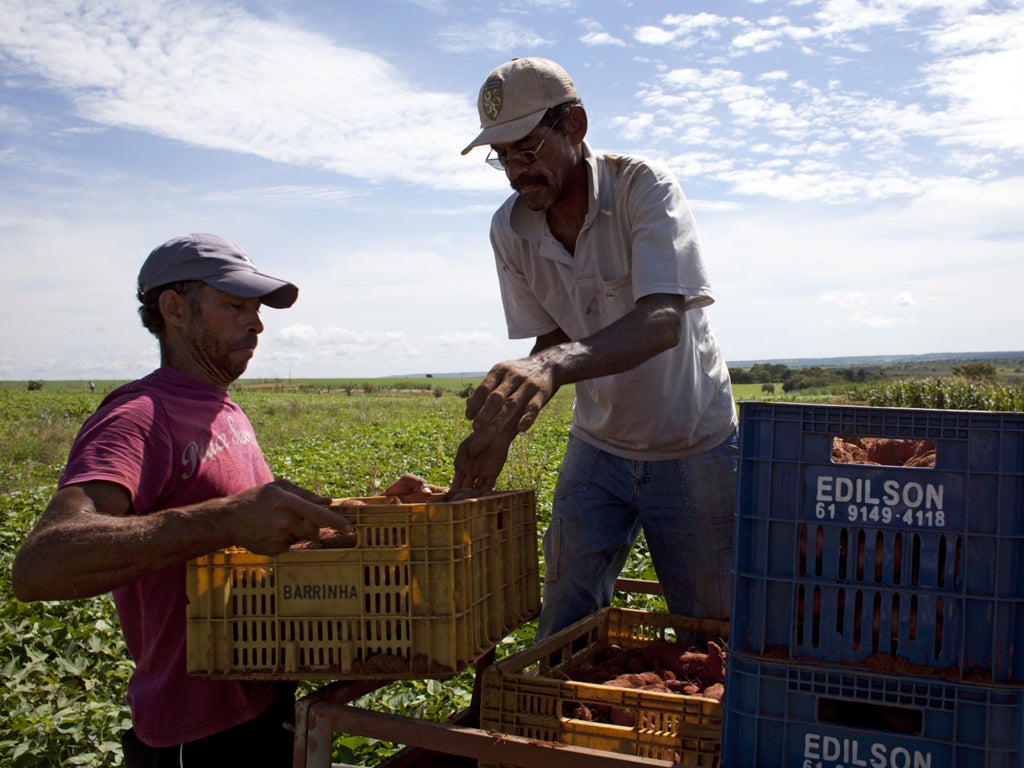 I knew that it was dangerous to get in the way of Brazil's big landowners, but it was only after the recent second murder that I looked at the statistics - and realised there seems to be a killing spree.
Cicero Guedes was shot dead as he cycled home in Rio de Janeiro state in January. Guedes, 48, had been a leader in the landless people's movement, MST, and his killers struck near a former sugar plantation where MST families now live.
Less than two weeks later, the body of Regina dos Santos Pinho, 56, was found in her home, after she failed to turn up at the funeral of Guedes, who was her friend.
Pinho had worked with MST for 10 years and she was also involved with the Pastoral Land Commission (PLC), a respected Catholic organisation which records land-related murders, death-threats and other horrors. Police said the killers' motive may have been sexual or land-related and for now, at least, both they and MST are leaning towards the former.
It turns out that we should not be surprised by two murders within less than two weeks of eath other. In Brazil, it's normal.
According to the careful records kept by the PLC, there is a land conflict-related murder on average every 12 days. That is based on PLC figures for the five years 2007 - 2011, the latest year for which figures are available. Attempted murders are even more common, with 38 in 2011- and death threats an almost daily occurrence (347 in 2011).
No-one is safe. In December, an 84-year-old Catholic Bishop had to flee for his life, as threats against him escalated in the run up to a court ruling on a land conflict. Pedro Casaldáliga, Bishop Prelate Emeritus of Sao Felix in Mato Grosso state in the west of the country, had supported the rights of indigenous people who lived on the disputed land. The ruling went in their favour.
I witnessed a relatively mild example of the extra-judicial methods that some landowners use against poor people late last year. We were visiting an MST project near Brasilia, the capital, where some 35 previously landless families had Government permission to live on a small area of land surrounded by an agribusiness farm. My employer, Christian Aid, helps to fund MST in Brazil.
It seemed a pleasant place but as we walked through their fields of sweet potatoes, chillies and courgettes, a small plane flew repeatedly over our heads, deliberately spraying us with pesticide. I was astonished by the assault, but was told it was absolutely normal and that it happens many times a day to the families who live on the land. Unsurprisingly, perhaps, the agribusiness farm is also taking legal action to try to force the families to leave.
So how do the big landowners get away with such murder, violence and intimidation? The answer comes down to their overwhelming power and the ease with which they can abuse it; Brazil is extraordinarily unequal.
Almost one-third of all its arable land is owned by 0.8 per cent of landowners, according to research by academics at the Brazilian think-tank CEBRAP. Similarly, some 85 per cent of the value of farm production is held by just eight per cent of Brazil's farms.
Such vast economic power gives large landowners political clout too - and the ability to corrupt the police and politicians. Some contribute to hugely expensive election campaigns and others are in politics themselves, at national, state and lower levels. Some even own media companies that influence public debate.
It's a rotten system, made all the more crooked by the failure of the police and justice system to reliably catch and punish the killers and, most importantly, those they work for.
There are, however, some reasons to be hopeful that it will not always be like this. Above all, there is the fact that Brazilians threw out their military dictators in the 1980s. The country also has a vibrant civil society - people and organisations who are chipping away at the abusive dominance of the powerful few.
Perhaps the Government cares about its international image too, especially with its economy booming and the World Cup and Olympics heading to Brazil. I hope that people in other countries will see beyond the spin and remember: every 12 days in Brazil, someone gets murdered in a land-related conflict.
Join our commenting forum
Join thought-provoking conversations, follow other Independent readers and see their replies