Budget 2016: George Osborne's speech – what he said and what he meant
"If it all goes belly-up, I will say I tried - and if it doesn't then I shall be prime minister"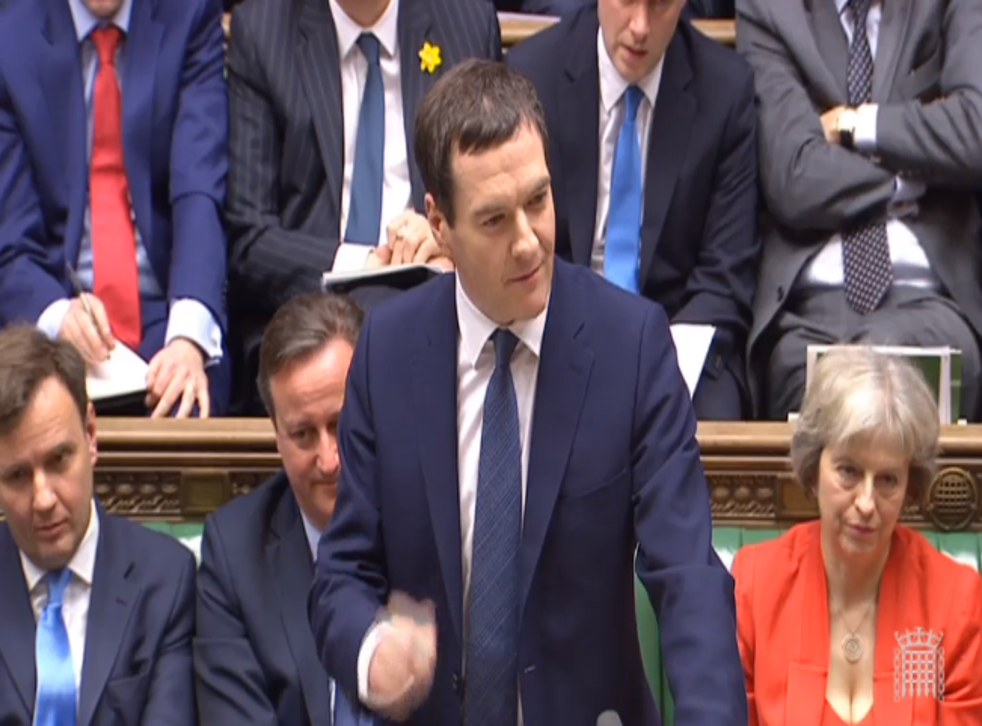 Our chief political commentator decodes George Osborne's budget statement
What George Osborne said: We saw under the last government what happened when a Chancellor of the Exchequer revised up the trend growth rate, spent money the country didn't have, and left it to the next generation to pick up the bill. I'm not going to let that happen on my watch.
And what he meant: On my watch, I'm going to let the independent Office for Budget Responsibility revise down the growth rate, spend money the country doesn't have and leave it to the next generation to pick up the bill.
Britain can choose, as others are, short term fixes and more stimulus. Or we can lead the world with long term solutions to long term problems. In this Budget we choose the long term. We choose to put the next generation first.
In this Budget we use the phrase "long term" a lot. We choose to put the next generation of Conservative leaders first. Me for prime minister, my friend Sajid for chancellor and other jobs will be found for other retainers.
Eight years ago, Britain was the worst prepared of any of the major economies for the crisis we then faced. Today, Britain is among the best prepared for whatever challenges may lie ahead. That is what our long-term economic plan has been all about.
If it all goes belly-up, I will say I tried, and if it doesn't then I shall be prime minister, which is what my long-term economic plan, a slogan I started using just before the last election, has been all about.
The Office for Budget Responsibility correctly stay out of the political debate and do not assess the long term costs and benefits of EU membership. But they do say this, and I quote them directly: "A vote to leave in the forthcoming referendum could usher in an extended period of uncertainty."
Everything before the "but" is flannel. Listen to this totally independent and impartial trashing of the case for Brexit, by someone who understands economics, Boris, and despair.
On welfare, last week my Right Hon Friend the Secretary of State for Work and Pensions set out changes that will ensure that within the rising disability budget, support is better targeted at those who need it most.
Yeah but no but it was him Duncan Smith miss it's more money than it was and less than it would have been if I hadn't cut it gosh time marching on foreign aid.
The independent statistics confirm that since 2010 child poverty is down; pensioner poverty is down; inequality is down; and the gender pay gap has never been smaller.
They also confirm that child poverty is going to go up and that inequality of wealth, as opposed to income, has started to rise, but there is only one researcher for a Labour MP who understands the figures at that level of detail. I plough on.
These reforms raise £500 million a year. And while 9% will pay more; over 90% will see their tax bills cut or stay the same. So, if you buy a pub in the Midlands worth, say, £270,000, you would today pay over £8,000 in stamp duty. From tomorrow you will pay just £3,000. It's a big tax cut for small firms.
And a big tax rise for large firms. But nobody likes them, they only work for them.
George Osborne 2016 budget at a glance

Show all 8
Many retailers have complained bitterly to me about the complexity of the Carbon Reduction Commitment. It's not a commitment; it's a tax. So I can tell the House: we're not going to reform it. Instead I have decided to abolish it altogether.
We chancellors call them commitments, or charges, or obligations, or anything except taxes when we introduce them, then we admit they are taxes when we get rid of them.
We've agreed a single powerful East Anglia combined authority, headed up by an elected mayor and almost a billion pounds of new investment. We've also agreed a new West of England mayoral authority – and they too will see almost a billion pounds invested locally.
What do you mean it doesn't sound very Conservative – it should be a lord lieutenant? The next generation of Conservative leaders isn't interested in stick-in-the-mud traditionalism of the past. We are the future now.
Today I can tell the House that my Right Hon Friend the Justice Secretary and I are transferring new powers over the criminal justice system to Greater Manchester. This is the kind of progressive social policy that this Government is proud to pioneer.
Criminal justice, that's a nightmare, isn't it? Let's just get rid of it. Let the locals run it. Let them get the blame.
London's school system has been turned around; we can do the same in the Northern Powerhouse.
London schools have been one of the greatest successes of the last Labour government, but they have no idea on the benches opposite, so I'll take the credit.
Third, we are going to look at teaching maths to 18 for all pupils.
Not actually going to do anything about it, mind, until long after I'm moved on and with a bit of luck up from this job. We don't want spotty teenagers who can calculate percentages pointing out the holes in my budgets.
I am not prepared to look back at my time here in this Parliament, doing this job and say to my children's generation: I'm sorry. We knew there was a problem with sugary drinks. We knew it caused disease. But we ducked the difficult decisions and we did nothing.
Strong message here.
In this Budget we're putting rocket boosters on the backs of enterprise and productive investment.
So when people say that this government is a burden on the backs of enterprise it is sort of true.
It is going to lift over half a million people who should never have been paying the higher rate out of that higher tax band altogether. Social justice delivered by Conservative means.
Social justice for people earning more than £42,000 a year! What could be more Conservative than that?
Five years ago ... we said that we would do the hard work to take control of our destiny and put our own house in order. Five years later our economy is strong, but the storm clouds are gathering again.
Things have got better but they might get worse again and if they do it won't be my fault because I tried very hard and lots of people shouted at me.
Register for free to continue reading
Registration is a free and easy way to support our truly independent journalism
By registering, you will also enjoy limited access to Premium articles, exclusive newsletters, commenting, and virtual events with our leading journalists
Already have an account? sign in
Register for free to continue reading
Registration is a free and easy way to support our truly independent journalism
By registering, you will also enjoy limited access to Premium articles, exclusive newsletters, commenting, and virtual events with our leading journalists
Already have an account? sign in
Join our new commenting forum
Join thought-provoking conversations, follow other Independent readers and see their replies