Heartlessness towards refugees is the lifeblood of jihadist groups like Isis
The group constantly exploits the suffering of displaced Muslims to recruit members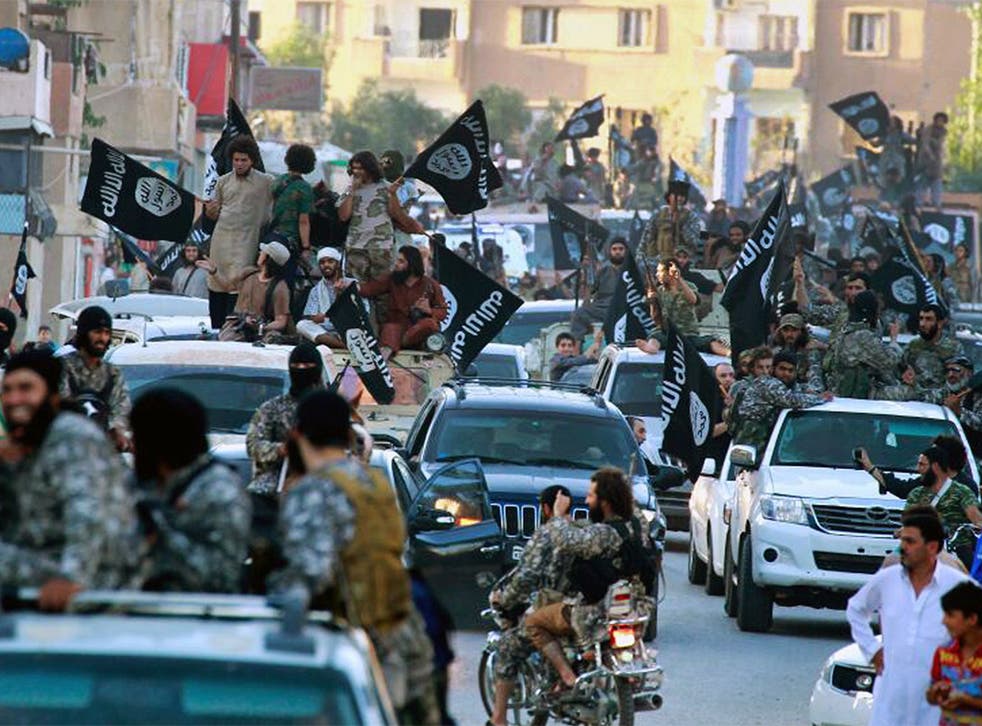 Four weeks ago, when much of the media's focus on refugees was limited to veiled pejoratives and the Calais "jungle", Isis' Khayr Province Media Office, based in eastern Syria, released a propaganda video.
The video, entitled "Welcoming Muslims Seeking Refuge from Regime-Held Areas", was a 13 minute amalgamation of interviews and montages documenting Isis' "humanitarian work". As cameras pan across the arid Syrian desert, filled with disjointed convoys of the displaced, the narrator becomes more and more animated, eventually shouting: "And we invite all Muslims in regime-held areas to leave them to go the land of the Islamic Caliphate. They will be welcome in the land of Islam."
No-one else, his argument runs, cares. The regime is killing innocents, "forbidding bread and electricity" and forcing Syria's Sunni population into its worst subjugation yet.
Of course, groups like Isis are just as guilty as Assad in causing this unprecedented refugee crisis, but, whether or not he's a terrorist, the video narrator has got a point.
Normal Syrians – not just Sunni Syrians, as Isis would have you believe – are being pushed to breaking point. Since 2011, more than half of the country's 22.4 million people have either been killed, displaced, or forced to flee.
At a time like this, when the Syrian war has reached its lowest ebb yet, we can't just look away. Morally, it's wrong. That's obvious. Less obvious, though, is that strategically speaking, we can't afford to look away either.
Since the birth of jihadism decades ago, the victimhood narrative – the idea that the international community simply doesn't care, that Sunni Muslims can die in droves without anyone blinking an eye – has been one of the keys to jihadist success, be it in Afghanistan, Chechnya, Iraq or Syria. Since the birth of jihadism, though, the international community has not come close to effectively countering this narrative. Aid, rhetoric and, in some cases, intervention, go a long way, but never far enough. Aid, while absolutely necessary in the long-term, is not adequately visible in the short-term; intervention, while it has had occasional success in the past, does not strike the right chord and can easily go wrong; and rhetoric is, well, rhetoric.
The refugee crisis - in pictures

Show all 70
Regardless of what the politicos say, no state has a real appetite to resolve what's happening in Syria. The longer this conflict rages and is characterised by stalemate and a pathetic lack of consensus, the more that jihadists of all shades will benefit. While nothing changes, they can continue to sell themselves as champions of social justice, law, order and defiance in the face of the "oppressor".
Most important of all, though, is that while the international community is in deadlock, Isis can emphasise and magnify the victimhood narrative. By focusing on the perceived inaction of the international community, they can "prove" that the "Crusaders" are sided with the "Nusayris" (a derogatory term for Assad's supporters), that this is all one big conspiracy, a global "war on Islam". This way, not only do they manage to sell themselves as the least worst option, they can broaden their appeal to a much wider, non-jihadist audience: people at the end of their tether who are willing to try anything for a modicum of stability.
Politicians may wax lyrical about upholding human rights and providing hundreds of millions of pounds worth of aid, but when it comes to refugees and they appear disinterested, at best, and hostile, at worst, they just come across as heartless. This perceived heartlessness is the lifeblood of jihadist groups.
Until we address this problem head on, we are structurally impaired from beating Isis (which, it's probably worth pointing out, is just one problem among many). For as long as we are preoccupied – obsessed, even – with finding that Golden Fleece counter narrative, the cure that will undermine all Isis' propaganda, we will flounder. Categorically, there is no such thing.
What we must do, above all else, is think about our own narrative. We must react to issues like the refugee crisis with robust, visible measures that undermine, by their very existence, Isis' spurious claims. A good place to start would be to break away from the norm of being perceived as the disinterested west. A good place to start would be to cut through the victimhood narrative and help, in the most visible manner, those we are seeking to keep at arm's reach.
Register for free to continue reading
Registration is a free and easy way to support our truly independent journalism
By registering, you will also enjoy limited access to Premium articles, exclusive newsletters, commenting, and virtual events with our leading journalists
Already have an account? sign in
Join our new commenting forum
Join thought-provoking conversations, follow other Independent readers and see their replies