Cameron is under pressure to misrepresent the Tory party as a reflection of the electorate
The latest cabinet reshuffle will be yet another exercise in the superficiality of politics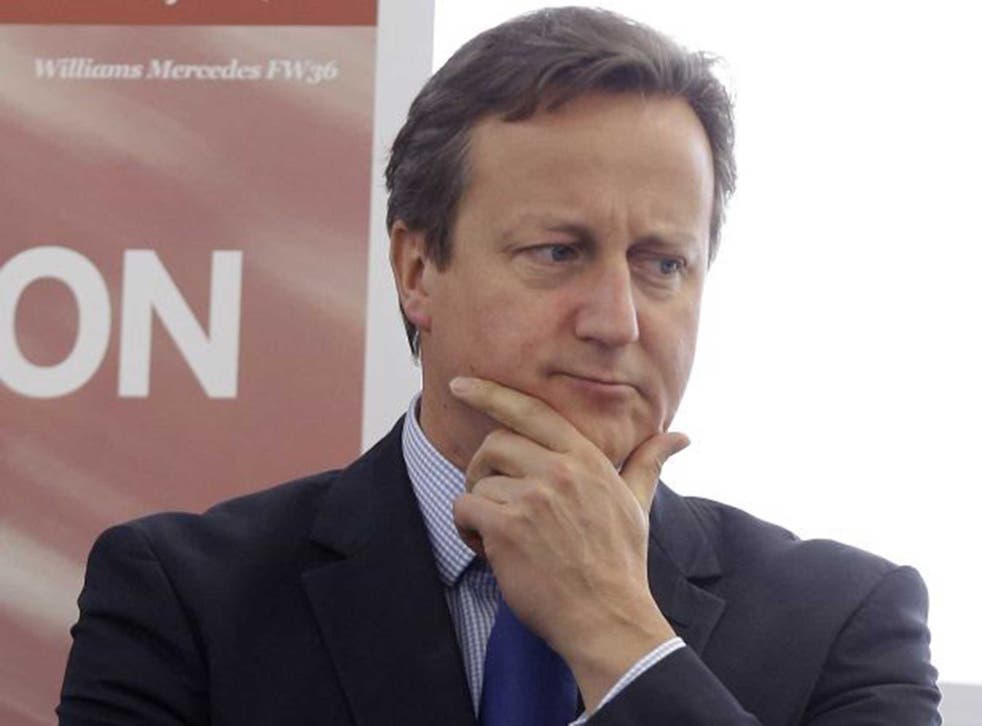 It may barely register on the thermometer and need no more treatment than a couple of paracetemol, but "reshuffle fever" is upon us again.
As we await the imminent summonses to Downing Street, speculation focuses on David Cameron's Martin Lutheresque dream to fight the general election with a top team judged not by the content of its character, but by how it looks on the telly.
The PM is so desperate to counter the Tory gender problem by advancing photogenic women that Cameron Diaz and Shakira may well have been sounded out for portfolios, though the more-reliable gossip contends that Esther McVey, Liz Truss and Nicky Morgan are due to join the Cabinet. Also expected to be promoted are a host of other women and members from ethnic minority backgrounds.
While one appreciates the pressure to misrepresent the Tories as a credible reflection of the electorate, the art of the reshuffle is of course to find a seemly balance that keeps all wings of a broad and dysfunctional church content.
So it's reassuring to read that Mr Cameron is thinking of recalling Liam Fox from the wildnerness in which he has roamed since his reliance on the company of Adam Werritty – the bestest friend a defence secretary ever had – saw him stood down in 2011.
This is splendid. Apart from adding a much-needed additional neo-Con voice to the top table (Britain's John McCain has never seen a war he didn't love), this would assuage fears that the PM is indulging in tokenism by filling the front bench with feminine and darker faces, and revive Fox's promising stand-up career.
Until l'affaire Werritty, Fox was best known for encircling a Christmas party asking fellow guests if they knew the technical term for four dogs and a blackbird. The answer, he gleefully revealed, was the Spice Girls.
So if the PM is concerned that his less-reconstructed backbenchers will be unimpressed by his Damascene conversion to girl power, I'll tell you what he wants (what he really, really wants). He wants the Bernard Manning of the Tory hard right at the Cabinet table.
Carey's cut out the cobblers to speak with humanity
While heaven loveth a buffoon who repenteth of talking reactionary cobblers, what are the earthly to make of George Carey's latest sortie into public affairs?
Carey's post-Canterbury career unendingly spouting crude nonsense in right-wing titles has been a rare fixed point of reliability in a crazy world.
Now we find him speaking with humanity in support of assisted dying, and nothing makes sense any more. God willing he soon finds the simple Christian charity to dash off another piece about the perils of immigration or gay marriage.
Finding oneself in total agreement with George Carey is too cruel an experience to be repeated.
The cunning strategy behind Palin's online outburst
Titter ye not, but Alaska's Cretina d'Evil is on the rampage.
Preaching to the converted on the online asylum breitbart.com, Sarah Palin demands Barack Obama's impeachment.
"Enough is enough of the years of abuse from this President," she writes, with the untold thousands of unaccompanied central American children who have travelled across the Mexican border in mind. "His unsecured border crisis is the last straw that makes the battered wife say, 'no mas'."
How witty of someone who retired hurt midway through her governorship to remind us that the last public figure to say 'no mas' is believed to be Roberto Duran, moments before quitting his rematch with Sugar Ray Leonard. Despite Palin's cunning strategy of stigmatising Hispanics, the US's quickest-growing demographic, the Republican party is not eager to join her.
But then her purpose is not to maximise the GOP's chances in November's mid-term elections, but to firm up her reputation as top-ranked clickbait. Thus far, no fewer than 20,830 comments have been posted beneath the Breitbart article, and those of you in need of merriment are directed to them.
Utley's middle-class sneer
Sympathies to Tom Utley on his traumatic exposure to the dialogue of two working-class young women aboard a south London train, which he helpfully transcribes for readers of his Daily Mail column.
"Member when I caught you shaggin' my feller," said one, apparently, to the other. "Member vat, do you, you effin' c***, you feewfee animoo? Call yourself a sista?"
"We wozzn't effin' shaggin!" supposedly replied the other. "We woz just lyin' dan togevva. An ooze ve feewfee animoo, you dir'y effin' c**, sharin' awl our persnoo stuff wiv de owl effin' trine?"
A massively convincing verbatim account, you will agree, that brings to mind the Old Harrovian, Rada-trained actor playing the copper who yells " 'ere, clear orf, you kids, or I'll fetch ya one on the ear'ole, and nah mistake" in a 1950s C-movie.
Member that era when the middle classes openly sneered at ve feewfee oiks, do ya?
Ed will need a role – why not Adrian Mole?
As our arts correspondent reported last week, a theatrical vacancy needs filling. The team behind The Secret Diary of Adrian Mole Aged 13 3/4, a musical due to open next March in Sue Townsend's home city of Leicester, seeks its star.
To spare the casting director the effort, I have the perfect candidate. It will need a modicum of hair dye, possibly a few singing lessons, and a brief postponement. But if they can delay the opening night until late May 2015, Ed Miliband should be free to take on the role for which this most rigorous student of the method has been preparing his entire sentient life.
Register for free to continue reading
Registration is a free and easy way to support our truly independent journalism
By registering, you will also enjoy limited access to Premium articles, exclusive newsletters, commenting, and virtual events with our leading journalists
Already have an account? sign in
Join our new commenting forum
Join thought-provoking conversations, follow other Independent readers and see their replies