Cameron's 'historic' speech proves he's the latest leader to lose control of his party over Europe
It's so out of character for Cameron to take an interest in putting his case to the public, that we must wonder what this sudden bout of speechifying signals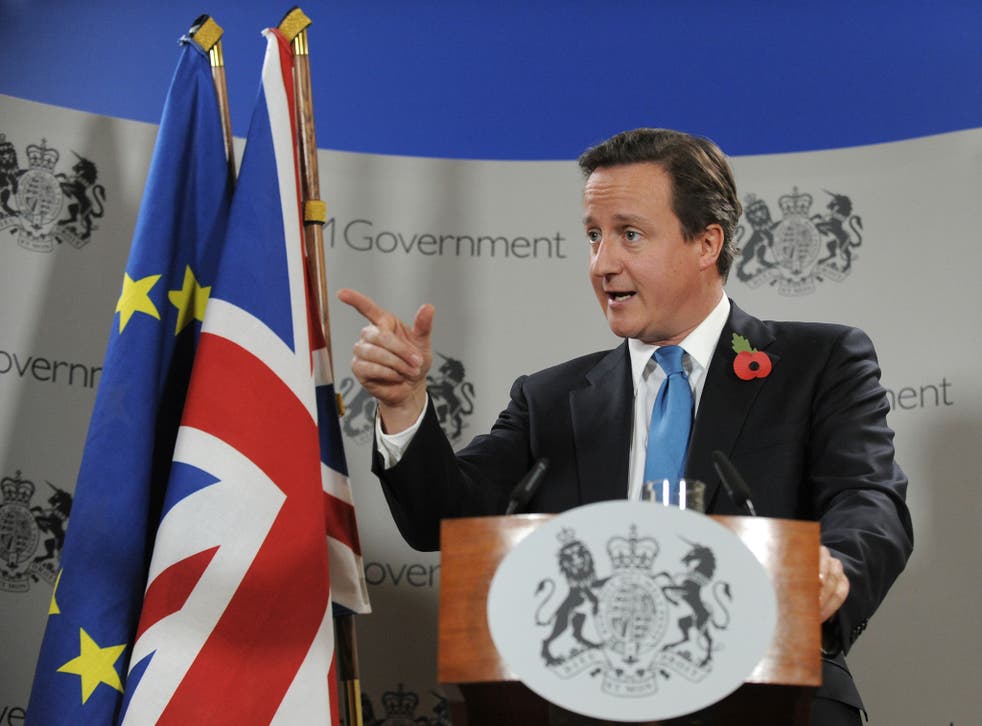 The most striking feature of David Cameron's much-heralded speech on Europe tomorrow is that he is making it at all. The dramatic, over-hyped act is out of character. Since the election Cameron has not sought to generate much excitement before highly charged policies take shape. In advance of sweeping domestic reforms he tends to keep his head down and let his ministers act. Yet tomorrow the Prime Minister will seek to make history by outlining his plans in a policy area in which even the immediate future is not known.
The contrast is breathtaking. If anything, Cameron has not shown enough interest in communicating what he and his ministers are trying to do in domestic policy. Although Tony Blair is one of his heroes and Cameron has to some extent imitated Blair's style as a public figure, he has shown little interest in putting a case in public, an obsession of Blair's. Under Cameron, there are no monthly prime ministerial press conferences. There were no big speeches in advance of the original NHS reforms or before Michael Gove embarked on his education revolution. The welfare revolution is left largely to Iain Duncan Smith to explain. This is the precise opposite of Blair, who led a series of "welfare reform roadshows" around the country before he and Gordon Brown agreed what the new policies would be.
Some of Cameron's crusaders behind the scenes have bemoaned the fact that he does not pay more attention to communicating, blaming lack of preparation in this area on some of the problems that have afflicted their many reforms.
Europe calls the tune
On one level, though, Cameron's laidback, emollient leadership has been a clever cover for the ideologically driven ministers working furiously on many fronts. In addition, the dynamics of the Coalition make public communication awkward. If Cameron were on TV all the time, explaining in accessible and populist ways that his Government was resolutely updating Thatcherism, the Liberal Democrats would become more awkward than they already are. Perhaps the failure of the Big Society, in my view an astute way of projecting updated Thatcherism, has led Cameron to decide to get on with policy-making and worry less about conveying what he and his restless ministers are trying to do.
Until now. After months of agonising, the laid-back, sometimes barely visible leader prepares to deliver a "historic" speech on Britain's future relations with Europe when what may happen in the next few years is wildly unpredictable and largely out of his control. Tomorrow, he will outline his objectives extending into the next parliament fully aware that negotiations within the EU are fraught and can change right up until the last minute of a deadline. On a cold January day in 2013, Cameron will make his bid for a sequence that ends, if it ends or begins at all, well after the next election. He does so in a wider context of grave economic crisis. Britain's membership of the EU was not its cause and an exit would not be part of the solution. But it is Europe that will dominate British politics – as it has done with varying degrees of intensity since the 1970s.
A partial explanation for Cameron's leap in the direction of hazardously historic speeches is that he sees, perhaps, an electoral opportunity in relation to Europe. There are always sensible reasons for silly behaviour and leaders are conditioned to detect opportunities in what seems like an impossible situation. Here, Cameron hopes by the time of the election to claim that his negotiations are on course, or will be, and that a referendum will give voters the chance to decide, in marked contrast to how Labour would, in his words at Prime Minister's Question's yesterday, "give more powers to Brussels".
The next election campaign will not be as neat as that. In the unlikely event that Cameron seems to be making credible headway in Europe, almost unifying his party and getting a sustained bounce in the polls, Labour would not go into the election committing suicide by refusing to offer a referendum. But even if Cameron's approach does place him in tune with voters, the newspapers they read and, to some extent, his own convictions, that does not explain the timing or the fact of tomorrow's speech. Almost certainly, the next election is more than two years away and he had plenty of space to play any electoral cards nearer the time without risking them being torn to shreds in the coming months. The sensible reasons only take us so far.
Insurrection
In the end, no explanation for the speech makes sense apart from one. Cameron leads a party unwilling to be led. In such a context, leaders start to act desperately and in ways that defy reason. They are doomed to be silly. In the early 1970s, Harold Wilson changed his mind four times about Britain's membership of the EU, largely to keep his party together. In the mid 1990s, John Major started an absurd "beef war" in an attempt to keep his party together. Cameron is behaving oddly because he is not in control. In an attempt to seize control, he will become even more at the mercy of events and his party's willful insurrectionaries.
A contrived event, one that is out of character, will lead to further chaos, as we have witnessed already over the mini-crisis in No 10 as to when precisely the speech would be delivered. Even the decision to stage it in Holland reeks of comically hand-wringing calculation that has not gone to plan. Thatcher spoke in Bruges. Major delivered his historic speech in Bonn, where he spoke of his desire to be at the "heart of Europe". Blair put his case in any city apart from those in the UK. Cameron must speak in Holland even though there is not a lot to say.
When all the fuss subsides in a few years' time, the UK will still be a member of the EU, as all the main party leaders want. In the meantime, Cameron will behave oddly, uncharacteristically and dangerously before we return to where we are now, and where it is in our interests to be: a pragmatic member of the European Union.
Register for free to continue reading
Registration is a free and easy way to support our truly independent journalism
By registering, you will also enjoy limited access to Premium articles, exclusive newsletters, commenting, and virtual events with our leading journalists
Already have an account? sign in
Join our new commenting forum
Join thought-provoking conversations, follow other Independent readers and see their replies