Cameron's speech at the Conservative Party conference: what he said, and what he meant
The Prime Minister's speech had some hidden meanings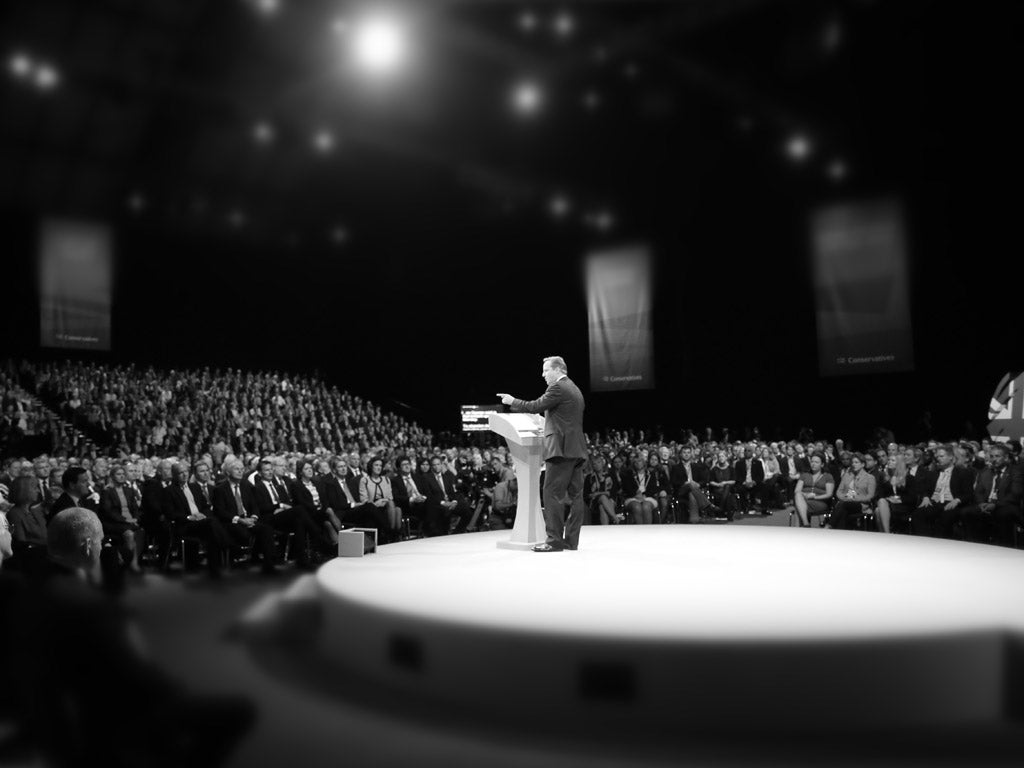 "This isn't job done; it is job begun. I didn't come into politics just to fix what went wrong, but to build something right."
I was going to say it is not the beginning of the end it is the end of the beginning, which I thought sounded rather good, but George took it out.
"Sacrifice beyond measure - from the finest and bravest armed forces in the world. And I want us to stand, to raise the roof in here, to show just how proud of those men and women we are."
Ed Miliband had three standing ovations in the middle of his speech, so I'll make sure that I get at least one.
"How did Labour get us into this mess? Too much spending, too much borrowing, too much debt. And what did they propose last week? More spending, more borrowing, more debt. They have learned nothing - literally nothing - from the crisis they created."
So let us join them. I propose this week that we should give a £600m tax break for marriage paid for by the free money tree.
"The best way out of poverty is work and the dignity that brings."
My admiration for the dignity of labour is why I propose that this party should change its name. To the Labour Party.
"This party at its heart is about big people, strong communities, responsible businesses, a bigger society - not a bigger state."
Owing to the size of the mess we inherited, the Big Society has been downgraded to the Bigger Society. Slightly bigger than the messy society that we inherited from the other lot.
"I'll never forget watching Samantha do just that - winning her first customer, sorting out the cash flow, that magic moment when she got her first business cards printed."
Two birds with one stone: politician's tribute to his wife and a small business case study.
"It's all sticking plasters and quick fixes cobbled together for the TV cameras. Red Ed and his Blue Peter economy. I tell you what, Britain can do better than that lot."
I tell you what. Whoever put that line in my speech had better look out. I said no funny jokes. I'm a serious person for grown-up times, not a comedian.
"Memo to the Liberal Democrats: you lecturing us on tax cuts is like us lecturing you on pointless constitutional tinkering."
That line wasn't in the published text of the speech, although I'm told that Nick Clegg did see it in advance. This is a serious speech for grown-up times. And childish intra-coalition point-scoring.
"Social work is a noble and vital calling … now let us, in this hall, hear it for Britain's social workers who are doing such an important job in our country today."
I made them clap gay marriage before. This time I'm going to set myself a really tough challenge. I'll see if I can make them clap social workers.
"Today it is still possible to leave school, sign on, find a flat, start claiming housing benefit and opt for a life on benefits … We should give young people a clear, positive choice … We've got to offer them something better than that."
We're Britain, we can do better than that.
"The land of despair was Labour. The land of hope is Tory."
Slap on a bit of Elgar and that's the next party political broadcast sorted out.
"If you work hard, save, play by the rules and do your fair share, then nothing should stand in your way."
A slight updating of Bill Clinton's acceptance speech, 1992, followed by "Don't Stop Believing", his campaign theme. I'm a New Democrat. Heir to You-Know-Who.
Join our commenting forum
Join thought-provoking conversations, follow other Independent readers and see their replies