Cameron's speech on Europe makes it less likely he will be Prime Minister after the next election
His position on Europe means that another coalition with the Lib Dems is impossible. Given the likelihood of another hung parliament, that spells danger for him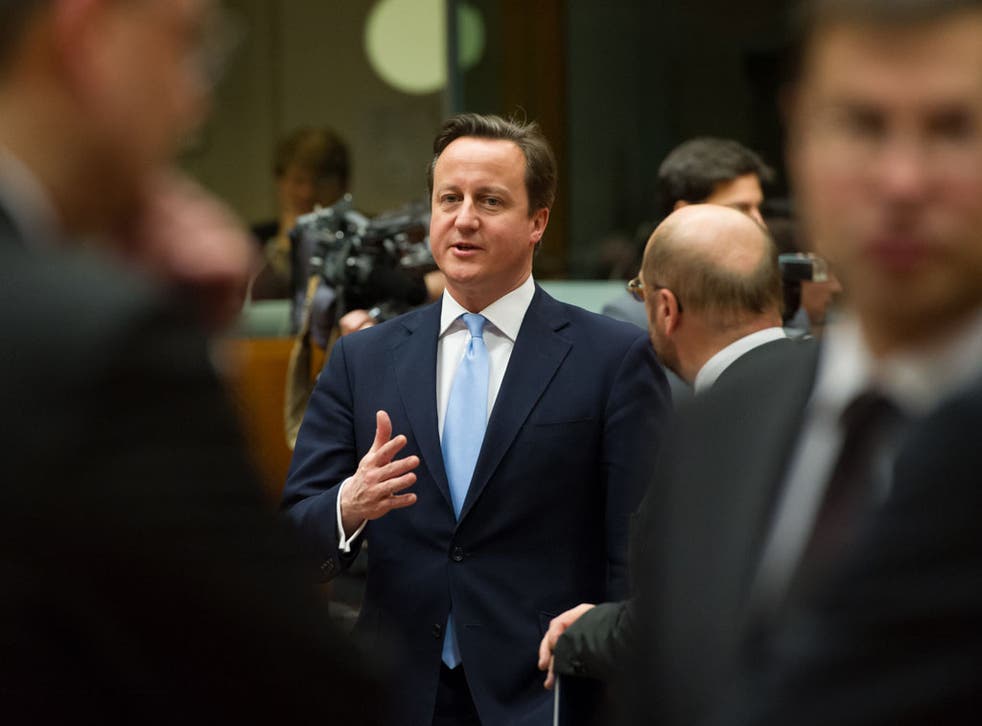 After a long and erratic political journey as leader, David Cameron is at one again with his party. Following his speech on Europe today, ecstatic Tory MPs greeted him in the Commons as if he were a returning war hero. On Twitter, Tory pundits were equally thrilled. They have got their referendum on whether the UK should remain in the European Union.
As a bonus, both Nick Clegg and Ed Miliband are placed on the defensive as they struggle to respond to that most simplistic of deadly questions: "Are you opposed to consulting the people?"
Yet, in British politics, ecstasy can turn to misery with terrifying speed. Cameron's newly outlined course is full of traps for him and in raising the possibility for the first time since 1975 that the UK could leave the EU, full of dangers for the country as well. His historic speech makes it less, rather than more, likely that he will be Prime Minister after the next election.
The unravelling will take many forms and will happen quite quickly. Cameron did not specify what precisely he would seek to renegotiate. His broad arguments suggest a renegotiation so fundamental that, if miraculously successful, the UK would be part of a reformed single market and little else. The lack of detail made it easier for EU leaders to be diplomatically polite in their public responses yesterday. Cameron could not afford unambiguously negative responses from senior EU leaders now, because that would mean another unanswered question would become even more urgent. What would he recommend in a referendum if he failed to achieve his objectives?
Dauntingly real
In some ways, Cameron is playing the same games as Harold Wilson in the mid-1970s. Wilson entered the February 1974 election pledged to renegotiate the UK terms of membership and to then hold a referendum. But there are two very big differences now. For Wilson, the renegotiation was cosmetic. He needed cover to recommend a "Yes" vote.
For Cameron, a more committed Eurosceptic, leading a party almost wholly united in its Euroscepticism, the negotiation is dauntingly real and already incomparably more ambitious. More important, Wilson made his proposals as Leader of the Opposition. Cameron is making them as Prime Minister at least two years before the general election. Wilson could not begin negotiating before he had won an election. Cameron can start now, at least informally and provisionally.
Inevitably, the general election will be partly a progress report on his early discussions. Voters will be able to form some idea on their likely outcome and will expect Cameron to be more precise about whether he will recommend a "Yes" or "No" vote. A refusal to do so would look shifty over an issue that will partly become one about trust and integrity, as most issues do, unfairly, in British politics.
The broader political implications are also more ambiguous than jubilant Tory MPs and pundits seemed to recognise. As those on the right cheered, Tony Blair and Nick Clegg expressed alarm. Cameron's original political strategy when elected Tory leader in 2005 has been blown to pieces. Like his predecessors, William Hague, IDS and Michael Howard, he is ending his half-hearted attempts at modernisation and realigning himself with the hard core of his party and their cheerleaders in the newspapers.
At a meeting earlier this week on a separate theme, Paddy Ashdown and two Blair admirers, Roger Liddle and Pat McFadden were scathing about Cameron as a leader, seeing him as a short-sighted tactician rather than a strategist of depth. In the early years of Cameron's leadership as he seemingly moved his party to the centre ground, his pitch appealed to Blairites and some Liberal Democrats. Now he is completing the same journey as Hague and IDS did, back to the comfort zone of his party.
A part of him must feel a little uneasy that, after his early days of tonal moderation, he will campaign at the next election for an in/out referendum, condemning "shirkers" and putting the case for spending cuts that make Margaret Thatcher seem like a social democratic statist.
His slight unease was shown at Prime Minister's Questions when he was questioned about whether he could "guarantee" that he would campaign for a "Yes" vote. He said "yes", before adding that it would be on the basis of a successful negotiation. The questioner, Ed Miliband, was obviously nervous, too. This is a high-risk game of poker for all leaders. Miliband appeared to rule out support for an in/out referendum, but his shadow Foreign Secretary, Douglas Alexander, reiterated later that Labour was opposed to one "now" as it had been when they voted against one, with Cameron, in the Commons last year. They are leaving the door open.
Darkened prospects
Some argue that Miliband missed a trick in not offering a referendum first. That would have looked so obviously opportunistic it would have unravelled as quickly as Cameron's vague proposals will do now. His holding position is the best available, which is to argue that this is not the time to call for such a referendum when no one knows what form the EU will take in the midst of its biggest economic crisis, while leaving the door slightly ajar.
Tony Blair deftly argued yesterday that 90 per cent of Cameron's speech on the need for reform was fine, but the 10 per cent that jeopardises Britain's membership because of Conservative internal politics was dangerous. When it comes to framing a potentially precarious argument, Blair remains the supreme expert.
Cameron and his party will get a boost in the polls. But I suspect most of the polls will point to another hung parliament. That is why Cameron's speech makes him less likely to be Prime Minister after the next election. Propping up a Premier who could lead a campaign to withdraw from the EU would be a deal-breaker. Because of Cameron's position on Europe, I do not believe the Lib Dems could form another coalition with the Conservatives. Cameron's political future was brighter the day before he made the speech than it is now.
Register for free to continue reading
Registration is a free and easy way to support our truly independent journalism
By registering, you will also enjoy limited access to Premium articles, exclusive newsletters, commenting, and virtual events with our leading journalists
Already have an account? sign in
Register for free to continue reading
Registration is a free and easy way to support our truly independent journalism
By registering, you will also enjoy limited access to Premium articles, exclusive newsletters, commenting, and virtual events with our leading journalists
Already have an account? sign in
Join our new commenting forum
Join thought-provoking conversations, follow other Independent readers and see their replies