Care homes? You'd get better treatment at Travelodge
According to the law, mistreating a dog is a more serious crime than abusing care-home residents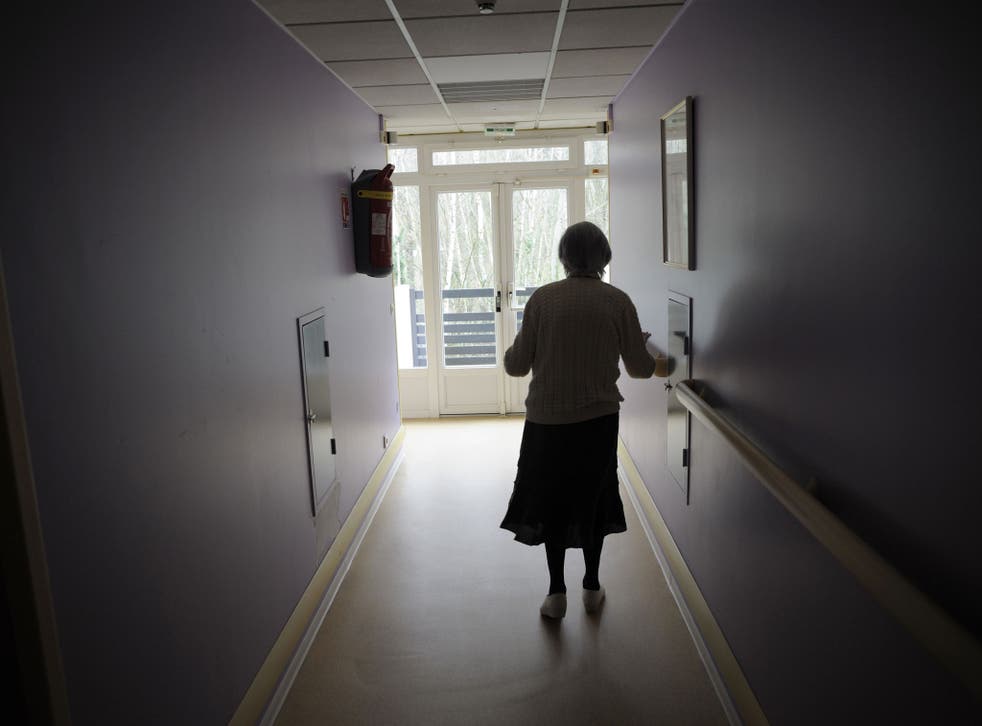 Bad news: one day we'll all be old. And when it happens, would you choose to pay a lot of money in order to be ignored, to be served slurry and to be called by a number rather than by your name? When you are guilty of no crime except senility?
Given the lack of nurses, the pitiful pay – £7.70 an hour – given to barely qualified care assistants (just three days' basic training), why do we shunt ageing relatives off to homes owned by venture capitalists and businessmen only interested in making profits? People who know as much about treating dementia and incontinence and mobility problems as they do about knitting bed-socks? Since when did bankers and bean-counters make sensitive matrons?
With an ageing population, and children who want to leave the problem of Mum and Dad's dementia to someone else, the care industry has become just that – a business – and £700 a week doesn't guarantee real care other than perfunctory wiping down and mediocre meals. You get better room service at a Travelodge for less money.
The "care" industry is supposed to be regulated by the Care Quality Commission- but, until now, it has not been able to prosecute anyone, because owners and managers have to be given a warning before criminal proceedings are instigated. Suspicious relatives have been taking the initiative by installing secret cameras and gathering their own dossiers of shame. Why is nobody ever culpable? Why is it so hard to raise standards?
If Clegg, Cameron or Miliband had a relative in a second-rate care home, maybe it wouldn't take yet another documentary to remind us there are many places in Britain where people are treated worse than our prison population. The old have less entertainment, worse food, no cell-mates to talk to and no exercise.
This week's Panorama showed residents at The Old Deanery in Braintree, Essex, being slapped, derided and ignored for hours. In another home, Oban House in Croydon, south London, a secret camera installed by the relatives of 98-year-old Yvonne Grant showed her begging to be taken to the toilet 321 times before anyone turned up. I cried watching this BBC film – just as I cried back in 2004 when a fire in a care home in South Lanarkshire killed 14 residents.
An official inquiry into that incident – which, to the distress of relatives of the deceased, didn't report until seven years later – found that there wasn't a fire safety plan, the fire brigade wasn't called immediately, the staff hadn't been properly trained, and residents' doors had been jammed open allowing the blaze to spread. Worse, the fire could have been prevented if the home's electrical equipment had been properly maintained and serviced. Fourteen people died for no good reason.
No one has ever been successfully prosecuted. No manager has done anything more than apologise. At the time I wrote that "if I ever lose my marbles, hand me the carrier bag and I'll put it over my own head. I'd rather die by my own hand than lie in a pool of wee calling out for help. Where's our humanity gone?"
Most care homes are perfectly adequate and their owners will say their staff are fabulous and the residents are happy. But is that the reality? After the Panorama programme in June 2011 that showed serious abuse of people with disabilities at Winterbourne View private hospital near Bristol, 4,300 whistleblowers contacted the CQC in the following 16 months, complaining about poor care of the elderly and the disabled. But there are woefully few convictions, notwithstanding those of 11 former Winterbourne workers.
Now, another documentary shows the vulnerable being treated worse than sacks of potatoes, and the owners of The Old Deanery are doing a lot of apologising. The police have yet to decide whether to press charges. As for the workers who ignored Yvonne Grant when she cried for hours, two were convicted of assault and given suspended sentences. Pathetic. People get longer sentences for mistreating a dog.
A third of the babies born last year will live to be 100. The care industry isn't fit for purpose, and many of today's toddlers might be better off taking a pill and ending their days in the comfort of their own homes. Installing CCTV cameras might be an invasion of privacy, but it could bring peace of mind.
WE'VE HAD A MR SELFRIDGE, NOW FOR MR JOHN LEWIS
Earlier this week John Lewis held a party, in a downpour, on the roof of its Oxford Street store, to celebrate its 150th birthday. The London party included actors playing the founders, a 1920s jazz band, and lovely guides in period dress talking guests through a fascinating exhibition of the store's history, which is open to the public until June.
Apart from the unique relationship the store has with its staff – "partners" who are entitled to a share in the profits – it's worth remembering that John Lewis has always embraced the avant-garde, from William Crabtree, whose streamlined, early 1930s design for its Peter Jones store in Chelsea still looks fresh today, to Barbara Hepworth, whose 1963 Winged Figure sculpture adorns the side of the Oxford Street branch.
A Very British Revolution, written by Jonathan Glancey, tells the story of John Lewis. How long before the BBC turns it into a drama series to rival Mr Selfridge?
'GENERATION WAR' IS TELEVISION AT IT'S FINEST
The title of the new BBC cop show Happy Valley is meant to be ironic. It's set in Hebden Bridge, where the residents are anything but well-balanced and joyous.
Sarah Lancashire plays Catherine, a jaded police sergeant who lives with her sister, a recovering heroin addict. Her daughter committed suicide after being raped, leaving a son – born as a result of the attack – who has behavioural problems and could be excluded from school. Now the man who destroyed her daughter's life is out of jail and getting involved in the kidnapping and (implied) sexual abuse of a local businessman's daughter.
This series might be based in reality, but it makes charmless viewing. The acting is of the first order, but the end result leaves the viewer feeling disconnected. The characters aren't sufficiently engaging. It's all one-note.
Better to watch the wonderful Generation War on BBC Two tonight, in which we see the Second World War through the eyes of five young friends in Berlin in the early 1940s. The characterisation is superb and the drama tries to explain why some young people found Hitler's "vision" so compelling. It doesn't flinch from showing the ugly compromises they had to make to stay alive. Don't miss it.
PINK OR BLUE? WHY CAN'T WE BE A BIT OF BOTH?
Life's too short to get bothered about whether dressing daughters in pink means you're stunting their potential. Someone from a group of leading private schools has announced that designating pink or blue to boys or girls is wrong, citing the fact that during the First World War, blue was fashionable for girls and is also the colour worn by the Virgin Mary in many Renaissance paintings. The war against gender-labelling toys continues, with Marks & Spencer and Toys R Us banning signs specifying Boys' and Girls' after campaign group Let Toys Be Toys asked for them to be removed. Having graduated swiftly from dolls to Meccano, I still wear luminous fuchsia lipstick. I'm not a pastel person. Pink is hot for both sexes now.
Register for free to continue reading
Registration is a free and easy way to support our truly independent journalism
By registering, you will also enjoy limited access to Premium articles, exclusive newsletters, commenting, and virtual events with our leading journalists
Already have an account? sign in
Register for free to continue reading
Registration is a free and easy way to support our truly independent journalism
By registering, you will also enjoy limited access to Premium articles, exclusive newsletters, commenting, and virtual events with our leading journalists
Already have an account? sign in
Join our new commenting forum
Join thought-provoking conversations, follow other Independent readers and see their replies