Censoring art as 'pornographic' because it shows pubic hair is ridiculous
In order to protect children we need to educate and empower them, and that includes calling a vagina a vagina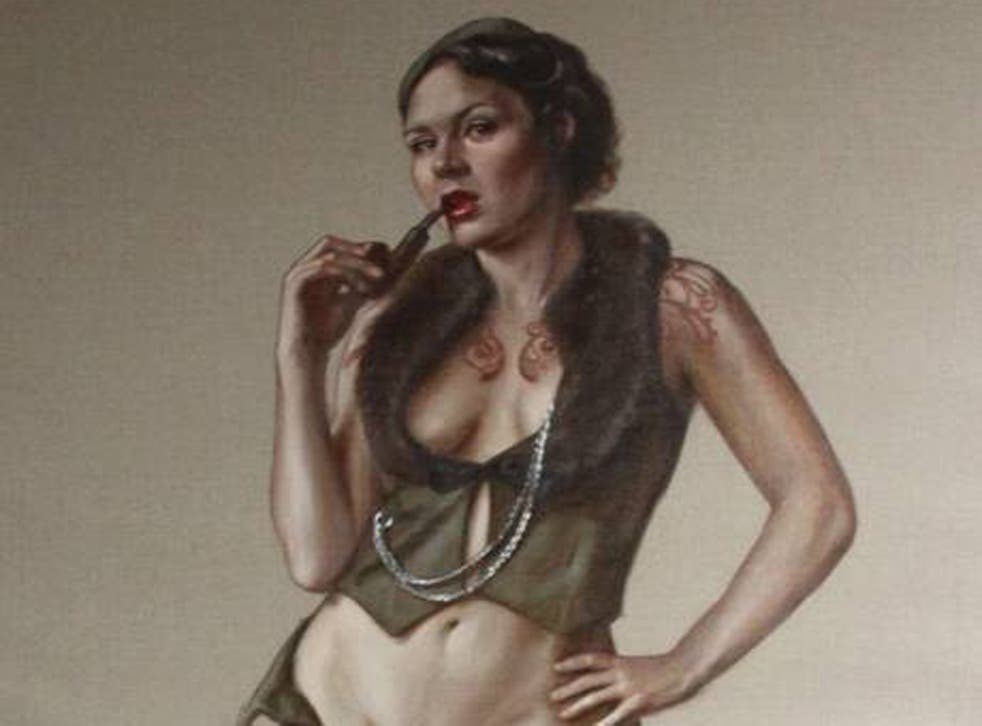 A woman – Ms Ruby May, we are told – looks confidently out of the canvas; one hand on her hip, the other holding a pipe to her lips. She is at once soft and muted, yet effervescent and alive. Her fur-trimmed vest pools around the sides of her breasts, and her trousers are dropped casually at the waist, revealing a small strip of dark pubic hair. Yet there the appreciation of art and beauty must end – for this image, appearing as it does in a swirl of carefully crafted brushstrokes, has been deemed so shocking that it has been removed from view, for fear that it may corrupt and offend.
It is in the name of children and vulnerable adults that Leena McCall's lifelike rendition of her friend, entitled Portrait of Ms Ruby May, Standing, selected by the Society of Women Artists (SWA) for their annual exhibition, has been censored. The artist said that removing the piece from public view only serves to underline the precise issue she was trying to address: "how women choose to express their sexual identity beyond the male gaze."
The artist has since rejected an offer to replace the work with another, and has set up a Twitter campaign under the banner #eroticcensorship. Her portrait, she says, was designed to "get people talking about [Ms May's] sexuality", and it's certainly done that. Not least, no doubt, at the Mall Gallery in London, an educational arts charity, which removed the painting, it said, due to its "responsibility" to those most in need of protection.
But we have an even greater responsibility to our children, and it's not one of ignorance, or of looking the other way. What we need to do is empower young boys and girls to take ownership of their bodies, to feel confidence and self-worth in a time awash with sexting, trolling, grooming, twerking, drugs and date rape, the pressure to have sex, the pressure to look 'hot', to be thin and to fit in. Recent research, by the EU Kids Online programme at LSE University found a sharp rise in the number of children – nearly a third of 11 to 16-year-olds – exposed to self-harm and pro-anorexia websites, and a fifth of children in Britain have reported experiences of bullying, much of that online.
We live in a society that teaches young women that they should be waxed, shaved, buffed and polished to perfection, messages that are pervasive and uncensored. Girls grow up believing that beauty equals pain, that to be sexy is to achieve a hairless, pre-pubescent ideal, and boys expect girls to look like porn stars.
Ruby is not size zero, like the models used to sell clothes to 14-year-olds. She's not lying with her legs splayed, like the centrefold of a lads' mag photoshoot. There's no silicone or overt sexuality: she's beautiful, she's confident, she's real.
The Mall Gallery got one thing right – they were thinking of the children. But hiding the human body from our kids, when it's shown in so positive and empowering a way, does nothing for awareness, safety or self-belief. Neither does masquerading the basics of biology with nonsense words like "fanny", "front-bottom" or "foo-foo" when talking to our toddlers. Call a spade a spade, a vagina a vagina – and start young, so that self-protection is instinctive and kids really can tell us when something is very wrong.
Register for free to continue reading
Registration is a free and easy way to support our truly independent journalism
By registering, you will also enjoy limited access to Premium articles, exclusive newsletters, commenting, and virtual events with our leading journalists
Already have an account? sign in
Join our new commenting forum
Join thought-provoking conversations, follow other Independent readers and see their replies