Charlie Hebdo: After France's 9/11, this land will never be the same again
The dignity and defiance of the 'Je suis Charlie' rallies has been impressive, but there are still question marks hanging over France's unity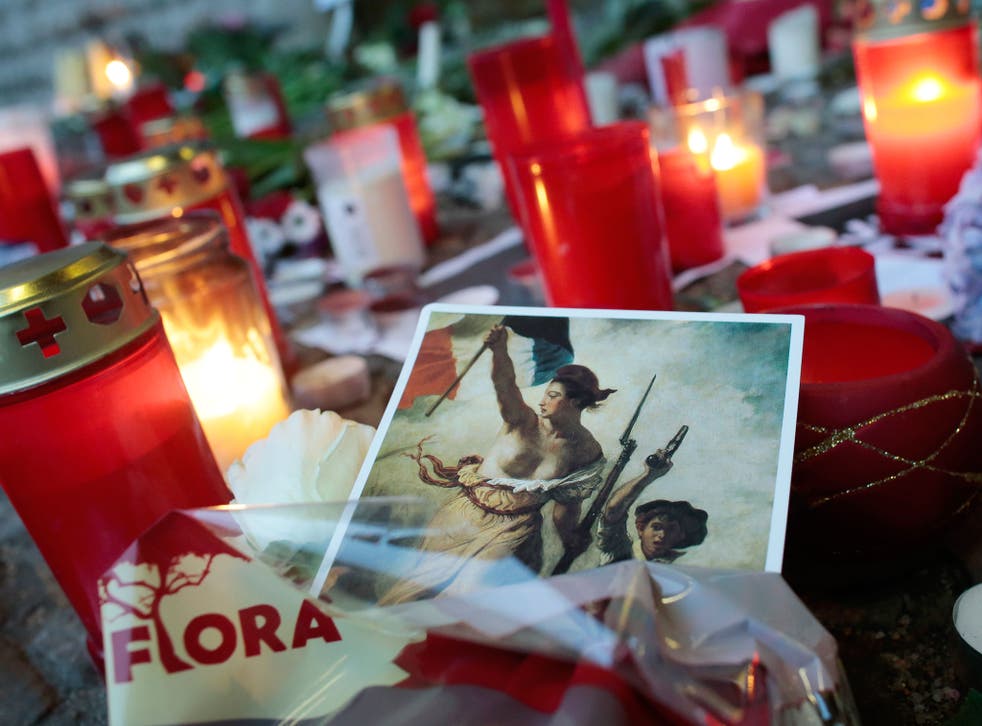 A banner headline in Le Monde reads: "Le 11 Septembre Français."
More than 3,000 people were slaughtered in the attacks on New York's twin towers and Washington in 2001. Twelve people died in the Charlie Hebdo massacre.
An exaggerated headline? No, perfectly justified.
The modern history of the United States falls into two periods, "before 9/11" and "after 9/11". In the history of France, there will be a "before 1/7" and an "after 1/7".
There are other differences between the attacks.
The assault on the US came from the outside. The country's sense of invulnerability was shattered. Its reaction was the Patriot Act, the Iraq war, Guantanamo Bay, repression, aggression and paranoia.
The Charlie Hebdo attack came, in a sense, from within. The Kouachi brothers were born in Paris, close to the Gare du Nord, less than a mile from the scene of the outrage.
Unlike the US in 2001, France knew itself to be in danger from terrorism. The country was in the midst of a bile-filled argument about the supposed threats to French core identity and cherished Republican values from five million French Muslims.
The Kouachi brothers – knowingly or not – chose their target well. Not many read the scurrilous, mockery-on-all-your houses humour of Charlie Hebdo. It represents, nonetheless, something elemental in France's idea of itself. Charlie represents not just freedom of speech but France's love of vituperative wit; its truculence; its fundamental good humour; its dissatisfaction with anyone in authority; its sense of permanent rebellion.
Two of the cartoonists who died, Wolinski and Cabu, were old men. In their style of humour, they were still teenagers, still taking part in the May 1968 student rebellion.
In pictures: Reaction to Charlie Hebdo attack

Show all 39
On the day of the attack, the novelist Michel Houellebecq, a different kind of enfant terrible, published a novel called Soumission (Submission). The book imagines a France post-2022 when a moderate strain of radical Islam has conquered the country. Freedom of speech has not been suppressed but has been muffled and distorted.
Late last year, another enfant terrible, the anti-Islamic essayist Eric Zemmour, suggested that the presence of five million Muslims would inevitably bring civil war. He suggested that Muslims should be "repatriated". But as Mr Zemmour well knows, most of them, like the Kouachis, are French.
The attack on Charlie Hebdo was, therefore, like a coming to life of the most lurid visions of an existential Islamic threat to France's inner being. It may have dark consequences for a country already weakened by economic woes and rejection of traditional ruling classes.
The initial response, it has to be said, has been largely admirable. The spontaneous rallies in French cities for the past three nights have embraced the Spartacus-like catchphrase "Je suis Charlie".
In other words, we are all in this together; white, brown and black, left or right, Muslim, Catholic or Jewish. President François Hollande has tried to convey this message. Yes, we will be firm. Yes, we will crack down on terrorists. But please let us have no "sweeping generalisations"; no "prejudices"; no "assumptions". "The country has been struck in its heart", he said. It is a time to "come together".
Contrast this, however, with former President Nicolas Sarkozy who has twice spoken of the Charlie Hebdo attack as a "war of civilisations". His own former Justice Minister, Rachida Dati (of North African origin), protested yesterday that this was absurdly inflammatory. If the West is engaged in a war of civilisations, she asked, what is the other "civilisation". Al-Qaeda? Isis? Or simply Islam?
Consider also the response of Marine Le Pen's Front National, which has simultaneously supported the "we-are-all-in-this-together" line and blamed immigration.
There have also been attacks on mosques and other Muslim targets. France has many poisonous political extremes. Political extremes love to feed off one another.
The dignity and defiance of the "Je suis Charlie" rallies has been impressive. The mostly young, mostly urban people at these believe that they are defending core values of openness, tolerance and decency.
It is reasonable to doubt, however, whether they truly represent the core response of "middle France" or "la France profonde". What of the villages and small towns which already vote heavily Front National (even though they have no immigrants)? What of the blue-collar and white-collar suburbs? The divisive and seemingly tough Le Pen and Sarkozy language could resonate there long after Mr Hollande's appeals for "calm" and "unity" are forgotten.
Before "1/7", France was stumbling uncertainly towards an uncertain future. Post 1/7?
Will there be a lasting backlash of unity and pride? Or will divisions grow deeper and more menacing?
Register for free to continue reading
Registration is a free and easy way to support our truly independent journalism
By registering, you will also enjoy limited access to Premium articles, exclusive newsletters, commenting, and virtual events with our leading journalists
Already have an account? sign in
Join our new commenting forum
Join thought-provoking conversations, follow other Independent readers and see their replies