Clacton by-election: What an incredible journey Ukip has been on – and now we stand on the brink of making history
It's been twenty years since I scraped a handful of votes in the party's first ever by-election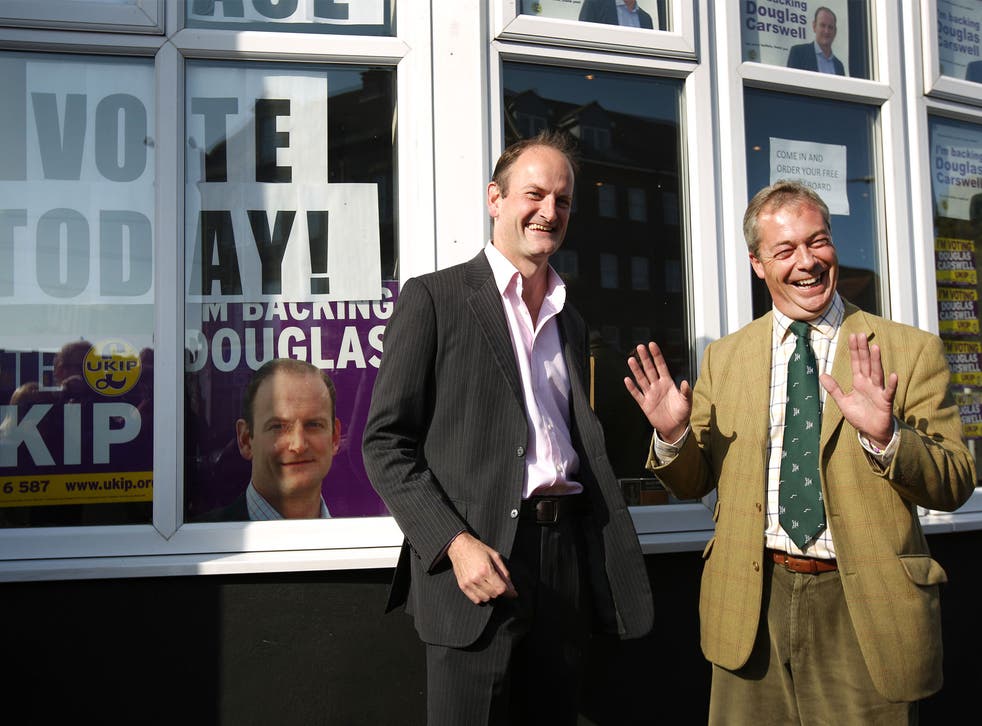 How extraordinary it is to walk around Clacton and see the town painted purple, to glance at the front pages of the local papers to see the word Ukip writ large, to speak to voters not only pledging their support, but fired up and excited about the prospect of playing a part in history.
The Frinton and Walton Gazette has the most astonishing splash of all. On a whole-page black background, the date 10.10.2014 jumps out at any gaze that happens graze the paper's cover. The subtitle: "The historic date town reveal their new MP and change British politics forever." Honestly, not a word of persuasion from Team Purple. The electricity of being part of a schism in UK politics that could alter the narrative forever is palpable. The people lining up at polling stations, many of whom hope to touch the page that could turn over a new chapter for this generation of voters.
What a far cry from Ukip's ever first by-election two decades ago. None could have predicted what would be taking place today. It was 1994 and the party's candidate was a raven-haired, fresh-faced 40-year-old commodity broker, with a big mouth and even bigger ideas.
That was me, in Eastleigh, at the start of something that I am now looking upon today with a certain degree of incredulity. Back then it was an immense amount of fun. It was mischievous, it was brave, it was rebellious. We managed to just about scrape past Screaming Lord Such by 48 votes, ensuring we did not end up with the wooden spoon.
Some 38 by-elections later, many of which saw us lose our deposits, and Ukip has hit something of a roll in the past two years. In 2013 our old friend Eastleigh saw the stunning Diane James incredibly take the vote on the day, only to be pipped by the deluge of postal votes the Lib Dems had already secured in the constituency. A stunning result, considering that even at that point we were campaigning on an issue largely misunderstood by the public, as a party that was barely known. One more week of campaigning and Diane would have marched the colour purple into the Commons.
In pictures: The rise of Ukip

Show all 8
Fast-forward to today - and rather breathless a sprint it has often times seemed - and cometh the hour, cometh the man. It looks as though the stars are aligned to see Ukip return their very first directly elected MP to Westminster in the form of Douglas Carswell. I have been asked, in anticipation, a priori, to put my feelings into words. How can I? It's totally inexpressible. But so often in life, events that are the most unprecedented are the ones that leave us speechless with a feeling of almost sublime.
But it's not just Clacton that has the heart somewhat palpitating, but equally looking at the staggering gains being made in the stridently Labour territory of Greater Rochdale. Ukip has run an amazing campaign in Heywood and Middleton, a constituency that has been under the one-state control of the left for so long that the outcome in the north-west is often written off as a foregone conclusion.
It is unlikely, despite massive gains by Ukip, that the particular trend of Labour dominance will do little other than buckle. But in this lies the bigger story. Tearing huge chunks out of the vote in Labour heartlands creates a staggering dichotomy in the political narrative where concurrently the insurgent party has witnessed two MPs from the Conservatives defect and are potentially about to pull off a spectacular victory on Tory turf.
The commentariat is only just beginning to fathom what is really going on here, but far too late to inadvertently influence the voters of Heywood and Middleton that are still backing the Conservatives, despite the fact that they absolutely cannot win there. By going to bed with David Cameron, they will sadly wake up with Ed Miliband.
In fact, in half of the country right now, if you vote Conservative, you are going to get Labour. Believe not the endless stream of nonsense being pumped out from CCHQ. It is back to Clacton and Carswell to resoundingly demonstrate that if you vote Ukip, you get Ukip.
I am spending the whole day in Clacton with Douglas, knocking on the doors of those people who have pledged to back Ukip to coax them down to the polling station. Such is my appetite for revolution that, despite my bad back, I will carry them down to the booths if I have to!
This evening Ukip have organised a Clacton pub crawl, to encourage the remaining men and women who are yet to engage with democracy to stake their claim in tomorrow's result. It's a bit of a burden for me and rather a break from the norm, of course, but I would do anything for the party.
Then onwards into the night, that long nail biting wait at the count. Finally in the wee small hours I will go to bed knowing for certain whether the new day will herald a new dawn in British politics.
Register for free to continue reading
Registration is a free and easy way to support our truly independent journalism
By registering, you will also enjoy limited access to Premium articles, exclusive newsletters, commenting, and virtual events with our leading journalists
Already have an account? sign in
Register for free to continue reading
Registration is a free and easy way to support our truly independent journalism
By registering, you will also enjoy limited access to Premium articles, exclusive newsletters, commenting, and virtual events with our leading journalists
Already have an account? sign in
Join our new commenting forum
Join thought-provoking conversations, follow other Independent readers and see their replies