Congratulations Adam Levine — Maroon 5's 'Animals' video is this year's 'Blurred Lines'
Now let's see if your album sales go the same way as Robin Thicke's...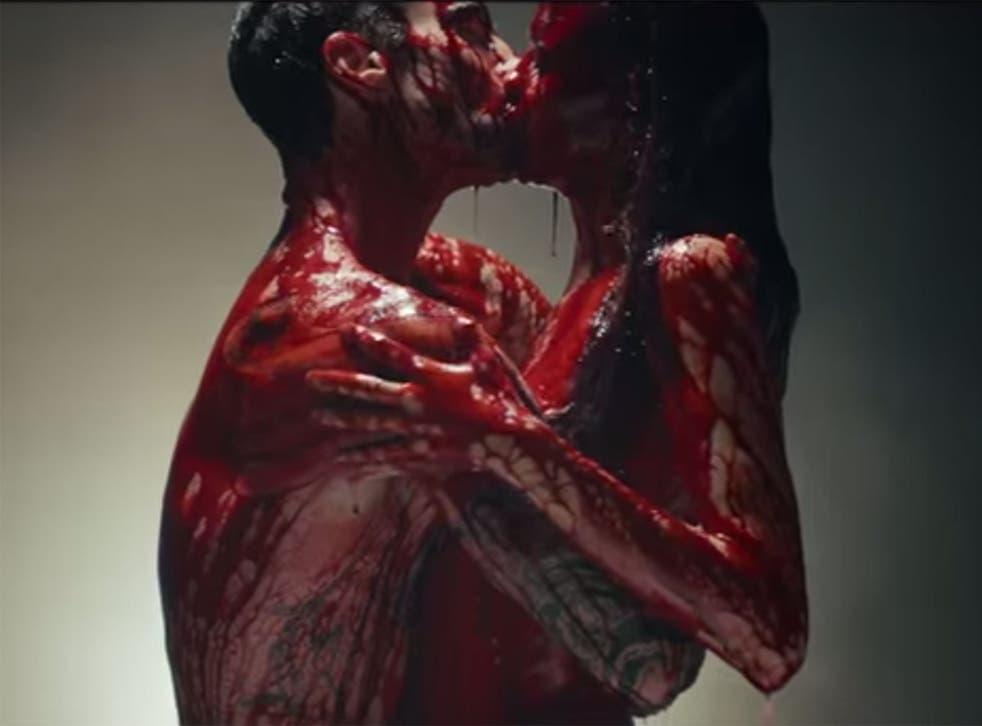 Some men, when they get married, treat their new wife to a honeymoon – a nice long holiday to celebrate the start of domestic bliss.
Not if you're Adam Levine. No, it seems that if you are the lead singer of Maroon 5, you give the woman who has agreed to share your life – in this case Victoria's Secret supermodel Behati Prinsloo - the chance to star in your latest music video, where she plays the victim of a sinister stalker, is covered in gruesome fake blood and romps around with you as you pose and lip sync to your new song, in a totally bizarre depiction of a stalker's fantasy.
Just what every new bride wants, right?
Maroon 5's video for their latest single Animal is just another in a line of a worrying trend of music videos that dehumanise women. The female stars in these videos are simply props, used in often humiliating and degrading storylines.
Levine may think that he's being edgy by playing a stalker. In the video he takes secret photos of a woman and sneaks into her house while singing "Baby I'm preying on you tonight/ Hunt you down eat you alive". But it's not edgy, it's a horrendous depiction of a crime. Doesn't he know that stalking is one of the most common types of intimate violence between couples? According to the British Crime Survey from 2010/2011 18.1 per cent of women aged 16-59 have experienced some form of stalking since the age of 16.
But hey, it seems that violence against women is just 'art' for musicians. It's not that long ago that Robin Thicke, Pharrell and T.I paraded around a set with scantily clad models, pulling on their hair and playfully singing about 'tearing their ass in two' in Blurred Lines.
It's hard to criticise certain types of media without being told you are overreacting, or that you don't understand the subversive, or ironic, nature of the art form . If a woman is being objectified in a music video? "It's just a music video!". If gamers manage to find a way to create an add-on to their already violent game that makes it possible to rape prostitutes, such as Grand Theft Auto? "It's just a game!"
But this is not about anything as lofty as art censorship. It's about the simple recognition that things matter because they have enormous power and influence on the way we view ourselves and each other. People emulate the behaviours of those they look up. How many women have learnt the precise art of contouring, since seeing Kim Kardashian's flawless make-up? How many men have, somewhat misguidedly, taken to wearing ridiculously skinny jeans and tippex white trainers a la the boys of The Only Way is Essex?
Is it much of a leap to assume that by watching videos that glorify treating women like objects, make stalking seem sexy and a great way to snare the girl of your dreams, that consumers will follow suit? If we allow imagery, such as Behati Prinsloo covered in animal blood being sexed up by a depraved sociopath, how are we to teach our young men that this behaviour is not okay? How are we going to raise our women to believe that they can achieve more than being the object of a man's affection, the backing model to Robin Thicke's show?
Sadly, it's most likely that the idea for Maroon 5's bloody masterpiece was the brainchild of a clever music exec, greedily rubbing his hands together and he daydreams of how the outrage will equal clicks, which will equal money, which will boost his ego. Well done to him, he's doing his job well. But it's about time he took responsibility for his work. It's sad that the industry has given up on being a role model, in favour for scandal, outrage and breaking boundaries for the sake of it.
I'd like to draw his attention to Robin Thicke, and what became of him after the slimy legacy of Blurred Lines died down. On releasing his new album, a whiny un-wanted love letter to estranged wife Paula Patton, it made a pitiful 530 sales in its first week in the UK. Oh, and Robin's wife hasn't decided to come back, despite the ever romantic public musical grovel.
So, good luck to Adam Levine and Maroon 5 for future album sales. Let's hope that the selling out of women and the violence they face in daily life was worth it.
Register for free to continue reading
Registration is a free and easy way to support our truly independent journalism
By registering, you will also enjoy limited access to Premium articles, exclusive newsletters, commenting, and virtual events with our leading journalists
Already have an account? sign in
Register for free to continue reading
Registration is a free and easy way to support our truly independent journalism
By registering, you will also enjoy limited access to Premium articles, exclusive newsletters, commenting, and virtual events with our leading journalists
Already have an account? sign in
Join our new commenting forum
Join thought-provoking conversations, follow other Independent readers and see their replies