Crimea crisis: We're constantly spitting venom at Russia, but lack a bite to scare the Kremlin
Hague's rhetoric is in direct proportion to the UK's incapacity, or unwillingness, to act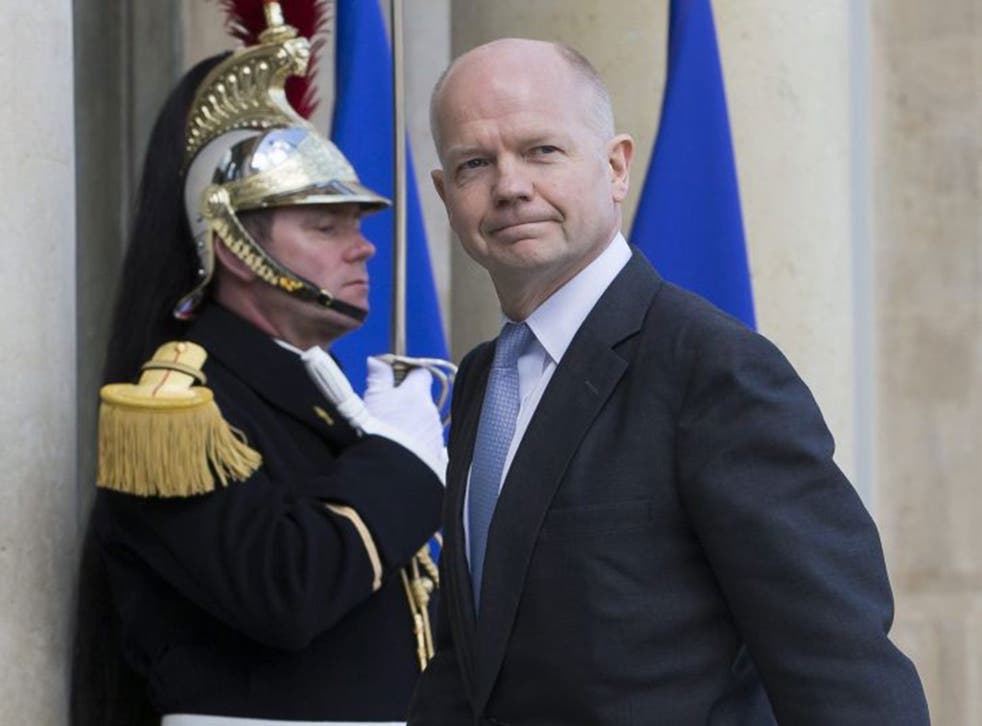 Is it just diabolical bad luck or appalling judgement? Either way, it is hard to describe the past half century of relations between Britain and Russia as anything other than cursed. What malevolent fate was it that designated this year, of all years, the Year of Russian Culture in Britain?
The sequence, like the intention, is familiar. Arrange a host of high-profile events – art exhibitions, avant-garde theatre, ballet – bring over some stars of the arts firmament, and hey presto, the whole atmosphere between two mutually suspicious countries will improve and the way will be smoothed for some seriously productive diplomacy.
Except that with the UK and Russia it rarely works like that. Every slight warming seems to be thwarted. Even as my inbox fills with invitations to the wealth of events that arts organisations have been preparing in recent months, I hear William Hague's ever more adamant voice in my ear, condemning "land grabs" and "sham democratic processes" and calling on everyone to "stand up to" Moscow. It takes two to spoil a relationship really disastrously, of course, and Russia has done itself no favours with its baiting of Ukraine's interim government and its de facto annexation of Crimea – the first time it has moved to expand its territory since the Second World War. Nor is the British Foreign Secretary alone in his ire. He has done his level best to present a united front with Washington and Brussels – while also trying not to upset Russia's London-based super-rich.
But the speed with which relations with Russia habitually seem to go from bad to far, far worse, and the animus that soon displaces almost any other sentiment between London and Moscow, suggests we start somehow from a different place in our dealings with Russia. Different, that is, from the place from which France, Germany or even Washington start in their relations with Russia, and different from the way we handle relations with most other countries, friend or foe.
When things turn bad with Russia, there seems to be real venom that goes beyond the rhetorical diplomatic norm. There is an almost personal vindictiveness that makes mending fences afterwards that much harder. We give the condescending impression that Russia has at once disappointed and betrayed our expectations. We speak patronisingly about our "values" and its "behaviour". We demonise its leaders as though they rule alone, and everything will be sweet reason when they are gone.
What we are encountering with Ukraine is a Russia problem, not a Putin problem. Most Russians who grew up in Soviet times, if asked what they most regret about the USSR's collapse, would say the loss of Crimea. Russians see the peninsula as ancestral territory; they have fond memories of childhood holidays there. As Italy is for northern Europeans, so Crimea is for Russians: the land of warmth and romance, "where the lemon trees bloom". No clumsy propaganda campaign was needed to convince Russians they should seize the opportunity to "get it back". Rather than understand this and look for a way out, British officials have been shouting their fury louder than most – perhaps to disguise their impotence, and with good reason.
Crimea referendum and independence

Show all 14
Russia's move has shown how much weaker the UK has become internationally over the past 20 years. In 1994, Britain joined the US and Russia in underwriting Ukraine's security in return for Kiev giving up its Soviet-era nuclear weapons. Not only do Britain's assurances look useless now, but they call into question the wisdom of any country giving up a nuclear capability – just as talks have opened with Iran. Hague's rhetoric is in direct proportion to the UK's incapacity, or unwillingness, to act.
The fracas over Crimea, however, is just the latest example of UK officials going the extra mile in condemning Russia, and thereby painting themselves into an anti-Russian corner. Each time it seems that a thaw with Moscow is in prospect, something happens on one side or the other to plunge relations back into the deep freeze.
Just as the worst of the Cold War seemed to be over, it was the UK (under Edward Heath) that expelled more than 90 Soviet diplomats. Other countries acted more discreetly. Having feted and flattered Mikhail Gorbachev, we failed to give him the economic support he had counted on at the 1991 London G7 summit, and he walked, dejected, away. Then, even as we boasted of our superior probity, we gave refuge to dubious characters, such as Boris Berezovsky, who used his millions to buy influence and sway opinion against his enemies in the Russian leadership at home.
And even as Berezovsky's persuasive skills started to fade, the exiled Alexander Litvinenko died an agonising death in a London hospital – the cue for more denunciations of Putin and Russia, more diplomatic expulsions, and the patronising recommendation that Russia should change its Constitution to allow the extradition, on scant evidence, of the chief suspect. Meanwhile our supposedly model justice system has managed to delay an inquest, so far, by more than seven years. And now – just when the UK government seemed ready to turn the page, had restored intelligence co-operation, ended the visa war, and given its blessing to the Year of Russian Culture – we have this. Any goodwill generated by the Sochi Winter Olympics is forgotten; a powerless Britain is reverting to its role as chief anti-Russian cheerleader.
There is, it must also be conceded, a strange duality to our relations. A good many Britons are entranced by Russian culture; still more Russians adore the land of Shakespeare and Dickens, aspire to give their children an English public-school education and delight in their Home County estates. Alas, neither the growing Russian presence in Britain nor the mutual appreciation of each other's culture has so far failed to lift that Cold War curse.
Register for free to continue reading
Registration is a free and easy way to support our truly independent journalism
By registering, you will also enjoy limited access to Premium articles, exclusive newsletters, commenting, and virtual events with our leading journalists
Already have an account? sign in
Join our new commenting forum
Join thought-provoking conversations, follow other Independent readers and see their replies