Daily catch-up: Alex Salmond admits he would prop up a Labour government even if it renewed Trident
Plus election memoirs reviewed, and a prediction that turned out to be not wholly accurate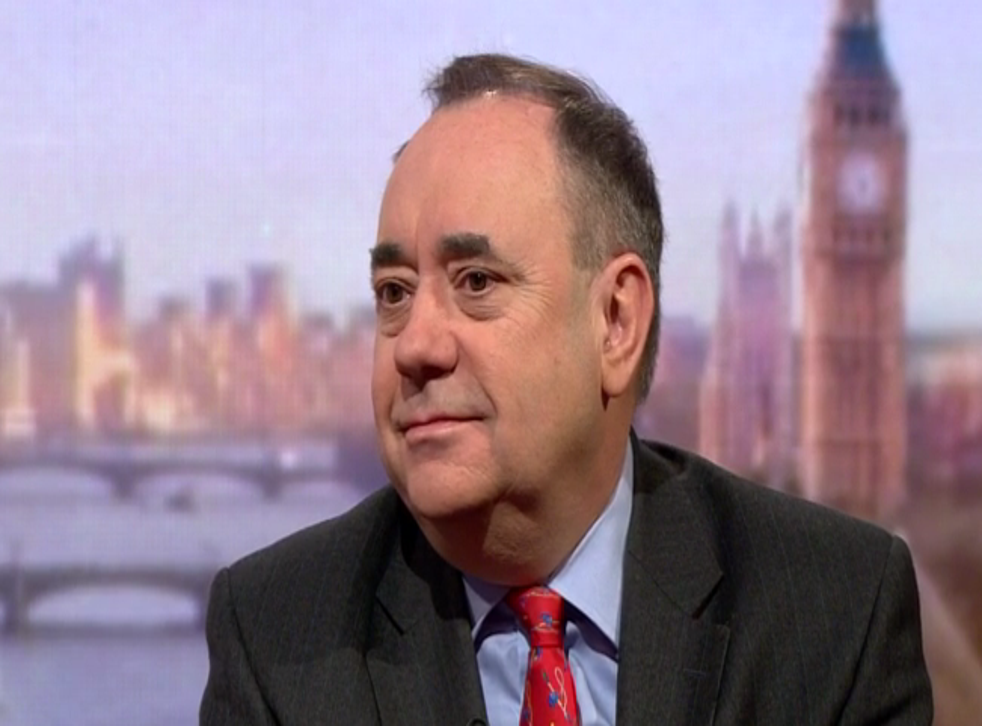 1. What a pleasure to have Alex Salmond back on our screens so soon after his defeat in the Scottish referendum. He was interviewed by Andrew Marr yesterday (transcript here) and mightily impressive he was too.
He repeated what Nicola Sturgeon said two weeks ago, that the Scottish National Party would support a Labour government in a hung parliament even if it renewed Trident. They don't put it quite like that, of course. In the exchange with Anna Soubry, the defence minister, at the end of the programme (at 55 minutes, not in the transcript), she said:
"There'll be no deal with Labour unless there is no renewal of Trident. He has made that very clear and that is true and honest to his beliefs."
Salmond said:
"You couldn't have a coalition or confidence and supply but a vote-by-vote basis is what comes up in the House of Commons –"
A Labour-SNP coalition has now been ruled out by both sides. A confidence and supply arrangement, an agreement by the SNP to support a Labour minority government on a limited programme and to vote for its finance ("supply"), Salmond described as "possible", but an even looser vote-by-vote arrangment as "probable".
Soubry saw his weakness and pounced on Trident:
"You said it's a red line for the SNP."
Salmond:
"For a coalition or confidence and supply, obviously, but vote by vote is vote by vote."
So, if as I wrote in The Independent on Sunday the polling and betting forecasts are right and David Cameron doesn't have quite enough votes with the Lib Dems and the DUP, the SNP will allow Ed Miliband to form a minority government. It would then vote against the renewal of Trident when that decision comes up next year, but the vote would be carried because there would be a majority in the House of Commons in favour of British nuclear weapons (two-thirds of Labour MPs and nearly all Tories). That would be awkward for Sturgeon and Salmond to explain to their supporters, but it would suit them by perpetuating the grievance-driven campaign for a second referendum.
2. Alex Salmond has also contributed to a growing library of that American phenomenon, the election memoir. His was reviewed brilliantly by Chris Deerin. Nigel Farage's was reviewed by Will Self and Daniel Finkelstein (pay wall). And Caroline Lucas's by David Aaronovitch (pay wall), of which here is a sample:
"On page 106 she writes: 'In Britain we have a legally binding Climate Act – a triumph of cross-party working under the last Labour government.' And then on page 107, 'Parliament is so unrepresentative of the people, and so much under the influence of lobbyists who want to resist the changes we want to make that it has become a brake on our collective response, rather than way of enabling it.' How, in that case, did the Climate Act happen? She doesn't explain.
"This blithe unnoticing of awkward truths is illustrated in a platitudinous sub Thought for the Day on the 2011 riots. 'Looting and arson,' Lucas says, 'are crimes; but crime has its roots in society. The more that people have a proper stake in society, the more they feel it is run by, and for us all, the less likely they are to turn to crime.' Yet crime has been falling in almost all categories for the past 20 years. This is almost precisely coincident with the very 'neoliberal' surge she blames for almost everything. Her 'explanation' simply does not work."
3. While we are at it, it should be said that Chris Deerin's blog is currently one of the best things on the internet. Yesterday he wrote about dragons and literature.
4. In other politics news, some people have noticed that a sweeping prediction made by a buffoon has not come to pass. Namely that there would be no TV debates in this election campaign.
I thought the 2-7-5-3 format announced by the broadcasters over the weekend was a victory for David Cameron, Nick Clegg and the theatre of the absurd. Cameron because the only debate he is in is the seven-way pile-up more than a month before polling day, and because there will be no empty chair, which would have been a democratic outrage. And Clegg because he regains the status of one of the big three in the final non-debate programme.
However, this is hardly "the TV debates" that most people wanted, so I am applying for semi-buffoon status.
5. I did enjoy this dogs knock-knock joke via Brian Doyle:
Dog 1: Knock-kn—
Dog 2: Woof-woof-woof-woof-woof-woof-woof.
6. And finally, thanks to Chris Heaton-Harris for this:
"My mate wanted to join the British Society of Hypnotists but he failed the en-trance exam."
Register for free to continue reading
Registration is a free and easy way to support our truly independent journalism
By registering, you will also enjoy limited access to Premium articles, exclusive newsletters, commenting, and virtual events with our leading journalists
Already have an account? sign in
Join our new commenting forum
Join thought-provoking conversations, follow other Independent readers and see their replies