Daily catch-up: a lesson in how to write biography from one of the greatest
Robert Caro, author of The Years of Lyndon Johnson, came to the Parliamentary Press Gallery for lunch yesterday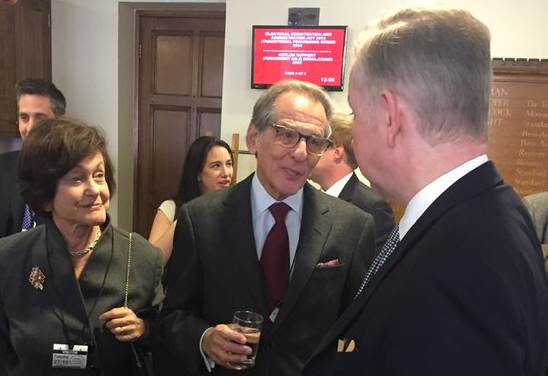 Robert Caro was greeted with more respect than any visiting politician, with the possible exception of Tony Blair when he addressed Westminster's journalists three years ago.
Caro, 79, was interviewed by Michael Gove, the Justice Secretary, before taking questions. After Charles Moore was interviewed by George Osborne, politicians interviewing biographers is becoming a trend. (Osborne even said to Moore: "We await the third volume in this Robert Caro-esque endeavour you've embarked on.")
They started by discussing the great question that dominates the lives of both LBJ and Robert Moses (subject of The Power Broker, first published in the US in 1974 and published in the UK this year): is it possible to achieve great things and to remain idealistic? Moses had started life as an anti-corruption campaigner, but had ended up building New York by any means possible. Caro recalled some of the paradoxes of LBJ's early life, as a teacher in a "Mexican" school for poor Hispanic children in Texas and his deep commitment, long suppressed in politics, to civil rights; and as a cruel abuser of power, "a man who ruined people for a whim". He said it was "hard, painful" to write about LBJ's "streak of viciousness and the way he treated his wife".
Caro discussed how LBJ's cruelty was the other side of his ability to read people. "He always seemed to know what would work with people." He was good at spotting talent after a few seconds' exposure to someone. And sometimes he took an instant dislike to people. He recounted one of my favourite stories from Volume 4 of The Years of Lyndon Johnson, the one that covers his acceptance of the humiliation of the Vice Presidency under Kennedy and the accession to the presidency, of how he and Bobby Kennedy first met. Bobby, 23, was a staffer on a Senate committee ("McCarthy's as a matter of fact") and it was hate at first sight, like two dogs growling at each other. Their feud endured even after Bobby's assassination in 1968, when "LBJ tried to keep Bobby from being buried next to his brother".
Gove asked the question, very sweetly: "When can we expect to see the next volume?"
Caro replied: "Don't ruin the interview. I'm doing it as fast as I can." Gove retreated to the safety of asking whether he modelled his writing style on anyone. Caro said no, but "there is too much feeling – I felt it as a young reporter – that all that matters is the facts". He said writing that endures has to be at the level of a great novel, with a sense of place, narrative and characterisation, and he mentioned Gibbon's Decline and Fall and Tolstoy's War and Peace. Gove said he was better than both of them.
From the star-struck audience, he was asked what were the greatest lengths he had gone to stand up a story. He said he had gone to the Texas hill country to talk to people who had known LBJ in his childhood and as a teacher, but had found the culture there so hard to penetrate and so suspicious of outsiders that he suggested to his wife, Ina, that they should buy a house there. She said, "Why couldn't you write a biography of Napoleon?" But they bought a house and lived there for three years.
Asked for advice on how to get the best out of interviewees, he said he took advice from John le Carré, whose character George Smiley takes his glasses off and polishes them with his tie to give his interlocutor time to speak. "I talk too much," said Caro. If you look at my notebooks, he said, you will find on page after page "SU" for "shut up".
Afterwards, Robert Hutton of Bloomberg, chairman of the Press Gallery, asked him if he felt he always ought to be working on the book. "All the time," he said. "You wait until you get old."
I swooned with the best of them. I asked the great man to sign my copy of Volume 4, and he remembered that I'd written this about him in 2012. He enjoyed the first sentence: "I have not been a member of the Cult of Caro."
Well, I am a votary of it now.
Join our commenting forum
Join thought-provoking conversations, follow other Independent readers and see their replies