Daily catch-up: Inequality in Britain – a defence of the mansion tax
Plus reading on the NHS, the Human Rights Act and Hieronymus Bosch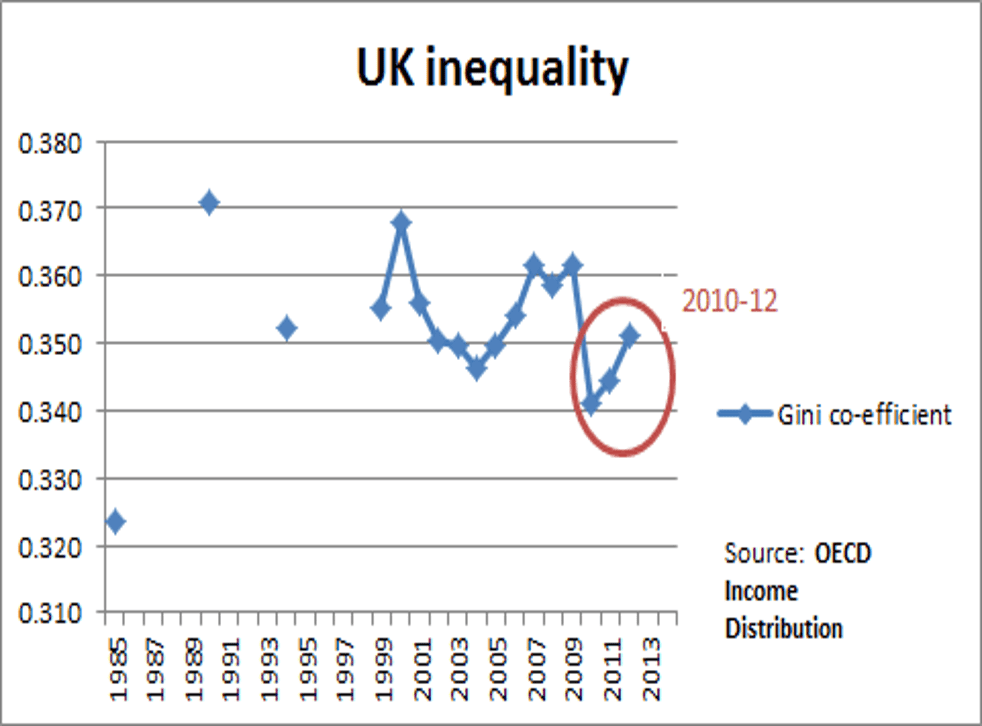 1. Is inequality increasing in the UK? This by Flip Chart Rick is a good and rigorous look at the question. The above chart, by my colleague Ben Chu, confirms previous data on the subject of the distribution of incomes, which is that they became sharply more unequal in the 1980s, since when the trend has been broadly flat.
In the most recent years for which this series is available, there has been some bounce back from the recessionary dip, but the idea that the coalition government was some festival of widening the gap between the rich and the poor is a fairy story. It was one of the Liberal Democrats' greatest failings that they were never able to rebut that allegation.
It is possible that inequality of wealth, rather than income, is increasing, as was suggested by Anthony Shorrocks' Credit Suisse report, but it was not supported by ONS data up to 2012.
2. Talking of which, this, in defence of the mansion tax, by Donald Macintyre in The Independent today, is good. As a Blairite ultra, and Tony Blair himself recently accepted that inequality is a challenge, I think it is a good policy.
3. Also well worth reading in Independent Voices: Emma Nash, a GP, on criticisms of her profession:
"No one wants to do it because it's a draining job, very heavy on workload, and we are demoralised and constantly berated by the press and portrayed as lazy and money grabbing."
4. This by Carl Gardner is very good on the problems of rewriting the Human Rights Act, which Michael Gove, the new Lord Chancellor, is taking at a sedate pace. Doing nothing is always an option, and postponing things is often wise.
5. This is childish and silly: Texts From Hieronymus Bosch. Thanks to John Blake.
6. And finally, thanks to Moose Allain for this news:
"Just found my old collection of return tickets. They really took me back."
Register for free to continue reading
Registration is a free and easy way to support our truly independent journalism
By registering, you will also enjoy limited access to Premium articles, exclusive newsletters, commenting, and virtual events with our leading journalists
Already have an account? sign in
Join our new commenting forum
Join thought-provoking conversations, follow other Independent readers and see their replies