Daily catch-up: Liz Kendall wins first Labour hustings with three words – 'country comes first'
A round-up of politics, wordy curios and a map of European population change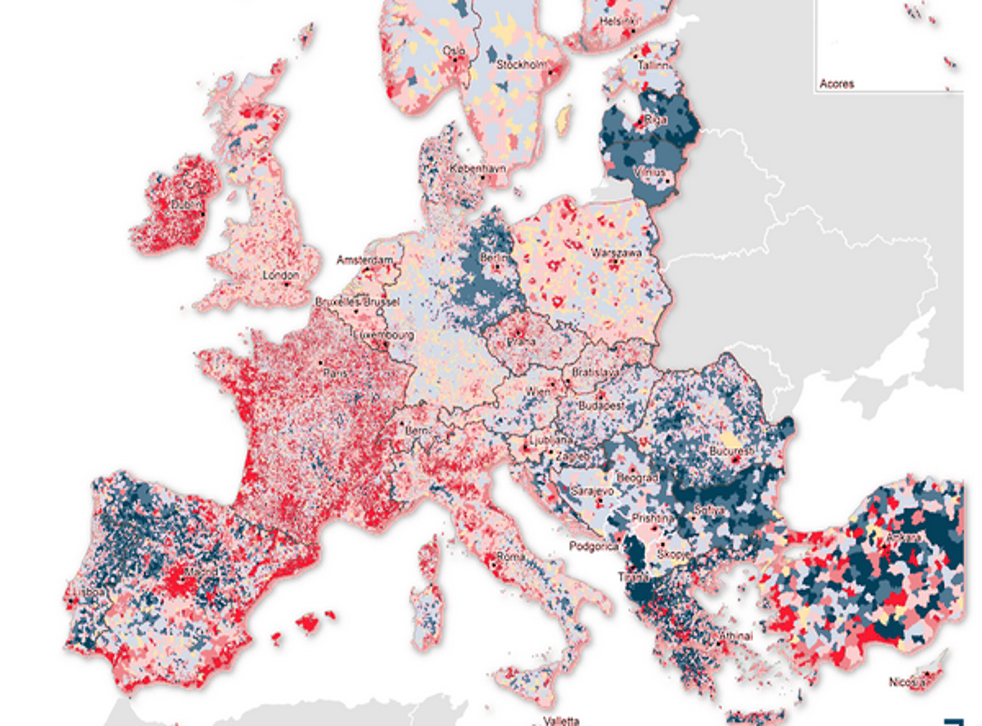 1. A stunning map of Europe by Max Moser showing population change between 2001 and 2011. Red is an increase and blue is a decrease.
It is misleading in that areas with small populations are more visible than those with large ones, so the UK's increase, which is about the same as that of France over the decade (8 per cent), is less evident, being so concentrated in London. But fascinating nonetheless.
2. The Newsnight Labour leadership hustings did wonders for the reputation of ditchwater. It was the sort of thing that gives pedestrians a bad name. For the whole hour, the only things that stirred a flicker of interest were Yvette Cooper's use of her own experience to defend compassion for those who need sickness benefit and Andy Burnham's cheerful protesting too much that he was just a rooted bloke who went to the pub before Everton matches.
Then right at the end, Burnham answered the question about whether there ought to be a way to get rid of him if he turned out to be no good as leader, saying yes because "the party comes first". Liz Kendall shot back reflexively: "No, the country comes first."
Within minutes, her campaign had put up, "Liz Kendall: Country Comes First," on social media. As Anthony Painter says, she has the right instincts. After Gordon Brown and Ed Miliband, that is all that matters.
3. The tiresome obsession of the unrepresentative anti-left (Labour people who think of themselves as left-wing who are determined to prevent the election of a Labour government) with labelling Labour people who want to win Tories or Blairites is exposed by Phil Wilson, Labour MP for Sedgefield. Writing for Independent Voices, he says Tony Blair wouldn't be a Blairite now.
4. Superb quiz by language curiosity collector Haggard Hawks. I got 12 out of 20, but others got as high as 15. Paul Anthony Jones's book Word Drops, is highly recommended, by the way.
5. Another genius chart from Jonathan Jones cross-lists all Labour MPs by who they nominated for leader and deputy leader. Like his chart showing nominations for leader against first-preference vote for leader last time, it is a thing of beauty and a joy for ever. Click here for a full size version.
_______
6. And finally, thanks to Moose Allain for this:
"I can hear a homophone wringing."
Join our new commenting forum
Join thought-provoking conversations, follow other Independent readers and see their replies