David Cameron: Britain is now the success story of Europe
There is only one way to deliver the things that matter – and that's with a strong economy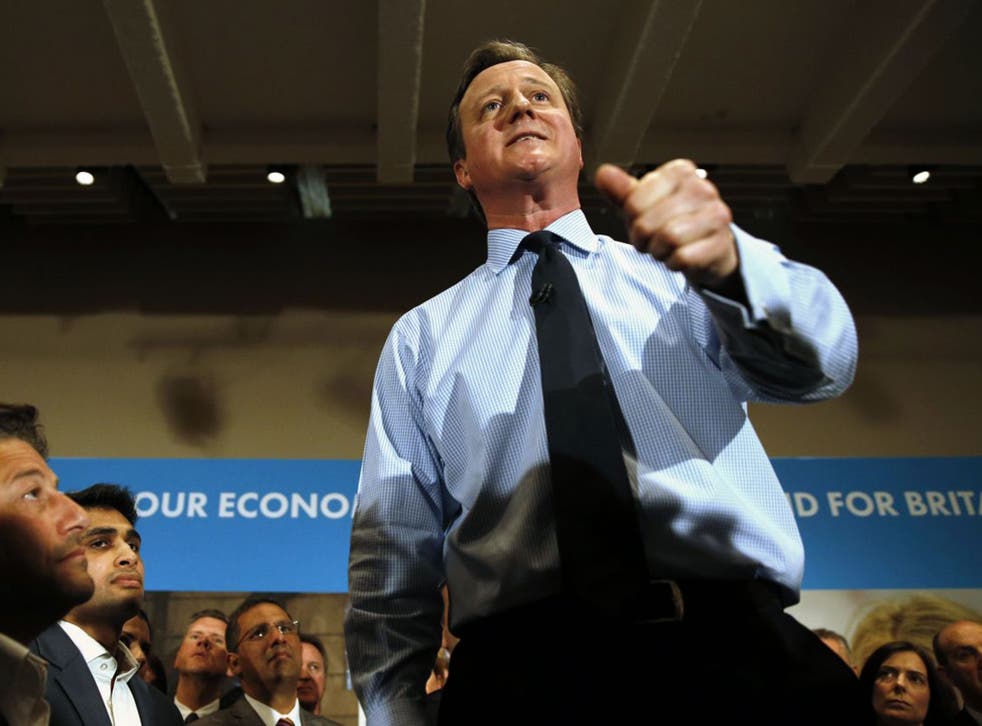 People ask why I carry around the note Liam Byrne left in the Treasury saying "there is no money". The answer is that I'm adamant we don't forget what we found when we came to office. Labour didn't just leave a note; they left shops with their shutters closed; deserted homes with repossession notices in the windows; parents going home to tell their children they'd lost their job. That's the real story behind the "no money" note – the human cost.
Over the past five years we've been turning that around. People who were thinking of writing this country off are now writing about us as the success story of Europe – creating more jobs than all the other countries in the EU put together. Companies such as Hornby that sent production overseas are bringing it back to Britain – one in six according to one study. Industries that were on the wane, like brickmaking, are being revived. We're a net exporter of cars once again. Last year we were the fastest-growing major economy in the West, and we've halved our deficit as a share of the economy as well.
It's because we've strengthened our economy that we have been able to do other things. Two years ago, we became the first country in the G7 to spend 0.7 per cent of our national income on overseas aid. That isn't some achievement on a league table; it's people in the Democratic Republic of Congo getting the vaccinations they need, children in Sierra Leone living free from Ebola, families in Nepal hit by that terrible earthquake getting the medical care they need.
---
Are you undecided about who to vote for on 7 May? Are you confused about what the parties stand for and what they are offering? Take this interactive quiz to help you decide who to vote for...
---
When it comes to protecting the environment, we have made some big decisions as well. We've set up the world's first green investment bank. We've more than doubled the amount of renewable electricity we produce, and increased renewables generation capacity threefold. We're the ones pushing for other countries to sign up to carbon reduction targets. We've shown it can be done – you can grow the economy and cut carbon emissions.
In pictures: Experts' predictions for the General Election - 03/05/15

Show all 10
At the same time as strengthening the economy, we've taken real steps to fight poverty. This has led to 600,000 adults and 300,000 children being taken out of relative poverty. But I want to do more. That's why we brought in the pupil premium – additional money for the most disadvantaged children. We transformed the welfare system, so work always pays. And, crucially, there are now more people in work than ever before – and there is nothing more vital to eliminating poverty than having a job and bringing in a wage.
In the next Parliament we want to help those on low incomes even further. We'll do that by increasing the personal allowance, the amount you earn before paying tax, to £12,500 – meaning no one working 30 hours a week on the minimum wage will pay any income tax. And to help all those parents who struggle to pay the nursery fees, we'll double free childcare for three and four-year-olds to 30 hours a week.
This is what we've achieved; this is what we plan – but it's all at stake this Thursday. The economy is on the ballot paper. But behind the economy is the environment needing investment; lives depending on British aid; children waiting to be lifted out of poverty; parents crying out for help in making ends meet. It would be impossible to address any of those things with the higher spending, taxes and debt Labour and the SNP are planning.
There is only one way to deliver the things that matter – and that's with a strong economy. And there's only one party that can deliver a strong economy: the Conservatives. So if you want to see Britain continuing on the right path – not back in the hands of the people who left us that shameful note – that's what you have to do on Thursday: vote Conservative.
Register for free to continue reading
Registration is a free and easy way to support our truly independent journalism
By registering, you will also enjoy limited access to Premium articles, exclusive newsletters, commenting, and virtual events with our leading journalists
Already have an account? sign in