David Cameron didn't want to talk to the people of Ipswich about immigration - only 'room meat'
In the age of 24-hour news, politicians avoid unchoreographed contact with the public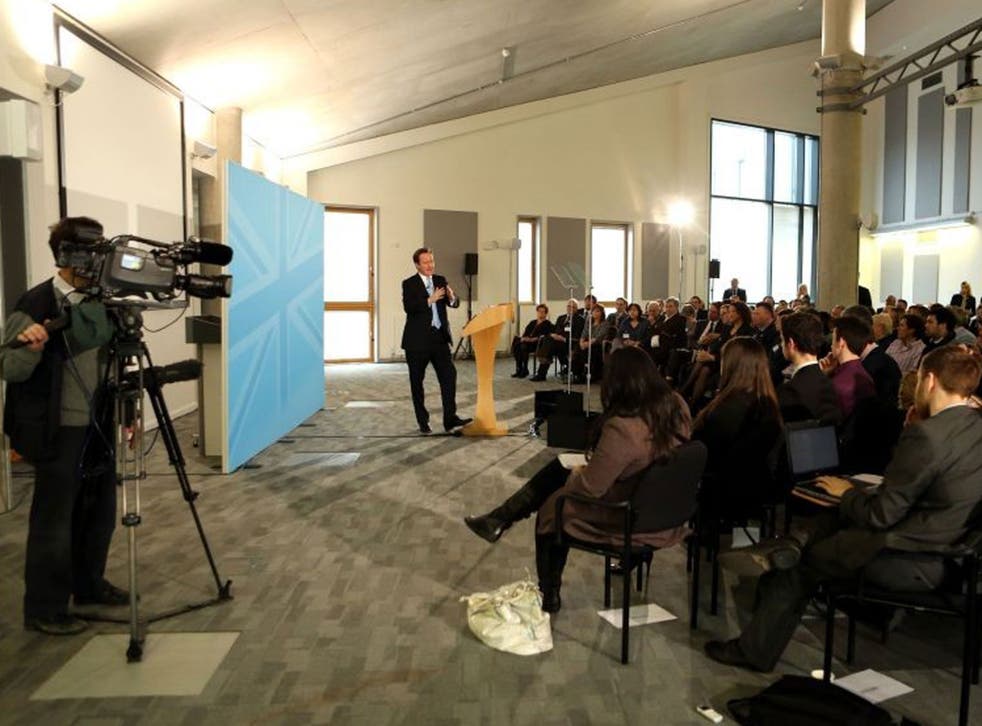 Political speeches are not what they used to be. David Cameron is one of the best of today's political performers, but if he had ever to share a platform in front of a live audience with any of the big beasts of the 1980s - a Michael Heseltine or a Michael Foot, for instance - they would have made mincemeat of him.
Talking of meat, there is a famous line from In the Loop when an MP who has been told that he must sit in silence at a public meeting exclaims: "What? You've got me here as room meat?"
I mean no disrespect to the good people of Ipswich who were present as the Prime Minister delivered his thoughts for the day on the perils of uncontrolled immigration, but 'room meat' is all they were.
David Cameron did not go to Ipswich to talk to people who live there. He went to read a speech in front of six television cameras.
After the reading, and when the applause was over, he took four questions, two from journalists, two from local people. None of the questions threw him at all, or drew forth any unexpected or memorable answer. Mr Cameron is a consummate pro, as adept as a political talking machine. You press the button, out comes the answer.
Rebecca Clearer, from Suffolk Refugee Support, asked if there was anything that could be done for asylum seekers who have been languishing in Ipswich for seven years or more, waiting to be told whether they can stay or must go. He praised the work she does, but afterwards she remarked ruefully: "I don't think he addressed the actual problem that I was raising."
Before she had any opportunity to express that opinion in the Prime Minister's presence, he was thanking everyone for coming, telling them that it was a 'stunning' experience to be in Ipswich, and being whisked into a side room where the departing listeners could not bother him with any more questions. After the audience had been shown the way out, the Prime Minister and his entourage did a quick march to the cars waiting outside. Exactly 65 minutes after he had begun speaking, Mr Cameron was gone.
That was the Prime Minister, but it could have been almost any of the current big name politician. In their trade, it is important that people think that they get out of Westminster to meet the public occasionally. But that disaster that Gordon Brown suffered in Rochdale during the election, after his encounter with Mrs Gillian Duffy, stands as a warning of the dangers of unchoreographed contact with the public.
The old troopers would actually address the audience in front of them directly. The best liked to be heckled, because a good heckle followed by a sharp put down brought a meeting to life.
But in this age of rolling news, politicians dare not risk spontaneous interaction with voters. The purpose of a public meeting is not that the politician should meet the public, but that the public should be meat.
Register for free to continue reading
Registration is a free and easy way to support our truly independent journalism
By registering, you will also enjoy limited access to Premium articles, exclusive newsletters, commenting, and virtual events with our leading journalists
Already have an account? sign in
Join our new commenting forum
Join thought-provoking conversations, follow other Independent readers and see their replies