David Cameron doesn't have to wear Elle's feminist t-shirt to show how much he cares about women
But he might want to look at the number of women in his cabinet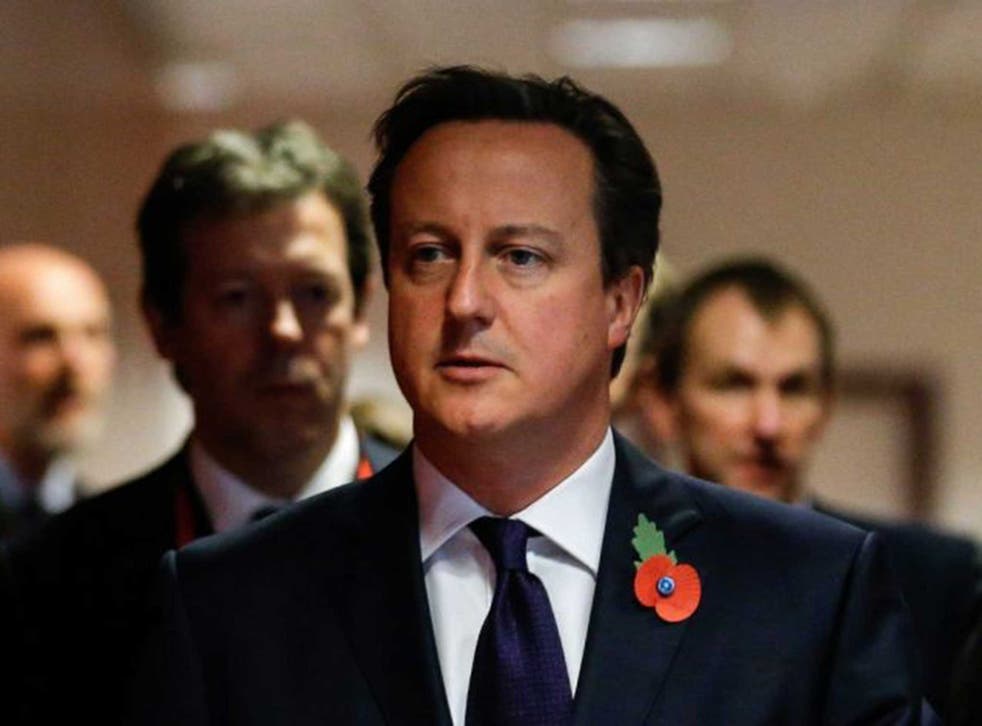 The new trend on the block is feminism. Luckily for you, ELLE has tapped into the market and teamed up with Whistles to designed a t-shirt to wear for when you feel particularly passionate about supporting equal rights for women, and want to make sure the rest of the world knows it. Yes, for a mere £45 you too can become a feminist. Congratulations!
However ELLE are having a bit of a temper tantrum, as David Cameron refused to wear the grey t-shirt, emblazoned with the phrase: "This is what a feminist looks like" (a phrase coined by The Fawcett Society), even though Ed Miliband and Nick Clegg have already done the honours.
Apparently the fashion magazine asked the Prime Minister to wear the t-shirt and take a snap, to 'prove' how deeply he cares about equal rights for women. But after five times of asking, the leader of the Conservative party has still refused to play ball – shocker.
But should we really care that Dave hasn't rushed back to Downing Street, ripped off his shirt, replaced it with ELLE's and snapped a selfie? Would it actually make him a better feminist to wear the tee? Have Clegg and Miliband 'won' the feminist battle by posing for a photo op? I don't think so somehow.
Frankly, I'd rather our Prime Minister focused his attention on actually making Britain a better place to live as a woman. If he doesn't have the time to put on the 'feminist' shirt, I'd hope that that's because he's busy looking into issues like equal pay for women – with the gender pay gap currently at 19.7 per cent, with women earning only 80p for every £1 earned by men. Or because he is looking at his predominantly male party, wondering what he can do to make politics more accessible to women.
It's disingenuous to assume that because David Cameron doesn't want to wear a £45 t-shirt with the word 'feminist' on it that he doesn't support equality for women. Not wanting to emblazon something on his chest as part of a publicity drive isn't a reason to deduce that he doesn't support the feminist movement.
A reason to deduce that he doesn't support to movement would be, say, that in his cabinet of 22 people, only five are women. Five! Women make up half of the population, and they are barely represented in government. Not to mention the lack of women of colour – or even people of colour, with only one member of his cabinet being non-white. That is what I would use to deduce that David Cameron doesn't care about women, feminism or representation of women in politics. Not that he doesn't want to wear a t-shirt that enters its wearer into an exclusive feminist club.
Feminist quotes from the icons to inspire you

Show all 22
Call me a cynic, but a year ago I doubt whether the word feminist was even on the mind of those at ELLE, or most fashion magazines, whose pages are littered by the same white, skinny, conventionally beautiful women issue after issue. Before the likes of Emma Watson, who took to the stage at the UN to make her #HeForShe speech or before Lena Dunham weaved feminism into her witty HBO series Girls, was feminism even on the radar? Or is it that now the movement for equality has been adopted by the fashionable, it's easier to swallow?
Don't get me wrong, I am glad that feminism is at the forefront of media. I'm glad that we can begin to talk about equality openly, and that the public are beginning to listen. But I also don't want feminism to become the new bubble hem skirt – thrown away when the leather pleated skirt becomes the new season favourite.
Because feminism isn't a passing fad. We need to be in it for the long haul, like a classic beige mac. And no, I don't need David Cameron to model it to prove it should be taken seriously.
Register for free to continue reading
Registration is a free and easy way to support our truly independent journalism
By registering, you will also enjoy limited access to Premium articles, exclusive newsletters, commenting, and virtual events with our leading journalists
Already have an account? sign in
Join our new commenting forum
Join thought-provoking conversations, follow other Independent readers and see their replies