David Cameron restocks his emotive arsenal
The PM will try to drive home that the jobless, the deficit and immigration are down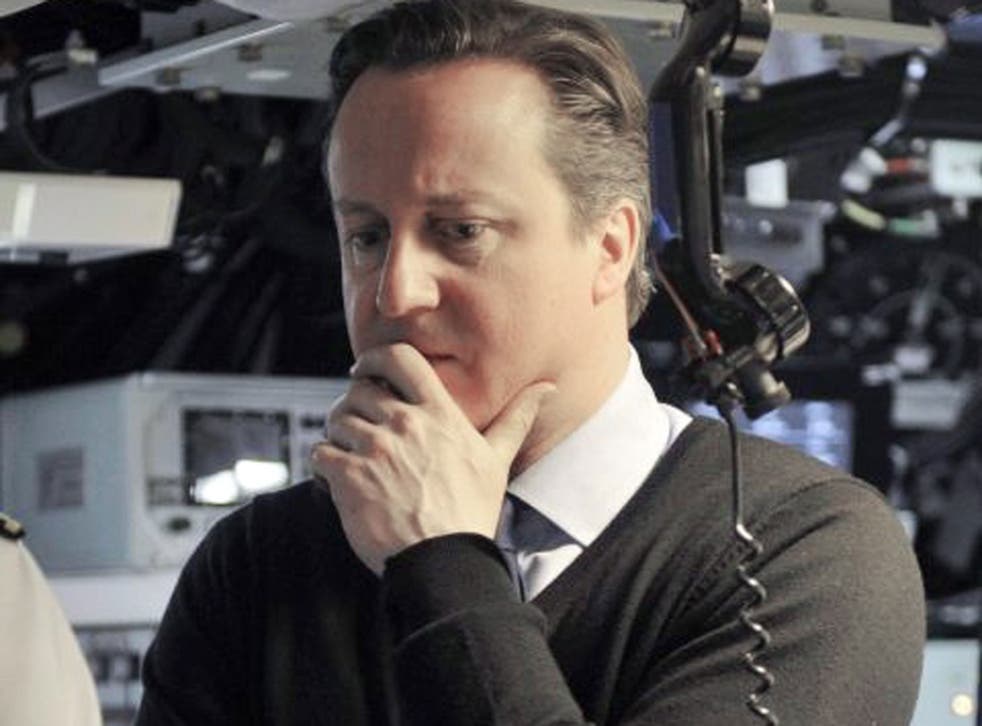 It is not often that a politician achieves three things at once. So we ought to take note of David Cameron's defence of the Trident nuclear missile system last week. He planned to give a speech to and answer questions from defence workers in Scotland mainly to take the argument against independence to Alex Salmond.
There are good arguments for and against replacing Trident, to which we shall come in a moment, but here we are talking about emotion and symbolism. Salmond knows the dangers of defence policy to the case for independence, which is why he recently reversed the SNP's promise that Scotland would leave Nato. The first time I thought he was unlikely to win his referendum was when BBC Newsround interviewed Scottish children last year and one boy, aged about nine, said he didn't think Scotland should be an independent country "because we don't have enough soldiers".
Cameron's second motive for giving the speech was to embarrass Ed Miliband. One Downing Street adviser used the language of Gordon Brown's team, saying that they were "starting to put up dividing lines" between them and the Labour Party, and that replacing Trident was one of them. So far, Miliband has hidden behind the coalition's review of options for replacing Trident to avoid committing the Opposition to a like-for-like replacement.
Last month, Jim Murphy, the Blairite and pro-nuclear shadow defence secretary, went as far as he could to make the case for keeping the full four-submarine system. He had to keep open the option of switching to airborne or land-based missiles, which he said would be more expensive, or to ship-based missiles, which were "potentially cheaper", but said that the submarine option was the "only one that gives you the ability to retain secrecy – with certainty – about the location of your deterrent".
Defence policy has not been a vote-mover since Labour abandoned one-sided nuclear disarmament in 1989. If you want politics at its most emotive and symbolic, simply recall the Tory election poster in 1987, "Labour's policy on arms", above a picture of a soldier with his hands up. You can see why Cameron is keen to open up a gap with Labour on national security – and why Murphy at least is keen not to let him.
All this is complicated by questions of coalition management. No, not that coalition: I mean the Labour coalition that Miliband is trying to manage. He knows that 102 Labour MPs rebelled against Tony Blair's early preparations to replace Trident in the last Parliament, in March 2007.
Cameron's third success was that his speech in Scotland happened to coincide with the news that the North Korean government had authorised a nuclear strike on America. What better example could he have hoped for of the uncertain threats against which British nuclear weapons might be an insurance? True, he made a mess of the argument, by saying: "North Korea does now have missile technology that is able to reach, as they put it, the whole of the United States, so if they're able to reach the whole of the US they can reach Europe too. They can reach us too."
That was oddly emphatic, asserting as fact what was only a North Korean claim, contradicted by repeated test launches that have ended in failure. And it drew a withering response from Michael Portillo, Tory former defence secretary, who said: "It remains to me absurd to believe that the United Kingdom would use its nuclear weapons against North Korea. To say we need nuclear weapons in this situation would imply that Germany and Italy are trembling in their boots because they don't have a nuclear deterrent, which I think is clearly not the case."
Again, however, this is an argument that operates at the level of emotion and symbol. The UK's nuclear weapons were part of a balance of deterrence during the cold war, which seemed MAD (mutually assured destruction) and yet which appeared to work. The case for them remains irrational, as Portillo, a journalist, is free to point out, but it would be hard for a practising politician ever to persuade the voters to give them up in an uncertain world.
Cameron's success in pressing the case for Trident came in the week of benefits and tax changes that Labour thought would be a turning point in their favour, but which was not – thanks to the emotion and symbolism of the grisly Philpott case. Last week could be a trailer for the Prime Minister's tour of the country this week to do question-and-answer sessions in which he usually performs strongly. His advisers are calling it his "What have the Romans ever done for us" tour, in which he will try to drive home the messages that unemployment, the deficit, crime and immigration are all coming down.
I have come close recently to writing off the chances of the Conservatives holding on at the next election, but if they are to recover lost ground this is a preview of the only strategy open to them: to press their advantages in the world of emotions and symbols.
Join our new commenting forum
Join thought-provoking conversations, follow other Independent readers and see their replies