David Cameron's flying visit to Lebanon was nothing more than an exercise in being seen
The Lebanese are all too familiar with PR excursions such as this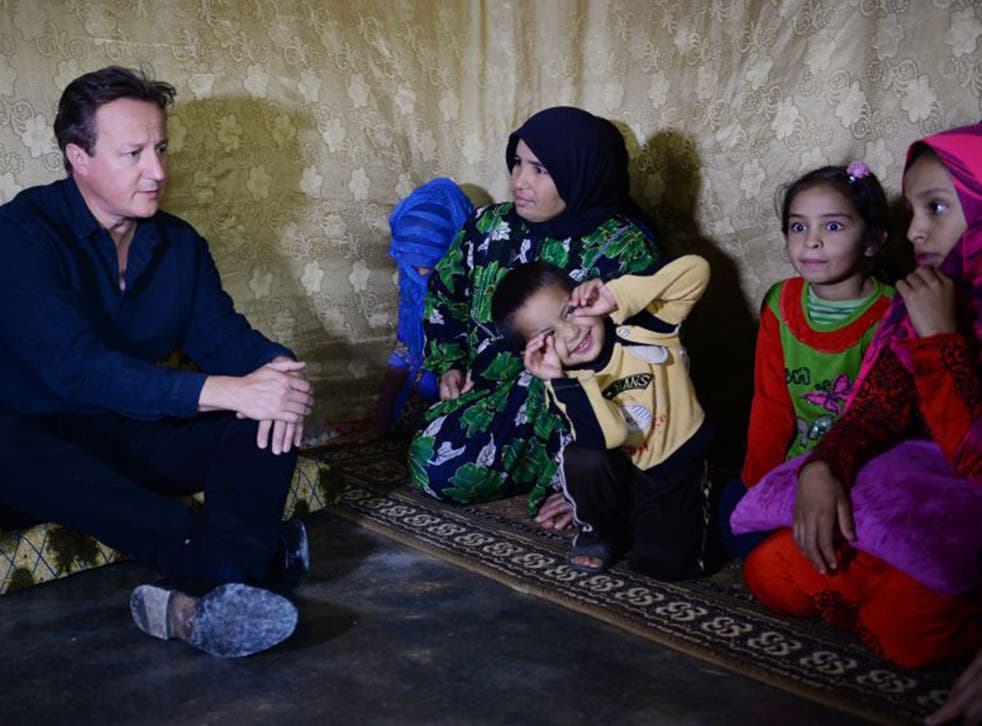 Well, PR Dave took quite a trip – all the way to Lebanon. He even discovered some refugees in the Bekaa Valley.
They are the ones that aren't swarming. Not yet anyway. But if Lebanon returns to civil war, Dave will have to watch out. There are about a million and a half of these chaps here, all Syrians who decided that Lebanon was a safer bet than staying at home. He also met the Lebanese Prime Minister, Tammam Salam, who made a point of suggesting the figures. Was he wondering if perhaps PR Dave would take a few more?
Oddly, he didn't seem to give David Cameron any advice – I would have to add that the prime minister of the Lebanese republic isn't an expert on PR like our own prime minister. He is actually a rather more nuanced man. But a million and a half is rather a lot. It's now almost a quarter of the entire population of Lebanon. Thank god Calais isn't in the Middle East.
But did Dave work out just why all these refugee folk are in Lebanon? We all know he was only a mile from the Syrian border – we all knew that public relations would come into it – but what did he actually think was going on on the other side of the frontier?
A bit of trouble with that bloke Bashar Al-Assad. It wasn't that long ago, surely, that Dave wanted to bomb the guy. The Brits didn't want to go to war but did he have the slightest idea how the country might be put back together again? After all, Mr Salam will presumably want these refugees to go "home" one day, although UN officials here long ago explained that, by and large, one third of all refugees do not go home. They hang around.
I'm not sure, though, that he's got quite the knack of picking things up. He's trained five thousand Lebanese soldiers, but what did he think the soldiers were trained for? To guard refugees? To disarm the Hezbollah?
Dave mentioned the border towers which the Brits have been helping to build. There is a little problem, though, with the fact that Hezbollah's enemies are not very keen on these towers. Isis is who I'm talking about and Isis has already shown what it thinks of Lebanese soldiers (by murdering several of them).
No one seemed to know when the first Syrian refugees will be flying off to Britain. Certainly they won't be relieving much of the burden on Lebanon. And one can never tell when politicians arrive in the Middle East whether it is – as they always claim – "to see the situation" for themselves. One rather thought that Dave wanted to be seen in Lebanon rather than see refugees. The Lebanese are wearily familiar with such flings – but then again they've taken a million and a half refugees which is more than Dave will ever do.
Register for free to continue reading
Registration is a free and easy way to support our truly independent journalism
By registering, you will also enjoy limited access to Premium articles, exclusive newsletters, commenting, and virtual events with our leading journalists
Already have an account? sign in
Register for free to continue reading
Registration is a free and easy way to support our truly independent journalism
By registering, you will also enjoy limited access to Premium articles, exclusive newsletters, commenting, and virtual events with our leading journalists
Already have an account? sign in