Dear TIME magazine, you can stop using the word 'feminist' when women no longer need feminism
The movement for female equality can't be dismissed as some passing fad for celebrities to toss around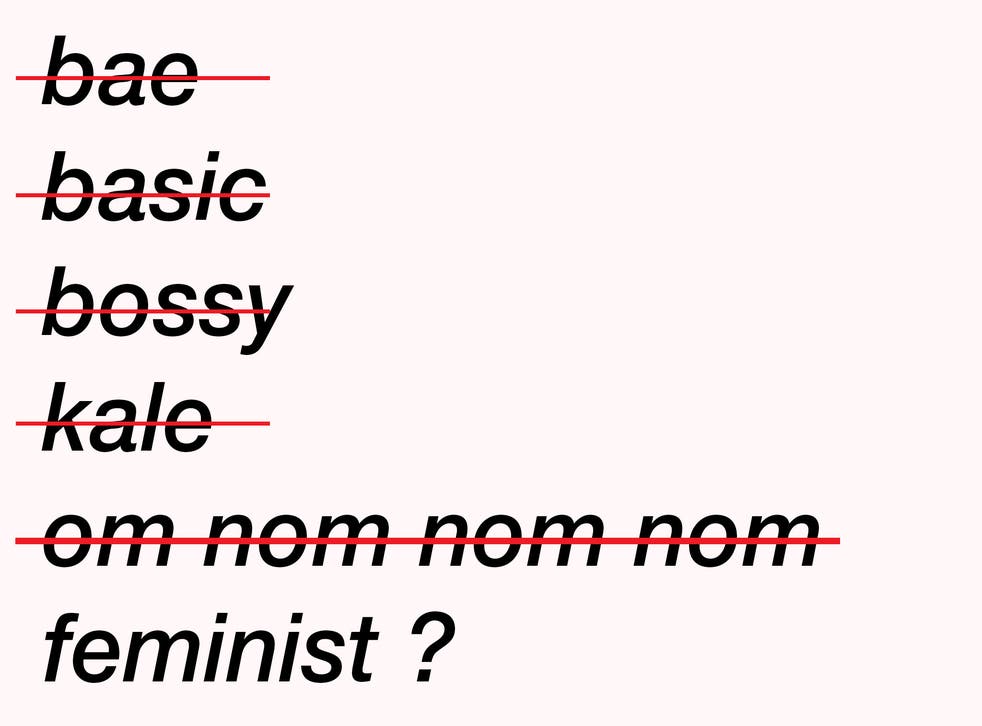 TIME has suggested that we ban the word "feminist" in its annual "word banishment" poll, and thanks to 4Chan's /b /board, it's currently storming ahead of the other 14 choices at 50 per cent. At one point the numbers began to drop, so a user said: 'We're back down to 38%, Pick up the slack guys.' Good work everyone.
Reasons given by TIME for the inclusion of "feminist" are as follows: "You have nothing against feminism itself, but when did it become a thing that every celebrity had to state their position on whether this word applies to them, like some politician declaring a party? Let's stick to the issues and quit throwing this label around like ticker tape at a Susan B. Anthony parade."
Suggesting that "feminist" is a buzzword to be ranked alongside others like "sorry not sorry", "obvi" and "om nom nom nom" is such an unhelpful thing to happen to a movement that has enough problems as it is.
Feminism was not invented in 2014. It is not some passing fad for celebrities to toss around to show how on trend they are. People have died in the hope that future generations will have more opportunities and less oppression that they endured themselves. Declaring yourself as a feminist should be simple – "I believe I am entitled to the same rights and opportunities in society as men" – right?
Perhaps TIME, in its own, incredibly clumsy way, was trying to point out how corporations and individuals appear to have jumped on the chance to show everyone how serious they are about the big issues.
Indeed, Karl Lagerfeld's collection for Chanel at Paris Fashion Week featuring models "demonstrating" down the catwalk with placards that read "Ladies First" felt like more than a canny marketing device than a serious statement on the current status of women in society; ditto Nick Clegg wearing a "This is what a feminist looks like" t-shirt when he has zero women in his Lib Dem side of the cabinet. But by calling for a ban on this particular word at such a critical time only serves to belittle the work that so many are doing to keep it at the top of the agenda.
When Taylor Swift told the Guardian she was a feminist earlier this year, she helped dispel a myth that has been perpetuated for far too long. "As a teenager, I didn't understand that saying you're a feminist is just saying that you hope women and men will have equal rights and equal opportunities," she explained to Hermione Hoby. "What it seemed to me, the way it was phrased in culture, society, was that you hate men. And now, I think a lot of girls have had a feminist awakening because they understand what the word means. For so long it's been made to seem like something where you'd picket against the opposite sex, whereas it's not about that at all."
When women aren't sold into sex trafficking. When women aren't herded into hospitals where they will die from botched operations. When women stop being shunned, beaten and burnt over dowries. When women stop being murdered by their partners in their own homes. When women can walk down a street at night without their first thought being 'I hope I don't get raped'. When women aren't gunned down in schools because they said "no" to a boy asking them out on a date. When women aren't attacked for demanding rights over their own bodies. When women are paid the same wages as men for doing the same job. When women can talk about video games without receiving death threats.
That, TIME magazine, is when you can stop using the word "feminist".
Register for free to continue reading
Registration is a free and easy way to support our truly independent journalism
By registering, you will also enjoy limited access to Premium articles, exclusive newsletters, commenting, and virtual events with our leading journalists
Already have an account? sign in
Join our new commenting forum
Join thought-provoking conversations, follow other Independent readers and see their replies