Despite what their critics say, Israel is using precision targeting to kill its enemies
But its enemies just happen to include innocent civilians. Why?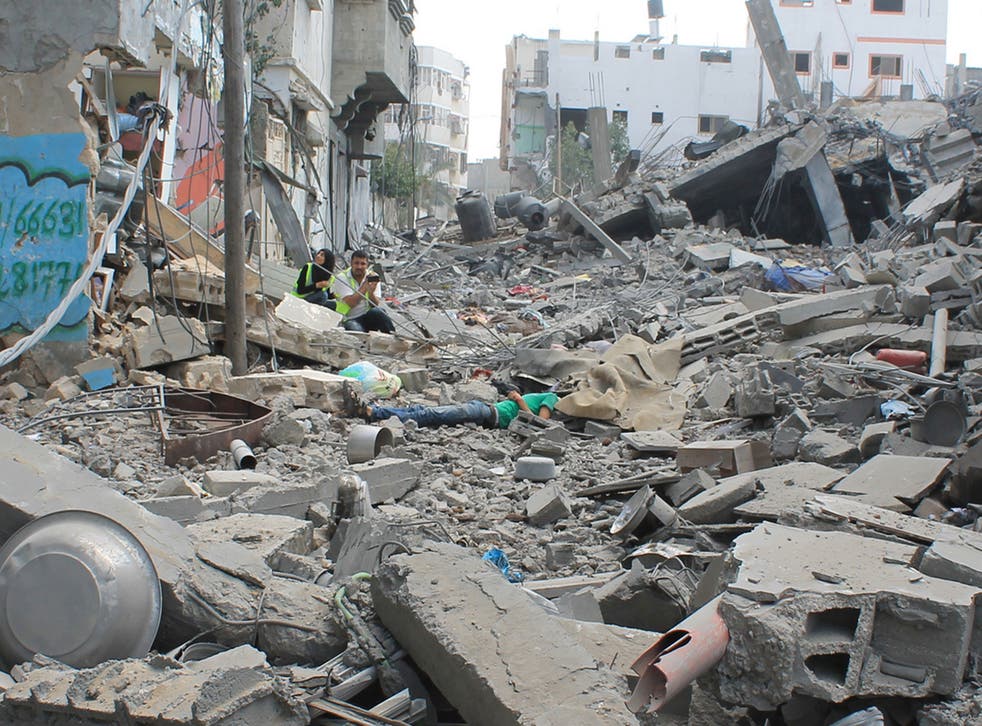 Perhaps the most shocking video to come out of Israel's latest assault on Gaza has been the shooting of Salem Shamaly. On the 20 July Shamaly, 23-years-old, went in search of missing family members after the pummeling of the Shuja'iyya neighbourhood.
Joined by local activists, he was crossing an alleyway when he was shot by a sniper. As he lay in the alleyway injured he was shot twice more, with the final shot killing him. His companions watched horrified as they could do nothing but film the horrific execution. Channel 4 have conducted their own investigation into the killing of Shamaly and were told by an Israeli activist that it was known to soldiers that he was an unarmed civilian.
But this wasn't the only horror to befall the Shamaly family. American Journalist Max Blumenthal, who has been collecting testimonies in Gaza, spoke to Shamaly's cousin who described what happened to the family members that stayed behind during the bombing of Shuja'iyya:
"They shot him (my father)…He was only injured and fainted, but they thought he was dead so they left him there and moved on to the others. They shot the rest — my uncle, my uncle's wife, and my two cousins — they shot them dead."
We are also getting more information that supports the claims of war crimes from Eran Efrati, a former Israeli Offensive Forces combat soldier. Efrati is being dubbed the Edward Snowden of Israel and in the last few weeks he has been arrested and detained for making public Israeli soldiers testimonies of actions the amount to war crimes. Efrati posted a statement on facebook revealing the 'real' reasons behind the Shuja'iyya massacre;
"Soldiers in two different units inside Gaza leaked information about the murdering of Palestinians by sniper fire in Shuja'iyya neighborhood as punishment for the death of soldiers in their units…the soldiers drew an imaginary red line, and amongst themselves decided to shoot to death anyone who crosses it."
Accusations of the Israeli Offensive Forces committing war crimes comes as no surprise. Human rights organizations have been documenting thousands of cases of unlawful killings over many years, although most of them have gone no-where.
The dehumanisation of Palestinians in Israel has led too many Israelis to believe that the shooting of any Palestinian is justified in order to preserve their security. In other words, their lives are more valuable than Palestinian lives. Indeed in some cases this has even manifested as depraved jubilation in the maiming or killing of Palestinians, as seen by this photo, taken in Jerusalem:
On 9 August, while the war on Gaza was still raging, another video emerged, this time from Hebron. It purports to show a young Palestinian man was shot in the leg with live ammunition by Israeli soldiers. The soldiers congratulated each other on the shooting. When confronted by ISM activists who had been watching them the whole time, the guilty soldier was even proud of his crime, and asked to have his picture taken.
And now, Israel has banned Amnesty International and Human Rights Watch from entering Gaza in order to collect evidence for potential war crimes. Despite heavy lobbying, staff have been denied permits, which means that Gaza is deprived of essential researchers and munitions experts. Instead we will have to rely on the journalists and local activists who are doing their best to make public the horror that Israel has indiscriminately inflicted upon the civilians of Gaza.
Register for free to continue reading
Registration is a free and easy way to support our truly independent journalism
By registering, you will also enjoy limited access to Premium articles, exclusive newsletters, commenting, and virtual events with our leading journalists
Already have an account? sign in