The Independent's journalism is supported by our readers. When you purchase through links on our site, we may earn commission.
Despite what UKIP might say, EU migration is a two-way street
Instead of banging the anti-immigration drum, politicians should extol the opportunities for Brits to live and work freely across the continent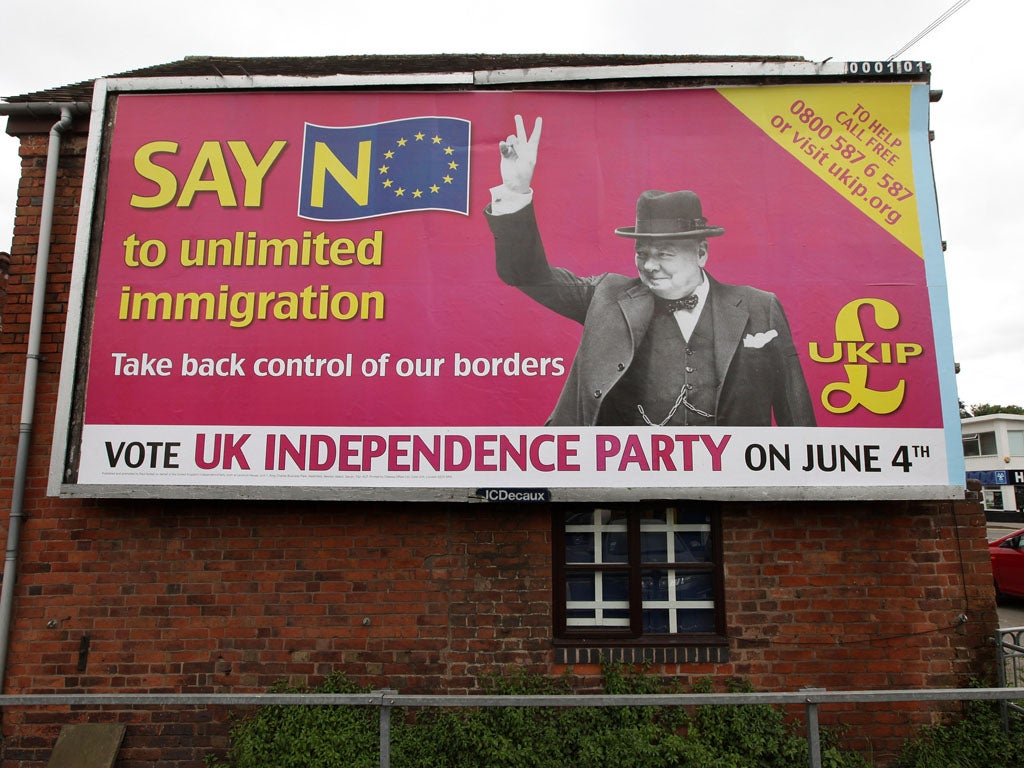 Across Europe, extremist parties are thriving as a result of the economic crisis.
From Golden Dawn in Greece to Jobbik in Hungary, far-right movements are playing on people's worst fears to drum up popular support, blaming deep-rooted national economic problems on immigrants and foreigners. Italy's Five Stars Movement, led by comedian Beppe Grillo, represents a more left-wing brand of populism, but one that also indulges in harsh xenophobic and anti-EU rhetoric.
In the UK, we have seen the unprecedented rise of UKIP, which has caused the Conservative leadership to lurch to the right on issues such as the EU and immigration. Yet far from taking the wind out of UKIP's sails, this has simply bolstered the legitimacy of what was once seen as an eccentric, fringe party - placing their arguments at the heart of the political scene. The disastrous outcome for the Conservatives at the Eastleigh by-election demonstrated the futility of trying to be 'more UKIP than UKIP.' Voters are not stupid. If faced with two parties who are conveying much the same eurosceptic and populist rhetoric, those who are persuaded will opt for the real thing rather than its imitative counterpart.
One of the keys to UKIP's recent success has been its ability to exacerbate fears over EU migration. This is therefore a debate that could do with an injection of realism. First, it is worth noting that the 2.5 million EU citizens currently residing in Britain have contributed significantly more to the public purse than they have taken out, while helping to boost the economy by addressing key skills shortages.
Second, this migration is a two-way street. Britain is the fifth largest source of migrants within the EU, with roughly 1.4 million British citizens choosing to live, work and study across the Single Market. If we include those who choose to live abroad for part of the year, the total number of Brits living in the EU rises to around 2.2 million. In addition, increasing numbers of British students are choosing to undertake their studies in European universities, including a record 13,368 who took part in the Erasmus programme last year.
There is also an important distinction between freedom of movement within the EU and the more permanent waves immigration of the past. Intra-EU migration is overwhelmingly temporary and circular, giving people the freedom to travel, study and gain work experience in other European countries. Such interconnectivity and mobility should be welcomed, as it gives young people the international outlook that British business leaders have stressed is required to succeed in the modern, globalised economy.
It has also benefited the almost half a million British pensioners who have opted to retire in the sunnier climes of countries such as Spain, France and Portugal. Instead of constantly banging the drum of anti-EU immigration, Britain's politicians should extol the opportunities opened up for British citizens to live and work freely across the continent.
Of course, it is important to ensure that EU freedom of movement does not place an unnecessary strain on member states' social security systems. But contrary to the claims of UKIP, EU migrants cannot simply turn up to Britain on day one and claim benefits.
In fact, of the 500,000 Poles residing in the UK, only 2 per cent are claiming any kind of working age benefits at all - around five times less than the national average. Significantly, there are already specific provisions in place to prevent so-called 'benefit tourism,' including a strict residence test which means only those EU migrants who have worked and paid taxes in a country are entitled to claim unemployment benefits.
At the same time, it is only fair that the UK government helps contribute towards the healthcare costs of the hundreds of thousands of British pensioners living in Spain. While all citizens across the EU should be able to take advantage of their entitlement to freedom of movement, it is also right that there are rules in place to prevent this placing an undue burden on any single member state.
In the current climate, it is tempting for mainstream political parties to pander to growing xenophobic and anti-EU sentiment and use the easy targets of immigrants and Brussels as scapegoats. However, this would be a grave mistake. Stoking the fire of xenophobia will only serve to strengthen the hand of the far-right. Historically, the greatest political leaders have not simply followed public opinion, but sought to shape it.
As Winston Churchill once stated, "When the eagles are silent, the parrots begin to jabber." Unless politicians across Europe take a courageous and principled stance and stress the benefits of EU freedom of movement, they will allow the parroting of ill-informed and bigoted views to set the tone of public debate.
Guy Verhofstadt is Leader of the Liberal and Democrats group in the European Parliament and former Prime Minister of Belgium
Join our commenting forum
Join thought-provoking conversations, follow other Independent readers and see their replies