Did Israel murder Yasser Arafat with Polonium-210? Some questions about his death won't go away
The former Fatah leader died in curious circumstances. Our Middle East Correspondent says that, looking at history, one consolation is the company he keeps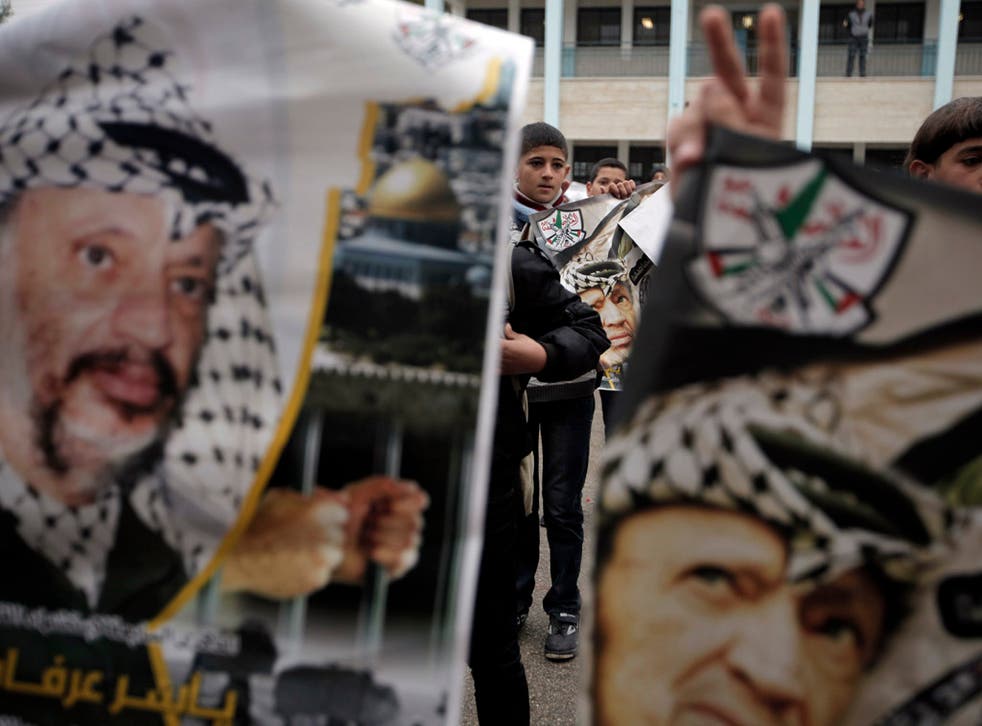 So they have dug up the old boy at last. Irony of ironies. All his life Yasser Arafat feared assassination, and with good reason. The Israelis tried to bomb him from the air in Beirut in 1982 – but someone tipped 'Mr Palestine' off, and the Israeli bomb merely killed – as so often – all the civilians in the building. Many of his closest colleagues were assassinated – Abu Jihad, for example – by Mossad. But did the Israelis really want to bump him off eight years ago? With Polonium-210?
A few thoughts. Cooped up in the besieged Muqata building in Ramallah, Arafat did not look after himself. Diplomats who visited him there in the last days were appalled at the lack of hygiene, the blocked lavatories, Arafat's own physical deterioration. One embassy official from Europe described to me how, during a conversation, Arafat was absent-mindedly tearing dead skin off his toes with his fingers.
Mysterious
Then came the flight to Paris and the Bercy military hospital where he died. In his last hours, the French would say nothing about the cause of death, but military medical personnel did try hard to discover why the resilient old man died. They found no clue. In Ramallah, he shared his food with his colleagues in the Muqata offices and they survived.
But his closest confidants have since spoken of how Arafat would take a herb potion for his health each morning. No one seemed to know where this potion came from – and no one else tasted it. Why did Arafat take this mysterious "medicine"?
Would the Israelis, who of course deny any involvement – "we were not his cooks", an Israeli official said several months ago – try to liquidate the man with poison in order to avoid killing him publicly? In any event, he was by then a spent force, a ghost of Palestinian nationalism who was conned into the Oslo agreement which destroyed him politically as surely as any polonium-210.
Poor old Arafat. He had been a super-terrorist when he led the PLO from Beirut, a super-statesman when he shook hands with Yitzhak Rabin on the White House lawn, then a super-terrorist again when he rightly refused to hand the Temple Mount over to Israeli sovereignty.
New research into the 2000 Camp David summit shows that this is exactly what was expected of him. But the old lie about how Arafat turned down "99 per cent of what he wanted" because he preferred another intifada, has lived on far longer than Arafat himself. And, needless to say – as many in the Middle East do, although their remarks go tastefully unreported: Heaven knows what the old chap looks like now.
Culprit?
Suha Arafat said from the start that he had been poisoned. And it is much to al-Jazeera's credit that they pushed to have his hat and urine stains from his pants examined in Switzerland. That's when the polonium-210 was discovered and when Suha's apparently wild claims had to be taken more seriously. What no one has explained is how confirmation of this cause of death is going to reveal the culprit. Did the KGB – who killed off one of their own ex-agents in just such a way – supply the stuff to Palestinians who hated Arafat, or to Israelis who hated Arafat?
It's a rare thing to dig up an ex-president, although we've been fingering dead kings and presidents for a long time. French revolutionaries destroyed the graves of kings; it may turn out that Richard III has been resurrected. Salvador Allende's body has been sent off to the morticians to see if he was executed. Arafat is in good company.
Register for free to continue reading
Registration is a free and easy way to support our truly independent journalism
By registering, you will also enjoy limited access to Premium articles, exclusive newsletters, commenting, and virtual events with our leading journalists
Already have an account? sign in
Join our new commenting forum
Join thought-provoking conversations, follow other Independent readers and see their replies