Does Miliband really want to win the election?
You have to wonder anew whether the politician's ungodly resilience is a sign of strength, paralysis or delusion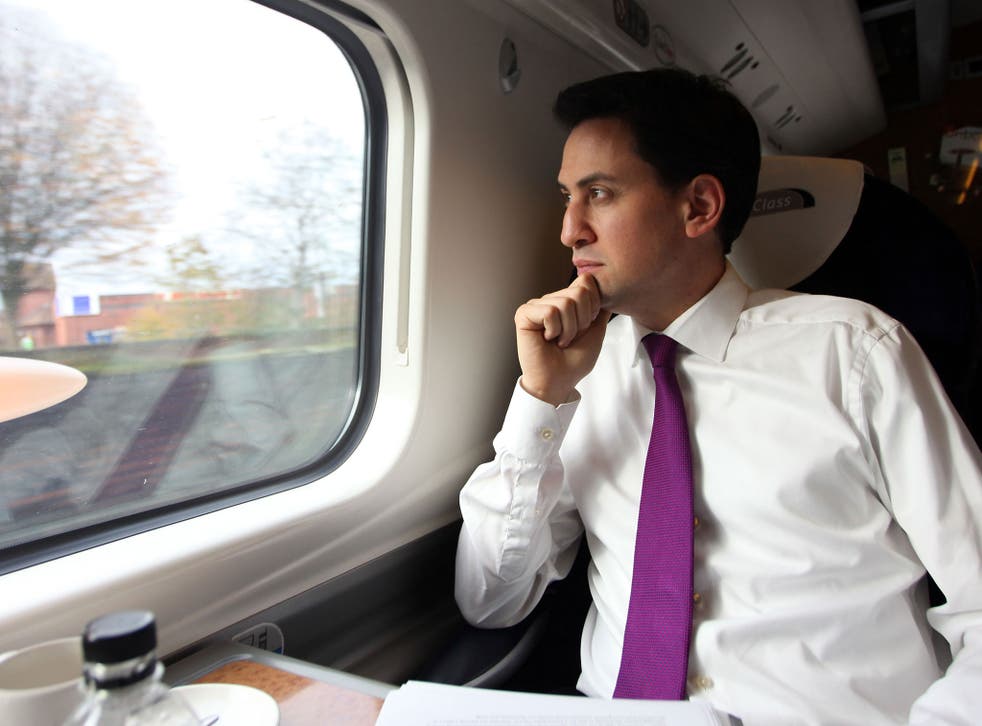 For the embattled Ed Miliband, the movie reference of choice has moved on. A couple of years ago, when the perception of him as "weird" seemed the major barrier to Downing Street, the template was Roxanne.
In that Cyrano de Bergerac reworking, Steve Martin's outlandishly long-nosed fire chief hides in the bushes and, via a two-way radio, feeds the romantic lines into the earpiece of the pretty but half-witted colleague who serenades Daryl Hannah with them from beneath her bedroom window. If the Labour leader could have found a suitable cipher to schmooze the electorate with his own words, he would have neutralised the adenoidal tones and robotic delivery.
You give them sound advice, but will they listen? They will not, and we now find Labour in slow-motion meltdown, releasing monumentally daft party politicals about a shrinking Nick Clegg, and making stupefying errors about which household items are liable for VAT.
So it is that the filmic blueprint becomes Tootsie, and specifically the scene in which his agent (Sidney Pollack) tells Dustin Hoffman's drippy nebbish of a permanently resting actor: "No. One. Will. Hire. You." This brutal truth is the catalyst for an outraged Michael Dorsey to reinvent himself as Dorothy Michaels, and nab the plum part in the hospital soap.
Less because they share an engaging Jewish world-weariness than that no one else has the clout, the Pollack role falls to David Axelrod. During last week's flying visit to meet the gang, the Obama savant declared that, while everything is going spiffingly, they might think about working on the organisation. With the polls showing the Conservatives nudging ahead and Labour making more unforced errors than Tim Henman in a tight fifth set, that may be translated as: "What the hell have I got myself into here with these rank amateurs?"
To execute his duty as Miliband's two-minutes-per-day life coach, Axelrod needs to tell him this. "No. One. Will. Elect. You." If that failed to snap the lad out of his bizarre complacency, nothing could.
It would be wrong to overplay the Tootsie cross-dressing analogy by advising Ed to recreate himself as Westminster's Conchita Wurst in a bid for European glory. It is too late for that. The ballgown would become him, but he cannot grow a beard in time to influence tomorrow's Euro elections. Besides, for all the amusement value of Ukip's welding of the BNP's mores to background scenes from Nurse Ratched's ward, the Euro elections mean next to nothing in domestic terms. The Ukip victory long since factored into the Tories' share price will cause them no panic. If Labour won, it would relieve the pressure on Miliband for 3.7 seconds.
This week's most relevant poll will remain the one conducted by ComRes for this newspaper which found that, despite the popularity of his energy bill freeze, Miliband's leadership makes 6 per cent more likely to vote Labour, and 40 per cent less so. This makes you wonder anew whether the frontline politician's ungodly resilience is a sign of strength, paralysis or delusion. If everybody incessantly told you or me how unutterably useless we are, we would take the hint and either try to improve or slink away.
Yet the younger Milibandroid ploughs serenly on, changing nothing, in the apparent faith that all will somehow be well come next May when the returning officers are handing out the results. It's true that on Betfair, Labour is still favoured to win most seats in 2015. The wisdom of the betting crowd cannot be gainsaid, but the odds are shifting and the Conservatives will be favourites soon enough.
Having been a rare admirer of Miliband's temperament, intellect, guts and decency, it is no fun to say this, because none of us likes admitting we were wrong. But the failure to respond adequately, if at all, to the sharply improving economic indicators looks like suicide by stasis. So does his retention of Ed Balls, a shadow chancellor with the economic credibility of the late pools fortune-squanderer Viv Nicholson. So does his refusal to utilise the one genuine megastar available to him, and let Peter Mandelson serenade the electorate on his behalf. That would be an admission that he was wrong about jettisoning every relic of New Labour. And no one, as I may have said, enjoys that.
The question Axelrod should be asking Miliband speaks for itself. Do you want to win this election or not? On the abysmal current form, his role model is neither Steve Martin in Roxanne nor Dustin Hoffman's Tootsie, but an Alec Guinness cameo from an earlier comedy classic. Ed Miliband is Admiral the Lord Horatio D'Ascoyne in Kind Hearts And Coronets, who crashed his ship after stubbornly refusing to change course, and then chose to go down with it, saluting defiantly as the waters closed over him.
When all else fails, blame it on the pollen
In a joint Radio Times interview with Marion Bartoli – whose Wimbledon victory last year he sourced, at the time, to the work ethic she derived from not being a long-legged "looker" in the Maria Sharapova mould – John Inverdale reveals what caused him to make the comment: pollen.
"I was feeling so ill that day," Inverdale ventures. "I had terrible hayfever, and all I could think of was that I wanted to go home to bed." This will be a relief to anyone mis-led into imagining that the remark was somehow related to his status as a laureate of rugger-bugger sexism.
If Ms Bartoli has forgiven him, so must we all. What cannot be excused is the stab at heroic victimhood. As a top-ranked hypochondriac with a sideline in malingering, I loathe a trouper. If you feel lousy (or exhausted, as Nigel Farage alleges he was when drawing his elegant distinction between Romanian and German immigrants), go to bed and trust the world to muck along without you.
While accepting Inverdale's indispensability to those who like their Wimbledon coverage drenched in smugness, sprinkled with narcissism and garnished with cliché, other BBC presenters could have stepped in at short notice. Some might even have had access to antihistamines, and a better than 50-50 chance of marking the hugely intelligent, enchanting and, for what it's worth, beautiful Bartoli's triumph without Clarksonian reference to her appearance.
Twitter: @MatthewJNorman
Register for free to continue reading
Registration is a free and easy way to support our truly independent journalism
By registering, you will also enjoy limited access to Premium articles, exclusive newsletters, commenting, and virtual events with our leading journalists
Already have an account? sign in
Join our new commenting forum
Join thought-provoking conversations, follow other Independent readers and see their replies