Does the result in Newark confirm Ed Miliband as a Neil Kinnock?
Polls carried out before the by-election had the Tory vote too low and Labour's vote too high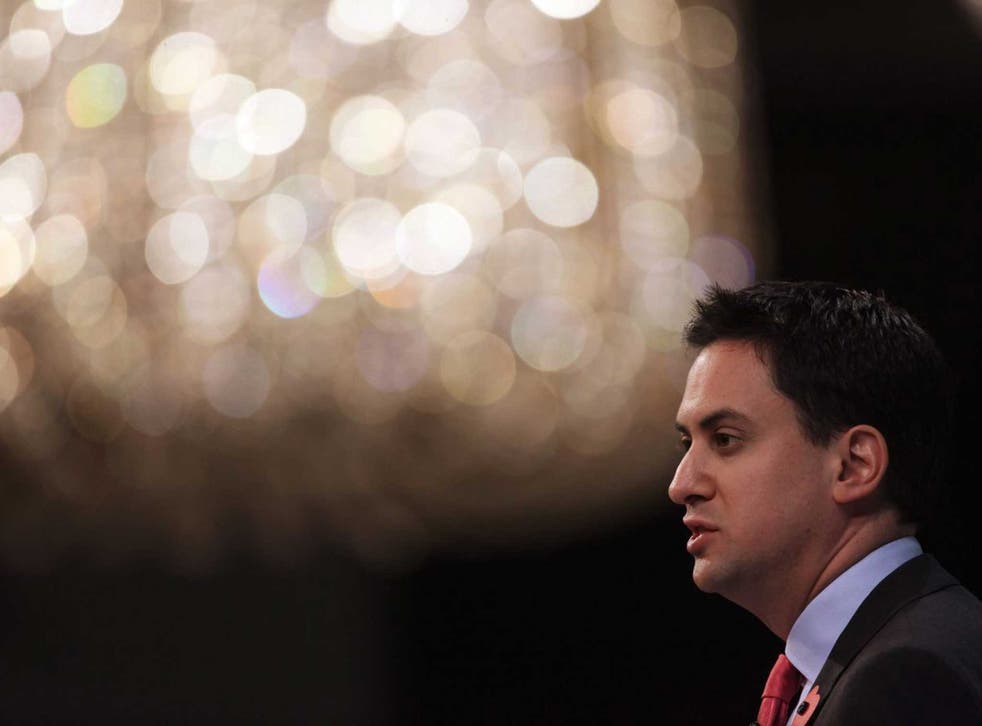 Ed Miliband is right and Tony Blair is wrong about Ukip. In my unfamiliar role as a supporter of the current Labour leader, I will not point out that third place in the Newark by-election was a poor result for an opposition that hopes to form a government in less than a year. It wasn't great, but even when Blair was in his pomp Labour would occasionally cede to the Liberal Democrats the right to take out Conservative government seats in by-elections. As the Lib Dems are no longer available for such duties, voters in Newark decided that Ukip was a better vehicle of anti-Government protest than Labour.
That Ukip failed to take this opportunity tells us all we need to know about the decline of Nigel Farage's party. It may win a seat in the general election, where Farage himself decides to stand, but after that the party is over.
As the purple soufflé subsides, however, Ukip's voters are more likely to go to the Tories than to Labour. That is why Miliband has been right, I think, to take Ukip voters seriously. He has been criticised for pandering to the xenophobic concerns of supporters of a xenophobic party. I disagree. Most voters, whichever party they support, want less immigration.
Labour activists might be heartened if Miliband attacked Ukip and defended immigration, but swing voters wouldn't like it. Thus we had the paradox last month of the liberal-left metropolitan elite cheering Blair on the Today programme, as he urged Miliband to "confront" Ukip, "expose them and take them on", while Miliband stuck to the true Blairite course of appealing to the centre ground, saying: "It is not prejudiced to worry about immigration."
Miliband has also, rightly, annoyed Blair by saying that the Labour government got it wrong in 2004, when it chose, unlike the French and the Germans, not to impose transitional controls on the free movement of workers from new EU countries. He and Yvette Cooper, the shadow Home Secretary, have taken a more restrictive line than the Government. In January, the coalition changed the rules to deny out-of-work benefits to citizens of other EU countries for three months. Labour wants to extend that period to six months.
Thus Cooper has cut the Tory lead on "best party to handle immigration" in YouGov polls from 25 points at the last election to nine points now. No doubt she will stick to the true Blairite position when interrogated by Andrew Marr this morning, rather than go for the neo-Blairite tactic of energising Labour's activist base. She and Miliband are right to recognise that many people on low incomes, who ought to be the party's natural supporters, regard the free movement of workers throughout the EU as a threat rather than an opportunity. While it isn't possible to infringe the basic principle of free movement without leaving the EU, Labour ought to impose what restrictions it can.
While we are praising Miliband, and while he is under attack for the way he looks, it ought to be said that he has one personal quality going for him. He has shown quite extraordinary resilience over the past four years.
He is going to need it over the next year, because there was an ominous sign for him beneath the surface of the Newark by-election. By-elections in which a seat fails to change hands may not seem the most exciting of events, but they are important because they allow us to assess the accuracy of opinion polls. Two were carried out in Newark in the final two weeks, one by Lord Ashcroft and the other by Survation. Both predicted a comfortable Conservative win over Ukip. But both had the Tory share of the vote too low by three points and Labour's share too high by two and four points respectively. The same thing happened in the six final polls before last month's European Parliament election: on average the pollsters had the Tory vote 1.7 points lower than the result and Labour's vote 1.5 points higher.
This ought to alarm Miliband. It suggests a recurrence of the problem that the party faced – although it didn't know it – at the 1992 election. The opinion polls suggested that Labour under Neil Kinnock was just ahead, but that lead turned into an eight-point Tory lead on polling day. The inquest carried out by the polling companies suggested that part of the error was their failure to account for differences in the likelihoods of Labour and Tory supporters turning out; but another part was a late swing to the Tories as voters shied away at the last moment from the prospect of Kinnock as prime minister.
If the recent narrowing – and brief vanishing – of Labour's poll lead was linked to people focusing on an actual voting decision in actual elections, Miliband ought to be very worried. Kinnock welcomed Miliband's election as leader, saying, "We've got our party back." But in Miliband has the party got its Kinnock back?
Register for free to continue reading
Registration is a free and easy way to support our truly independent journalism
By registering, you will also enjoy limited access to Premium articles, exclusive newsletters, commenting, and virtual events with our leading journalists
Already have an account? sign in
Register for free to continue reading
Registration is a free and easy way to support our truly independent journalism
By registering, you will also enjoy limited access to Premium articles, exclusive newsletters, commenting, and virtual events with our leading journalists
Already have an account? sign in
Join our new commenting forum
Join thought-provoking conversations, follow other Independent readers and see their replies