Don't claim Irish ancestry because it's St Patrick's Day, just enjoy it!
No one cares how Irish or how un-Irish you are; we can all still celebrate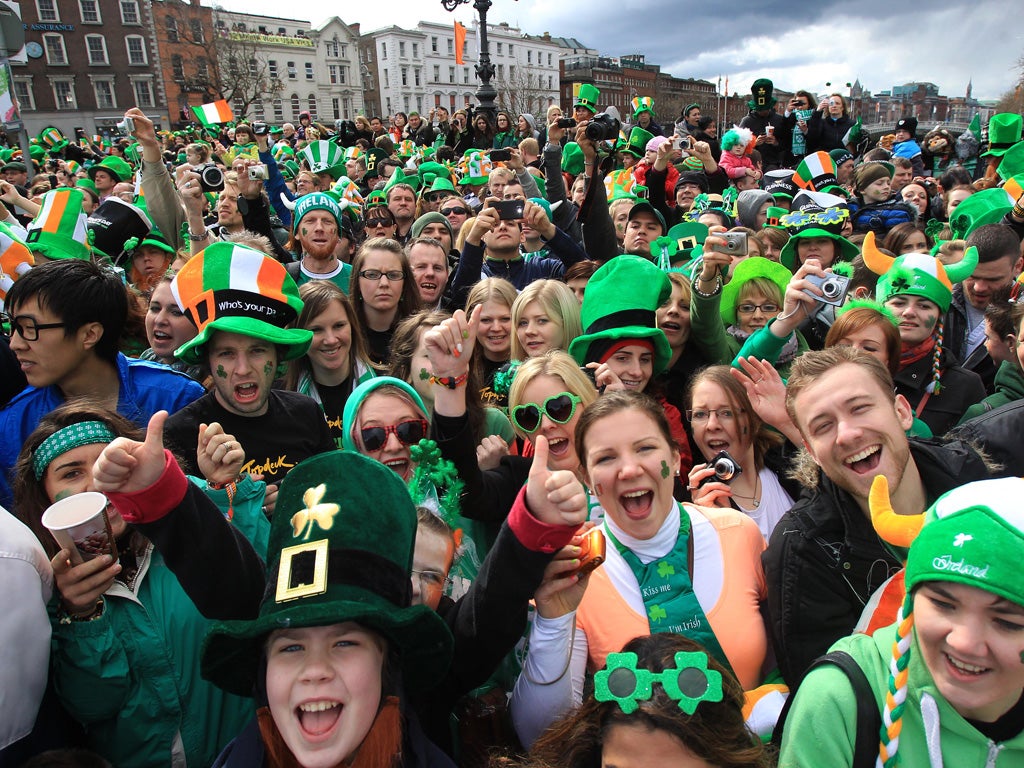 On March 17 the world turns Irish.
No matter how loose one's connection may be, indeed even if there just isn't one at all, it remains the day of days for many to enjoy copious amounts of Guinness and wear a big green hat.
Irish or not, there shouldn't be anything to stop you enjoying St. Patrick's Day. It's always better than the disappointment of New Year's and it's usually more exciting than Christmas Eve. In fact, if you know the places to avoid, it's probably up there with the best nights out of the year.
What often troubles me though, while participating in such a saintly occasion – other than always losing my beautiful headpiece of course – is the conversation: the virtuous and often befuddling claim of Irish heritage.
'My mum's dad comes from Cork.' 'My sister's boyfriend's Irish so I've got to go out, really.' 'My dog's called Paddy.' That sort of thing. And the apparent pride that comes with it: 'I'm part Irish, all right? Irish through-and-through, boy! Guinness is in my blood. Give me a whiskey.'
Well, over in England, America and other such western lands, all that has come to be sadly expected. Those dubious and trying claims seem embedded in countless pubs, shouting loud amid false patriotic merriment. A somewhat surprising revelation today though is that even in the depths of Cambodia, St. Patrick's wondrous, guiding hand stretches out and part-pours the good stuff. Or in most cases produces it from a can at an extortionate rate. And as a result, here too stand the fake Irish. The Irish for a day. Those who verbally accost anyone who's prepared to listen. What's more, here they've even greater scope to fabricate blood line.
While checking out an Irish pub two days ago, I found myself greeted by, 'ah, gonna have a few here on Sunday night, mate? I've got to, I really do. I'm part Irish.' I turn and find myself confronted by a tanned Australian. I asked him if he'd ever been. 'No,' was his reply. I wondered what part of him exactly was, Irish. Maybe it was the Jameson's and Coke he ordered.
Accounting for the percentages of the expat makeup – there's no shortage of Americans here – you'd expect some celebration to take place I suppose. Given the numbers there'll most probably be a few t-shirts saying 'Irish' and talk of ancestral crossings; a sweet tear running down a painted face in remembrance of the rolling hills, warm stews and Bushmills.
But while there's sincere justification in adoring the Emerald Isle, the delicious suppers and all manner of delightful beverages, what I fail to understand is why people feel it incessantly necessary to claim green roots. To harp on and on about their great uncle on their father's side or the fact that they once went to a stag do in Dublin. No one cares how Irish or how un-Irish you are; just shut up and drink your pint. Technical justification isn't needed on March 17; the world has come to terms with that.
It's a strain when all you want to do is dance around a bit, have a drink, shout 'Sláinte' a few times and try to make it home with the ever elusive hat, yet become engulfed in persistent, consistent purges of, 'I'm Irish! Give me a free beer!'
Tonight my friends and I will almost certainly bump into a few revellers. Maybe even real ones – for today has such an impact that even in Cambodia, March 17 allows for joyous cheer. I just hope, truly, that out here I can escape the fanciful folk; notably the Australian-Irish claimant and the group of Welsh girls I spotted earlier trying to tap dance next to a noodle bar.   
Join our commenting forum
Join thought-provoking conversations, follow other Independent readers and see their replies