Don't grin and bear it, girls!
After 44 years it's time for the 1970 Equal Pay Act to be enacted properly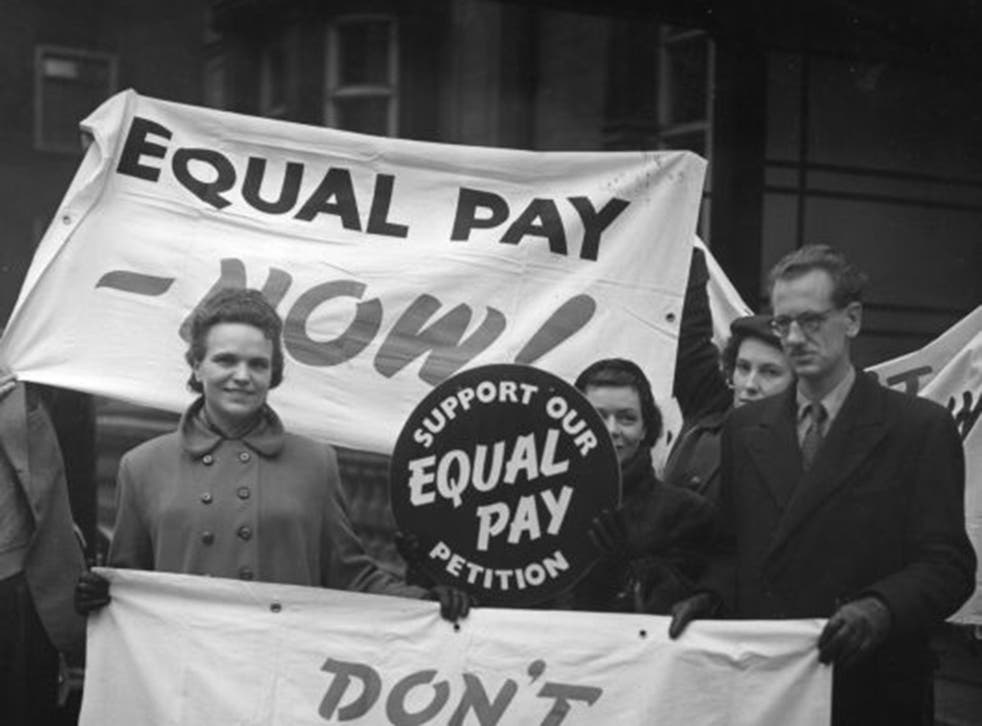 Sometimes, some people feel a bit like that little ant in the 1990s advert for the public services union Unison, who keeps scampering up to the ginormous bear and squeaking: "Excuse me!"
That's certainly how I feel when people ask me why feminists are still so cross, when all of our battles have been won. Look, they say: we can vote; we can have mortgages; we've had the right to be paid the same as men for doing the same work since before moaning minnies like me were even born... And that's when I try to stay reasonable and peep, "Excuuuuuse me…"
Now, Grazia magazine has launched a petition to ask, again, for the 1970 Equal Pay Act to be enacted properly, after only (excuse me) 44 bloody years. It points to evidence that the gender pay gap between men and women in their twenties has doubled in the past three years, going from 2.6 per cent to 5.3 per cent. It says that women in full time work are paid 16 per cent less than their male colleagues. It reminds us that, overall, "women are still earning just 80p to every pound that men earn". And it is asking, ever so nicely, for Section 78 of the 1970 Act finally to be enforced.
Section 78 is the bit that requires businesses with more than 250 employees to publish anonymised data about the pay of the men and women they employ. So, if a business claims that it pays men and women equally, we can see if it's telling the truth. And, if a business refuses to prove that it really is an equal-opportunities employer, we won't just have to reach our own conclusions and live with them – it will be breaking the law.
You'll have to forgive us, in the meantime, if women do get angry when it turns out that we effectively stop earning on 4 November for every full male pay year. And if you don't forgive us, well tough, we're angry anyway. For 44 years, women have been tiptoeing up to that bear and asking him politely to excuse us. So just watch out when we all get together and shout: "Get out the way!"
What a bunch of prawns
David Cameron left it to a No 10 spokesman to express the Government's stance on last week's news that prawns sold in some British supermarkets are fed with fishmeal from "ghost ships" manned by slaves. (Well, we all know he was busy last week, for instance on a date night with his wife at the swish, £110-a-head celebrity hangout, The Chiltern Firehouse. I assume the restaurant's "red prawns with almond milk and smoked grapes", at £14, are produced more ethically.)
The Prime Minister's spokesman said it is up to consumers to decide whether and how to avoid food produced using slave labour. That's slave labour, which was supposedly abolished two centuries ago. (You won't catch me out on my "British Values".)
At the same time, the Government tells us it's up to us whether to buy goods or take taxis from companies who undercut their rivals by not paying the same UK taxes.
So, if not prohibiting slavery or managing taxation, or enforcing the Equal Pay Act or cancelling date night when Iraq gets invaded by extremist rebels, what exactly is the Government for?
If you can't drink, then don't
"British society does not deal well with alcohol," said Dr Clifford Mann, the president of the College of Emergency Medicine and professor of the Embarrassingly Obvious last week, in a discussion about allowing pubs to open later so that more amateur drinkers can get even more paralytic while watching the World Cup. He's got a point. Many people in Britain do know how to have a quiet drink or several without making an exhibition of themselves, but sunny days, sporting events and stag dos all seem to bring out the worst in people who can't help but ruin it for the rest of us.
I propose that we issue drinking licences to all 18-year-olds who pass a simple test, and then revoke them for anyone caught urinating on Tube platforms at 8pm on weekday evenings, crashing into gay bars shouting abuse after day-long summer festivals, or shouting slurrily at airline staff after breakfast lagers in airport Wetherspoons. By all means, enjoy the summer – but if you can't drink properly, stay at home or don't drink at all.
'Ere I go, 'ere I go, 'ere I go...
Football fans reacted with surprise and horror at the first match of the World Cup, in which crucial points were apparently won and lost through cheating, diving and silly haircuts. I can't be the first to point this out to football fans, but isn't all football full of cheating, diving and silly haircuts? If they want to watch a real sport, they could always try rugby, or anything played by women. Meanwhile, I'm requesting a visa to go and live with the Yanomami people in Brazil, where David Beckham arrived on his televised Amazonian trek recently to find that they'd never even heard of football.
Who says Boris is wet?
So, Boris Johnson has offered to act as a test dummy for the three second-hand water cannon that he has just bought from the German police for £130,000. I think I spy a way to prove the cannon are safe, invent a new, wholly fair British sport, and raise money to build affordable housing, all in one go ….
Join our new commenting forum
Join thought-provoking conversations, follow other Independent readers and see their replies