Ed Miliband: I pledge to make Britain a more just and equal country
The Conservatives prefer to put the wealthy and powerful first, rather than Britain's working people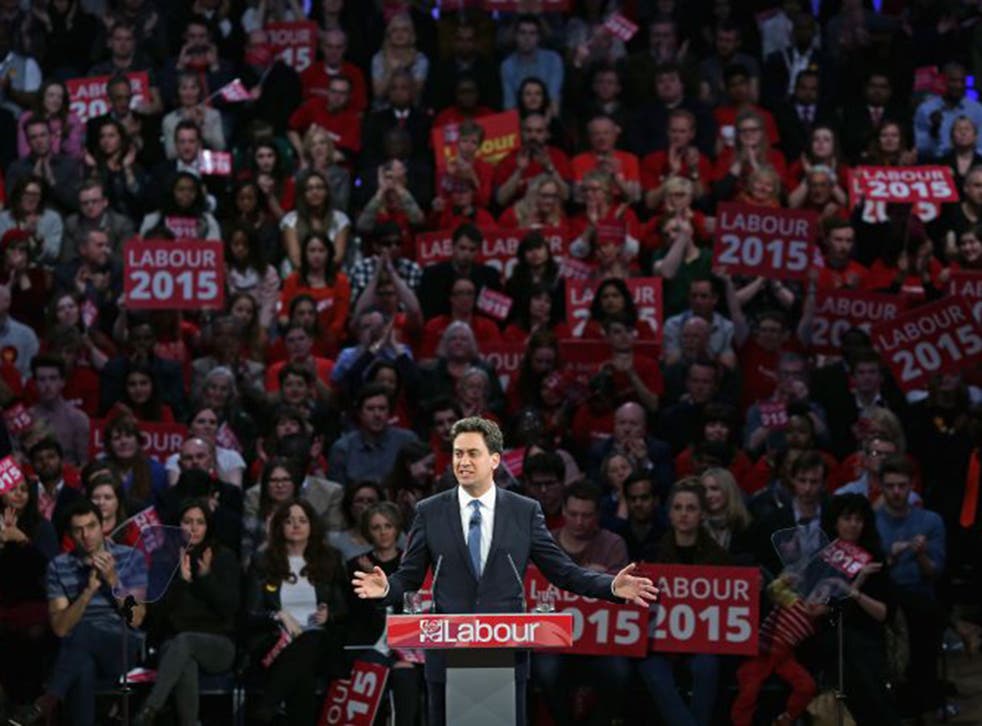 Ask yourself this question: who is this country run for – the richest and most powerful, or the working families of Britain?
David Cameron is trying to tell you the biggest problem facing Britain today is a clash of two nations – England and Scotland. Don't be fooled. If I am prime minister, there will be no special deals for anyone, including the energy companies, the banks or the tax avoiders.
Indeed, in these past five weeks, we have seen an extraordinary effort by the Tories to distract attention from five years of failure in which average wages are down, bills are up, the NHS is sliding backwards and a whole generation of young people are at risk of going nowhere.
We have five days to choose a different direction. I believe Britain succeeds only when working families succeed, when all our young people have the chance to progress and when our NHS serves our children and our grandchildren as well as it served us.
---
Are you undecided about who to vote for on 7 May? Are you confused about what the parties stand for and what they are offering? Take this interactive quiz to help you decide who to vote for...
---
Labour will ensure the recovery gets out of the City of London and reaches the front door of families across Britain. That means raising the minimum wage to £8 an hour, freezing energy bills until 2017, scrapping the cruel ineffective bedroom tax immediately, banning exploitative zero-hours contracts and protecting those tax credits and child benefits at risk from the extreme cuts planned in a Tory second term.
It means extending free childcare for working families with three and four-year-olds, encouraging enterprise with a reduction in business rates, and cutting annual student tuition fees to £6,000.
It means tackling the housing crisis by building the homes local people need, putting first-time buyers first and giving Generation Rent better protection against being ripped off.
And all this can be done only by building on a strong economic foundation of balancing the books, cutting the deficit every year and showing how our promises can be paid for.
In pictures: Experts' predictions for the General Election - 03/05/15

Show all 10
Nothing undermines trust in politics more than doing what the Tories and Liberal Democrats did before the last election. Nick Clegg promised to scrap tuition fees, then trebled them. David Cameron promised to cut net migration to less than 100,000 and then let it rise to 300,000.
Now the Tories and the Liberal Democrats are at it again, pledging to protect the NHS with nothing more than an IOU. Our plan is different: real money for real action on the NHS crisis in the first years of the next parliament, paying for 20,000 more nurses and 8,000 more doctors, a guaranteed appointment with a GP in 48 hours and cancer tests and results within a week.
Today, we're revealing new analysis showing how the extreme cuts that the Government has planned would impact on university funding – taking £1.5bn out of higher education – which can only mean higher tuition fees again. Our fully funded plan, paid for with difficult decisions on limiting pension tax relief for the richest, will cut tuition fees, cut graduate debt and cut the national debt too.
These are real pledges with a real purpose: to make Britain a more just, a more equal country. They are a better plan for a better future.
So, this election is not a battle between two nations but between two ideas for how our country is run.
It is simply too late for David Cameron to take off his jacket, pump his fist and pose as a champion of working families, because we know what he has done over the past five years and what he plans for the next five years too.
In just five days' time, the British people have a chance that doesn't come along very often. It is a chance to put the NHS first, to put your family first; it is a chance to get a Labour government that can begin building a better future for Britain.
Register for free to continue reading
Registration is a free and easy way to support our truly independent journalism
By registering, you will also enjoy limited access to Premium articles, exclusive newsletters, commenting, and virtual events with our leading journalists
Already have an account? sign in
Register for free to continue reading
Registration is a free and easy way to support our truly independent journalism
By registering, you will also enjoy limited access to Premium articles, exclusive newsletters, commenting, and virtual events with our leading journalists
Already have an account? sign in