Either the Queen thinks that only one in 24 Britons are women, or her Order of Merit is appallingly backward
There's nothing wrong in recognising the most distinguished minds in our society, but there's obviously been a huge oversight here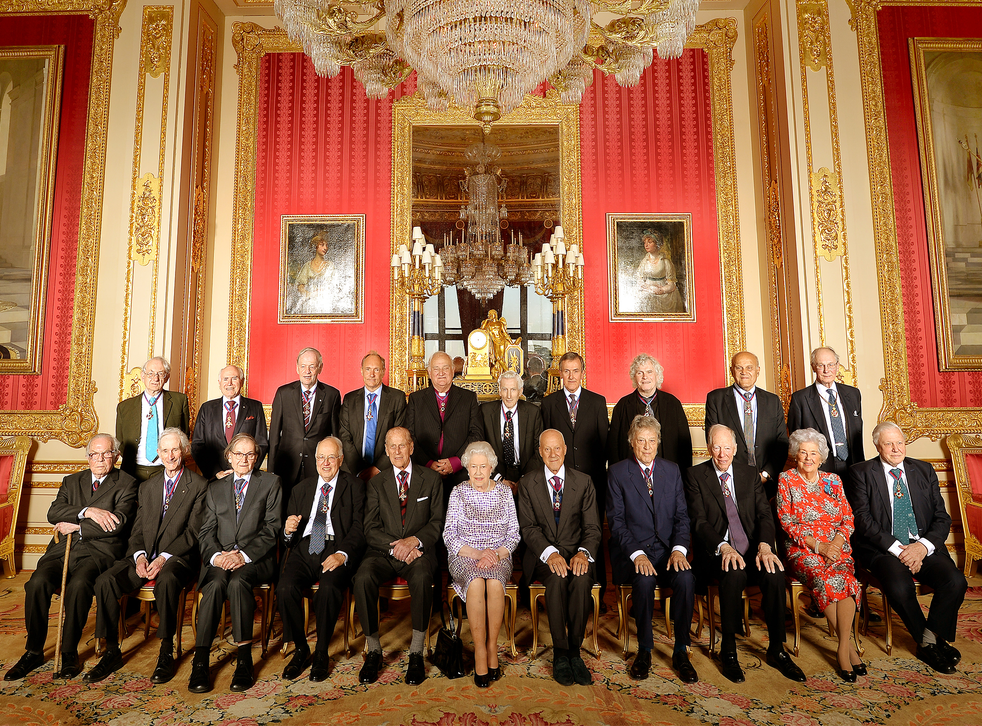 A single image sums up why the monarchy is doomed. Released this week, the photograph of the Queen posing with members of the most prestigious honour she can personally bestow – the Order of Merit – makes a persuasive case for a republican future.
Look at that line-up of distinguished old crocks, and the notion that they (and a single woman) represent all that is best and most creative and inspiring about modern Britain is laughable. Here's cast-iron proof that the House of Windsor is advised by a bunch of backward-looking, insular, clubby courtiers – and that any excitable talk of "modernisation" is risible.
It seems there can only ever be 24 members of the Order of Merit (I can't imagine why) – and Baroness Betty Boothroyd, the first female Speaker of the House of Commons, is the only representative of 50 per cent of the British population. The handful of woman to have made the cut include Maggie Thatcher and Joan Sutherland.
The unrepresentative Order of Merit is another reminder that our honours system must be scrapped, with its gongs to famous people for making political donations terminated pronto. The only medals worth giving out are for community work and personal sacrifice to the people out of the public eye without whom this country would grind to a halt. No more rewards for retiring civil servants and former MPs. It's so simple.
As for the Order of Merit, there's nothing wrong in recognising the most distinguished minds in our society – the thinkers, inventors, artists and writers who make Britain the envy of the world. The French have the Légion d'Honneur, but all we can muster is this totally unrepresentative line-up of pensioners. Sir Simon Rattle, and Sir Tom Stoppard might make my cut, but why the former Prime Minister of Canada? Where's J K Rowling (recipient of the Légion d'Honneur along with Paul McCartney, another Brit the Queen hasn't deemed worthy of inclusion in her list), and what about our greatest living artist – Bridget Riley?
What about Professor Dame Wendy Hall, a world authority on computers, Professor Dame Ann Dowling, Cambridge's first female head of engineering, Baroness Sue Campbell, head of UK Sport, and our most senior female judge, Baroness Hale of Richmond? The Queen has elevated Norman Foster to the Order of Merit, but what about Zaha Hadid, whose buildings are commissioned all over the world?
The monarchy might have abolished primogeniture, but its thinking remains stuck in a bygone era. For a monarch truly to represent their country in the modern age, they need to understand what makes that country great. Men and women.
More money isn't all that's needed to save the NHS
It's been a week of manifestos and promises, each party laying out offers like vendors at a car boot sale. All parties have decided to woo voters by ticking the box that says "more cash for the NHS", but, according to new survey, those promises stand little chance of being translated into reality.
The British Medical Association has talked to 15,000 doctors and discovered that a third are considering retiring within five years, and one in five trainees are thinking of working abroad. More worrying, a third of the doctors they spoke to claimed the job was so stressful that they were contemplating reducing the hours they worked.
Set that reality against the electoral pledges. The Tories have promised access to GP seven days a week. Labour promises 8,000 more GPs and 20,000 more nurses. Ukip has matched the Labour pledges. None of the manifesto writers seem much bothered by the fact that this will be hard to achieve in the short term. It takes more than five years to train a GP – at a cost of almost £250,000. A career in nursing and medicine in the UK has never looked less attractive, so politicians of all parties need to be persuading school students about the benefits of making that choice.
The thinking person's 'Desert Island Discs'
One of my favourite radio programmes is Private Passions on Radio 3, in which the composer Michael Berkeley persuades guests (from Mike Leigh to Dame Edna Everage) to reveal their favourite music – in any genre.
Somehow Berkeley has the knack of persuading people to reveal an awful lot more about themselves than on the increasingly formulaic Desert Island Discs. This intimacy might be because the shows used to be recorded in the spare bedroom of his home in Notting Hill Gate. Last week, the BBC held a celebration of 20 years of the show, at which the new controller of Radio 3, Alan Davey, interviewed Michael about his personal choices (to be broadcast Sunday at 12pm on Radio 3). Michael talked about meeting Stravinsky as a child with his dad, and revealed that as a music student he formed a rock band, the Seeds of Dischord. Most intriguing revelation? He was good pals with Marc Bolan. Don't miss the programme.
Where's the TV adaptation of this Nordic crime thriller?
Few thriller writers have the charisma of Jo Nesbo, the Norwegian creator of the globally popular detective Harry Hole – a man with a troubled past and a serious drink problem.
More than 20 million copies have been sold of the 10 books about this truculent member of the Oslo police service. Another of Nesbo's thrillers, Headhunter, was recently made into a successful movie, but there's never been a Harry Hole television series – even though he's as enigmatic a character as Henning Mankell's Wallander.
Nesbo, who looks like a rock musician and still plays in a band, has been on a brief trip to the UK talking about his new novel Blood on Snow. In Harrogate, he was interviewed by Mark Lawson to launch the Old Peculier Crime Writing Festival – appropriately held at Agatha Christie's former haunt, the Old Swan Hotel.
Anyway, a quick look at the sell-out audience confirmed that Nordic noir doesn't appeal just to men – there's a 50-50 split across a wide age range. Nesbo revealed that Martin Scorsese plans to make a movie of The Snowman, and that there will be an 11th Harry Hole book soon. My summer holidays aren't complete without one.
You won't be shocked by this tale of the big, bad media
Modern plays about the excesses of the press rarely contain any major revelations. I (unlike most critics) wasn't a big fan of Richard Bean's Great Britain, which starred Billie Piper as an unscrupulous tabloid editor, and which successfully transferred to the West End from the National Theatre last year. That focused on the hacking scandal, and now a new play, Clarion by Mark Jagasia, has just opened at the Arcola theatre in Dalston in London. Claiming to tackle "free speech, nationalism and the state of the British media", it's set in the offices of the Clarion, "Britain's worst newspaper".
This is broad farce in the Joe Orton tradition, with stellar performances from Greg Hicks as the shameless editor who wants a daily front page story attacking immigrants and Clare Higgins as his boozy star columnist.
Go and be entertained, but you won't be shocked. I can't get worked up about topless models becoming columnists – and if the public is so shocked, why does it keep buying tabloids?
Register for free to continue reading
Registration is a free and easy way to support our truly independent journalism
By registering, you will also enjoy limited access to Premium articles, exclusive newsletters, commenting, and virtual events with our leading journalists
Already have an account? sign in
Join our new commenting forum
Join thought-provoking conversations, follow other Independent readers and see their replies